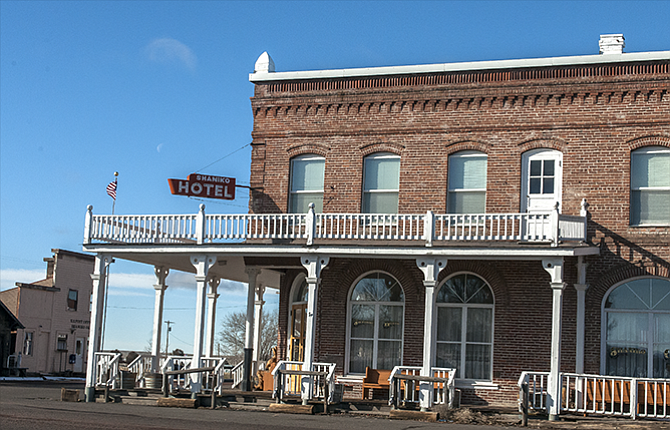 Shaniko, population 26, is preparing for a siege of sorts when the solar eclipse happens Aug. 21.
Officials predict Shaniko and nearby Antelope, seven miles away and both in the coveted Path of Totality, will be deluged with up to 40,000 eclipse watchers.
Shaniko City Recorder Susan Paterson has been preparing for this for a year now. She ordered four portable toilets a year ago — to augment the city's two-holer public bathroom — and when the 40,000 estimate was released about six months ago, she tried to get more, but by then they were all rented out.
"We're a very poor town, that's the first problem," she said. "Everyone said we need to bring in lots of porta-potties. Well, we can't afford to bring in a lot of porta-potties, so we'll bring in four porta-potties."
Her biggest fear is visitors setting the wide expanses of flat, barren fields around the town on fire by parking hot cars on top of the parched grass.
The town, far in the southern part of Wasco County, has just two water trucks in its volunteer fire department. "We have no emergency services," she said.
The city couldn't do a preventative burn around the town because there's been a fire ban since June. There is a fire break around the town, something that is done every year. The lands around the town belong to ranchers, and most of them have not rented out their fields —the risk of fire danger is just too high, she said.
At least one rancher had a camping site on offer on airbnb.
Paterson worries people will drain the town's small reservoir. If the water gets below a certain point, it will damage the pumps, and they'll have to shut it down no matter what, she said.
Citizens, most of whom are retirees, have been told to shut off outdoor faucets to keep visitors from helping themselves, and Paterson bought small fire extinguishers to give to each resident, just in case.
She purchased caution tape to rope off the town's vacant and historic buildings, lest someone be tempted to wander through them. The city bought cases of bottled water for residents in case the water system fails, and no trespassing signs for their yards.
Absentee owners were asked to post no trespassing signs on their properties.
In a week, a septic service will pump out the public toilets.
The local store has stocked up to the extent possible on water, Gatorade and some beer, but there's only so much room, she said.
"We don't have steaks and chicken and stuff people can buy. At most we may have 12 dozen eggs and some bacon and hotdogs and stuff like that," she said of the store.
She does hope to have at least three or four food vendors set up to feed the expected crowds.
There's also Goldie's Ice Cream, owned by Shaniko Mayor Goldie Roberts. She's ordered extra ice cream and sandwich fixings, and plans to tell people that parking spaces in town are available on a first-come first-served basis.
She takes comfort that the Wasco County Sheriff's Office is setting up a command post 12 miles away, and a deputy will be assigned to patrol their area.
"Actually, it's kind of scary to me because I don't know what to expect," Roberts said. She's had people asking about where to park and asking to make reservations. "And I said, 'Well, there's no reservations.'"
People have called Paterson at city hall to ask if they can come down and stay. She tells them no.
The city did rent out the city-owned school grounds to a teardrop-trailer camping club, expected to bring in 40 trailers.
They booked it last fall, and she didn't gouge them because she hoped a reasonable price would draw a responsible group.
"Basically, Shaniko's position is, if you haven't already got a friend you're going to stay with or you've arranged camping through the city, trying to come and camp just isn't going to work, because we're going to block a bunch of roads to keep people from wandering off into the sagebrush and having a campfire. That's just the way it's going to be," she said.
"We do allow people to camp on our side streets, but once they're full, they're full," she said.
The historic Shaniko Hotel is closed and for sale. The local RV park is closed. Both will be patrolled by security guards to keep people out, Paterson said.
She expects traffic to be at a gridlock, and worries that someone may get bit by a rattlesnake, whose venom is poisonous enough to require hospitalization.
Paterson warns visitors to prepare as if they were being evacuated for three days. Bring at least five gallons of water, food that doesn't need to be cooked, and block ice or dry ice, she said. A fire extinguisher wouldn't hurt, she added.
She worries that people don't realize there are no trees, and hence no shade. And August is reliably hot.
Paterson was quite anxious about the expected deluge, but that has lifted somewhat in recent months as she realized there's nothing she can do about it.
The town is going to have a shindig on Sunday, with a band playing and a raffle for a quilt. Asked what she plans on doing on eclipse day, Paterson said she'd be walking around town asking people for $5 and offering a garbage bag and a recycling bag.
As big an unknown about what the eclipse will bring in terms of visitors is what those visitors will leave in their wake.
Then Paterson will know how much garbage was left behind, whether the water system stayed operational, and whether visitors and their pets will leave behind human waste to contend with.
She tried to get an extra dumpster for the town, but it was too late.
And it's not just eclipse day that the city may be inundated with visitors. Many are planning to make a weekend of it, at least, and many are expected as early as Wednesday, Aug. 16.
She said because the eclipse is in the summer, more people have time off, and because it's by a weekend, they're stretching the experience.
As for Antelope, officials there could not be reached for comment. Paterson said Antelope is a bit more off the beaten path, while Shaniko is on Highway 97.