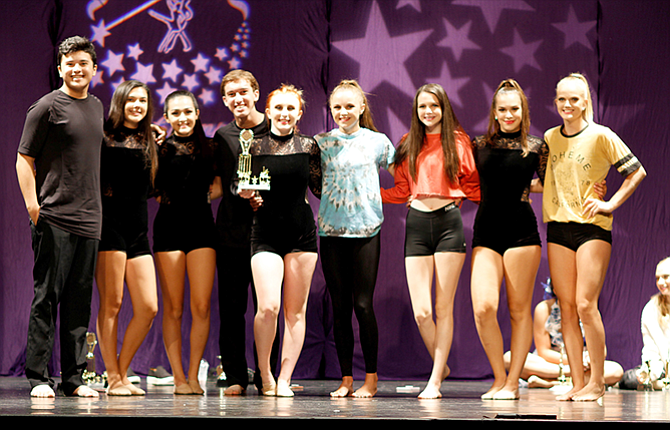 A visit to the Oregon coast proved to be very rewarding for members of the Dance Club Academy from The Dalles. The team of dancers — who ranged in age from 8 to 18 — competed at the grand championships in Seaside on the Aug. 4-5, and placed first in every category.
Kristi Maley, director of the academy, which is located at 731 Pomona St., said the intense work her students have put in really paid off, and they have grown tremendously because of their efforts.

"I see a huge difference in just six weeks with all the kids, in their growth, in their skills, and how much better they are since the beginning of summer," she explained. "If you want to be good at anything, you must continue to work on your craft. Dancing year-round is important, and helps the students get caught up on the techniques and skills necessary to make them competitive in the dancing world."
The competition took place at the Seaside Convention Center. Dance categories included tap, jazz, lyrical, contemporary, clogging, hip-hop, and variety.
The team of Makenzie Barrett, Ella Anderson, Tygh Timinsky, Ava Malcolm, Jayden Hansen, Bridget Donnell, and Jocelyn Olivan won first place in jazz and first place in tap. The team was the overall highest scoring group for jazz, and had the third overall highest score for tap. Timinsky received a first place for her solo, and third overall highest score for the entire beginning division.
Emma Lopez, Anabeth From, Jessie Lamb, Isabella Beitl, and Olivia Prado earned a first place in tap and a first place in jazz.
Abbie Canchola, Allie Masterson, Paige Compton, Katelyn Vassar, Nellie Wilkinson, Hayley Peterson, Bella Perez, and Ahnikah Rubio captured a first place in tap and were first in jazz. They also were honored for being the highest scoring group in the intermediate division for jazz. Vassar and Peterson also received first place for their tap duo.
Meli Avila, Lola Nelson, Lorelay Berry, Hannah Kortge, Katelyn Vassar, and Elizabeth Olivan won first place in tap and first place in jazz in the advanced division.
Hannah Kortge captured a first place for her solo, while Kortge and Olivan took first place in their duo.

Aidan Telles, Evan Despain, Jordyn Hattenhauer, Anna Singhurst, Ella Morgan, Giselle Schwartz, Sophia Pullen, Kendyl Kumm, and Abbey Helseth claimed first place in jazz in the accelerated advanced division, and were the highest scoring team.

Hattenhauer and Telles took first place and were also the highest scoring duo. Helseth, Despain, and Hattenhauer received first place and were the highest scoring trio in the accelerated advanced division.
Maley pointed out that the judges in the Seaside competition also awarded special "judge's choice" trophies to individual dancers for a variety of reasons. Tygh Timinsky, 9, won a judge's choice trophy for her work in the beginning category.

"Tygh had her best competition to date, not only winning the group high score, but also winning the third-highest scoring overall in the beginning division with her solo," Maley said. "She is fierce and has tremendous strength for a dancer her age."
Maley said Helseth, 18, Despain, 16, and Telles, 15, also received judge's choice trophies in the accelerated advanced category.
"Abbey was picked because she is a beautiful dancer and leader," Maley explained. "She has been dancing since she was 4 years old, and has grown into a really talented and fun dancer to watch. Evan was picked for his strength on stage. Evan did all the individual lifts and really stood out on stage. Aidan was picked because he is incredible to watch. The judges said they could not take their eyes off of him because he demands the stage."
Maley herself also came home with a major award. She captured the choreography award for the entire competition with an accelerated advanced jazz dance. The judges chose Maley's work for the creativity she displayed with the props — garbage cans used as drums and to tumble over —- and for the outstanding lifts, gymnastics, and tricks involved in the dance.
"The judges thought this was the best-choreographed and creative dance of the competition," said Maley. "This is saying a lot, since some of the choreography was done by choreographers from Florida, Seattle and Las Vegas."
Fall classes for ages 3 through 19 are about to begin at the Dance Club Academy. Classes begin on Sept. 10. Those interested in joining, whether new students or current students, are invited to register at The Dalles Fitness & Court Club now through Sept. 10 for classes in tap, jazz/contemporary, ballet, tumbling and cheerleading.
For more information, email Maley at: Kristi.maley@gmail.com.