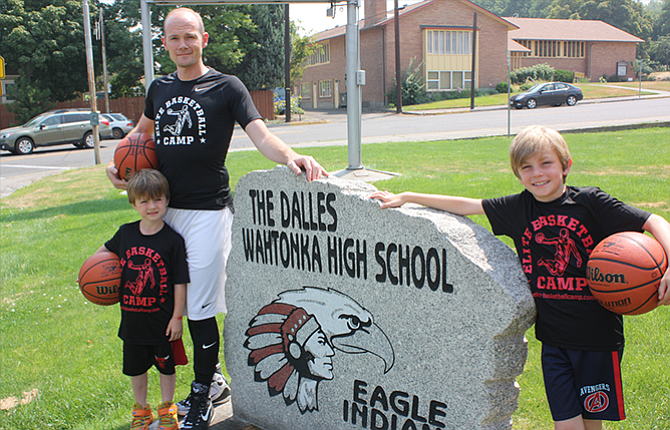 Brian Stevens, the new head coach for The Dalles High School girls' basketball team, said he has a simple motto that reflects his philosophy about the sport.
"Basketball is a game of mistakes," Stevens said. "The team that makes the fewest mistakes usually wins."
Stevens' approach to the game has shown great promise. During the previous three years, he was head coach at Horizon Christian in Hood River, and the team vastly improved under his tutelage.
"The Horizon Christian girls' basketball program had never had a winning season in school history," Stevens explained. "Myself and assistant coach Kevin Dale went in there, and the first season we were 11-13, something like that. Last year, we won the district championship."
Horizon's 2016-17 squad, under the guidance of Stevens and Dale, finished with the best girls' basketball season ever. The team had a 21-6 overall record and went 13-1 in league play. The team enjoyed a sweet 13-game winning streak last season, and advanced to the second round of the playoffs before falling.

After three years, however, Stevens wanted to focus on other endeavors, primarily his sports businesses. About two years ago, Stevens started a company called Elite Basketball Camps, in which he organizes camps and training sessions to hone athletes' basketball skills on a variety of levels.
Stevens also owns Gorge Hoops, a recreational league for high school kids and adults.
"Basketball has always been a passion of mine," he said. "We had four camps with four six-hour days in the last year – one in Hood River, one in Dufur, and two in The Dalles. We had training for K through 5, middle school and high school ages."
Stevens, who lives less than a block away from The Dalles High School, also had personal reasons for considering stepping away from coaching. Stevens has a wife and three children, and having to commute to Hood River to coach at Horizon Christian every day placed an extra strain on his home life.
"Coaching can take a toll on families, and I had checked out," explained Stevens, who has lived in The Dalles for about 16 years. "But the job came available at The Dalles High School, and my wife, Analene, said, 'if you're ever going to coach again, coach there, because we live right across the street.' I took a full week to weigh out the options before I applied."
Stevens said he is recharged and excited about coaching again, and he hopes to bring his winning formula to The Dalles High School.
He said he is coming in with a very optimistic and positive attitude, sparked by the athletes on his new team.
"After meeting the girls, they inspired me," Stevens explained. "The group truly inspired me to want to continue to coach. They were happy, excited, and having fun. They are so hungry to get better. It's everything sports should be. These girls have me totally rejuvenated to coach."
Stevens said he intends to revamp the way the Riverhawks play the game.
"The way we're going to play basketball is a fast-paced game, and defense-minded first," Stevens said.
"My DNA is defense. My goal is to hold every team we play to under 30 points. We'll press and force turnovers, and implement a pressing, full-court defense. That will in turn translate into transition offense."
When he was under consideration for the head coaching position, Stevens said he asked the athletic director, Mike Somnis, to make the hire – whether it was him or someone else – a bit earlier than the school had planned, to give the new coach time to prepare the athletes for a new system.
"For me to be interested, I wanted to implement my stuff in June," Stevens said. "I got the girls started in training sessions in June. I don't call them practices; it's individual skills development."
Stevens, who was hired at the end of May, said he was flattered that Somnis and the school's athletic committee voted to select him as the team's new coach.
"Now I have to put in the work and make them look good," he said.
The basketball season starts in mid-November and goes through the end of February, or the second or third week of March if the team makes the playoffs.
Somnis said Stevens will bring a lot of positives to his new role as coach.
"We are thrilled to announce Brian Stevens as our new girls' basketball coach," Somnis said. "Brian has a phenomenal background as a developmental coach and skill builder, as well as having a successful career at Horizon Christian."

Stevens said he knows his team will be relatively inexperienced.
"It will be a heavy freshman and sophomore team. There is only one returning varsity player," he said. "We had seven or eight seniors who graduated."
Stevens won't have to work at developing the team on his own, however. He will be able to hire two assistant coaches.
One assistant, Andrea Bailey, has already been hired. The other position remains open for now.
Stevens pointed out that most young athletes have never been exposed to proper shooting form and footwork, and that is an aspect of the game he intends to concentrate on.
"Pure and simple footwork and shooting form is a lost art in the Northwest," he said.
And going back to his motto about the team that makes the fewest mistakes usually coming out on top, Stevens said he plans to train his team members to find a positive lesson in their errors.
"We go into practice and training to make mistakes, so we make fewer in games," he explained. "We'll make mistakes, but we'll learn and make fewer mistakes as the season goes on."
Helping kids get a solid education is also part of Stevens' overall philosophy.
"My belief system is this: If I can somehow help give these kids the opportunity to improve their skill level to have a chance to get a basketball scholarship – if they have the opportunity to get a free education – that's where my passion lies," he explained.
Stevens said many people have told him they believe this year's girls' team at TDHS is in "rebuilding" mode. But he pointed out that he doesn't see it that way.
"Everybody told me it was a rebuilding program. But I made it clear in the interview, we're playing for right now," he said. "Don't talk about the following year. We're in the present. We have to get better now."