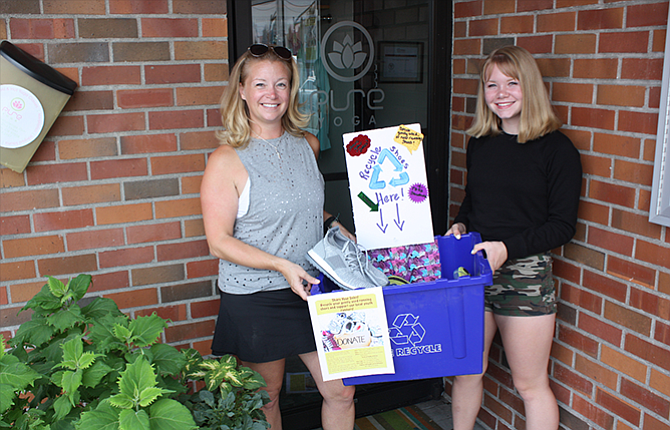 Running shoes don't come cheap these days, and not every high school student has a budget that can cover the cost of new footwear. With cross country season coming up in a few weeks and track not far beyond that, one local parent has come up with a creative plan to help local athletes.
"I have started a shoe drive where we are asking for anyone with gently used, or new, running shoes laying around, to donate them to benefit the runners at the high school. The shoes we collect would benefit The Dalles High School cross country and track teams," explained Angela Hanson, whose daughter, Emily Johnson, will be on the school's cross country team this fall and the track team in the spring.
Hanson said she came up with the concept after recently buying running shoes for her daughter and noticing the prices. Racing flats were about $130, and spiked shoes for track can range from $60 to $150.
"I had purchased a pair of spikes for my daughter this past track season," Hanson explained. "It was the wrong pair, but instead of returning them, I reached out to TDHS coach Mandi Williams to see if there was a student that may need a pair, and it sparked a conversation."
Williams, who coaches cross country and track, told Hanson that she saves all her shoes, because even her gently-used shoes are in better shape than some of the shoes she sees the kids running in.
Hanson figured that because running shoes can be expensive, if the coaches had access to spare shoes for students who can't afford new ones, they could replace them as needed.
Johnson, a freshman, believes the project will make a difference.
"I think it will help a lot of people," she said.
To date, Hanson has set up four donation drop sites for new or used shoes: Platinum Mortgage Loan & Refinance, 100 W. Fourth Street in The Dalles; Route 30 Bottles & Brews, 317 E. Second Street; and at Pure Yoga's two locations — 102 E. Second Street in The Dalles and 202 Cascade Avenue in Hood River.
"We'll be collecting shoes at all these locations through Aug. 25. Running shoes, racing flats and spikes," Hanson said, adding that men's and women's shoes of all sizes are welcome.
Shannon Red Cloud, owner of the Pure Yoga studios in The Dalles and Hood River, said she is happy to assist with the shoe drive.
"That's what I love about this community," Red Cloud said. "People pull together to help."
Hanson said the donated shoes will be presented to the high school's track and cross country coaches during the Riverhawk Run on Aug. 26 at Sorosis Park.
"Sports keep getting more expensive, so it's nice to help out local families," Hanson said.
Hanson added that she is not intending the project to be a "one-and-done" initiative.
"I'm hoping we can do this every August, presenting the coaches with the collected shoes at the annual Riverhawk Run that kicks off the cross country season," Hanson explained.