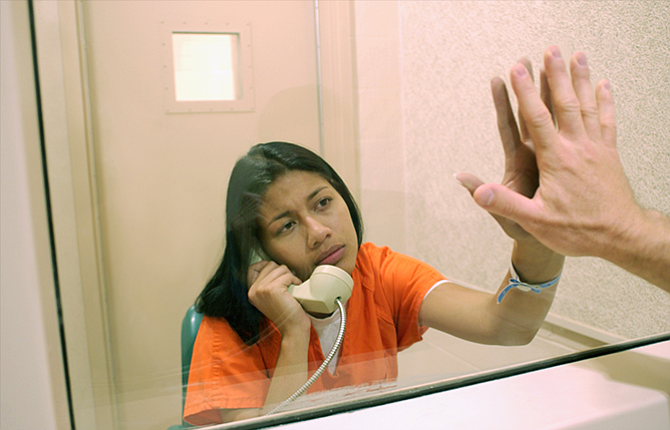 As the debate over housing illegal immigrants at the regional jail ebbs and flows, I have found myself wishing the conversation would broaden into treatment of inmates as a whole.

In one letter to the editor challenging the Northern Oregon Regional Correctional Facilities for locking up people whose only crime is to be in this country illegally, the author mentioned that immigrants should not be subjected to "punitive measures," such as underfeeding, poor food quality and difficulty communicating with family — conditions inmates endure in most prisons and many jails.
Why should we, as a society, accept any human being be subjected to sub-par living conditions?
No one who is locked up should be eating meat labelled "not for human consumption," but it is happening. I am learning about these problems because I take care of three men who are serving long prison sentences in three different states, two without outside support.
I am horrified by the way they are dehumanized every day and subjected to abuse at the whim of corrupt guards.
Last November, I had to buy one of my fellas a blanket (one gets issued) when he caught a cold because the prison would not turn the heat on until the first week of December, no matter the weather. I also had to purchase sheets, pillows and a coat to make his life more bearable.
I want to say before continuing this conversation that I have toured NORCOR, and talked extensively with Bryan Brandenburg, its director, and I do not believe the problems I described above exist there, except in the area of communication. Several years ago, NORCOR limited visitation between inmates and their loved ones to video, phones and e-mails. I objected to the change because it is expensive for struggling families and denies them the ability to truly connect.
NORCOR officials justified the depersonalization of the visitation process by saying it would eliminate the potential for contraband to be left around the grounds for trafficking inside the facility.
Administrators said installing Telmate, a provider of phone and messaging services to jails and prisons, would not only eliminate that problem, but cut down on staff time spent facilitating visits.
Prior to Telmate, the jail only allowed inmates to talk to their families via phone through a glass window.
There are several problems with either option. If we want troubled families to succeed —and we need that to happen to cut down on the high rate of recidivism in this community and nation — we should help inmates sustain their relationships.

I sit next to one of my fellas in a maximum-security prison and can hold his hand while we chat. I can give him a big hug, and a brief kiss, at the start and end of each visit — and even that limited physical contact means the world to someone who lives in deprivation. If I can do that in a facility full of violent offenders, why can't inmates at NORCOR have the same connection?
Let's move on to the exorbitant costs paid by families — many impoverished — to communicate with someone in jail or prison. Billions are made by Telmate and other companies that provide services to insitutions because desperate families sacrifice to reach beyond the wall.
Telmate, which I use to communicate with one of my fellas, charges 25 cents per email (500 characters maximum), $4.80 for a 30-minute phone call and $7.50 for a video visit of the same length. Since the inmate doesn't have any money, their loved ones also foot the bill for return emails.
Even as I write these words, I can hear people saying, "Why should we put time and money into making life more comfortable for these people, they are being punished."
When those comments are directed at me, I excuse them as coming from a place of ignorance. Until I began taking care of a Marine veteran in prison for a violent crime that resulted from his mental instability, I said things like that.
Only when you have a loved one locked up will you truly understand the depths of despair that comes from watching a son, daughter, mother, father, sister, brother or friend be treated like someone with no value. You don't quit loving someone because he or she made a bad choice, and you are not a criminal simply because you do.
Yet, I have witnessed the abusive treatment of family members when they showed up for a visit, and been subjected to disrespect myself.
The expense and difficult visiting conditions cause more than half of inmates to lose their support system, so suicide rates are high. Outside relationships are vital to survival. With that said, I am not trying to advocate that people not be punished for harming others. Justice for victims can only come when the criminal is held accountable for his or her actions.
However, there seems to be a societal failure to realize that going to jail or prison IS the punishment; being locked up in a dangerous place and unable to make decisions for yourself, "kenneled" in a small cell, isolated and told in a thousand ways every day that you are worthless.
It is cruel and doesn't speak well of our culture that we want the person behind bars to suffer every day for decades, or that we shrug our shoulders and say, "Oh well, they got themselves in there."
Hard facts show that our punitive methods of dealing with offenders is an abject failure. America's incarceration rates are higher than anywhere in the world. We have 2.2 million people now behind bars. Ninety-percent of these men and women will get out at some point and 70 percent will re-offend within five years. How do you succeed when you have no self-esteem or support?
Even worse, psychological damages are created by putting people in segregation, known as "the hole" for infractions. Some spend 23 hours per day in these tiny cells for years and have no contact with other inmates or the outside world. When they rejoin the general population, I am told by my fellas that they have to be medicated to cope with other people. How does that make someone a better citizen?
Americans should not have an "out of sight, out of mind" mentality when it comes to any citizen, even the "least among us." To ignore the plight of inmates is unworthy of our underlying values. Only mercy and grace will achieve redemption.
— R.R.