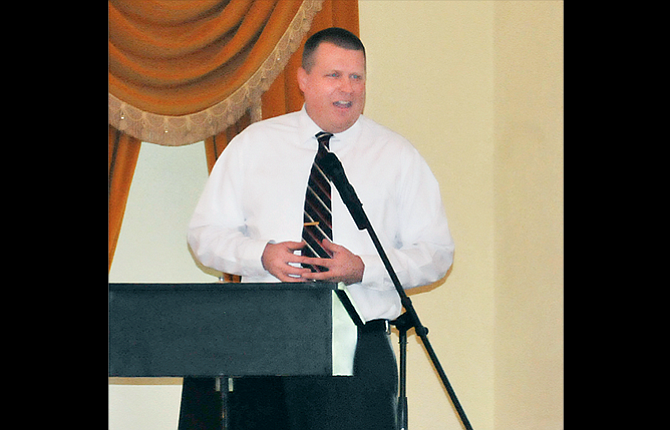 Stepping into his new post as athletic director and vice principal at The Dalles High School in 2013, Mike Somnis had no idea what to expect.
As he resigned his position in late June, after four years, he left Riverhawk Nation with lifelong friends, students who looked up to him and a community that offered the utmost respect and admiration for an administrator and parental figure who put everything he had into his career.
In the end, one of his objectives was to make a difference.
"My only hope is that the students who played in the Riverhawk uniform throughout their careers left with habits that will enable them to succeed at whatever path they choose in life," Somnis said. "Those habits include toughness, grit, time management, leadership skills, ability to work with a team, great ethics and countless other qualities that are the backbone of a productive adult after high school."
While his four years in The Dalles have been a blur, Somnis is going back to where it all started, Sherman County School District, where he takes the position of kindergarten through 12th grade principal.
For five years, starting in 2008, Somnis taught special education, personal finance, physical education, health, and weight training until earning his administrator credentials and being promoted to seventh through 12th grade principal and athletic director in 2012.
Sherman superintendent Wes Owens is happy to have Somnis back in the fold, saying that Somnis takes a collaborative approach to leadership and has the proven ability to lead with passion, integrity and high expectations for all.
"What first comes to mind is Mr. Somnis' noteworthy integrity, intellect, and effective communication skills," Owens said. "He is a proactive leader with a clear vision who focuses on making decisions that are always based on what is best for the kids."
A four-sport athlete at Tumwater High School, Somnis, a 1997 graduate, earned his Bachelor of Science degree from Eastern Oregon University, his Masters of Education in Special Education from Grand Canyon University and completed his Initial Administrator License through Lewis and Clark College.
The Dalles High School principal Nick Nelson knew there was something special about the character Somnis exhibited on a daily basis.
Ultimately the job of vice principal and athletic director is about much more than wins and losses; it revolves around relationships with students, athletes, parents, coaches, teachers and administrators.
While much emphasis is placed on winning league titles, academics is one area not be overlooked.
"Mike has been a tremendous asset to our high school administrative team, the teaching staff, and the students," Nelson said. "He served with insight, integrity, and a strong work ethic.

"Mike demonstrated a firm understanding of the educational process, as well as athletics. Without a doubt, our loss is Sherman County School District's gain."
At Sherman County, the expectation is for students to be ambassadors for the school district.

Somnis is just one extension of that, as he deals with day-to-day operations.

During his tenure as athletic director in The Dalles, Somnis has seen athletes win all-league and all-state awards, witnessed teams show the heart and desire to persevere through any situation.
He walks away happy and fulfilled by what he has been able to accomplish in his time.
No doubt, his job had its fair share of challenges, but it is satisfying to be around great kids with great families and watch them enjoy success on the field and in the classroom.
"I am most pleased at the uptick in school spirit and culture the last couple of years," Somnis said. "That credit goes to all the teachers, students, coaches, booster club and community members that helped to create a more exciting and spirited environment at our events. Changing over the mascot three years ago and fully implementing the Riverhawk emblem throughout the school has helped create a unifying theme."

Part of that unifying theme came in 2015.
Team mother Beverly Nanez remembers the night The Dalles High School won the 5A State Dance and Drill championship, and an excited Somnis hurried down to the floor, working his way past security to celebrate with the team.
More than two years later, that act will never be lost on the mind of Alissa Pastor.
Somnis' actions inspired the girls and showed that he was taking interest in them and the program.
"He seemed so proud of his school, all the girls and coaches," Pastor said. "It made us all very happy and appreciative seeing him show up and support us girls when no one else from the school did. It meant a lot to all of us knowing somebody cared. He made us cheerleaders/dancers feel supported just as much as any other team in our school."
And while Somnis is 38 miles away in Moro, he will still have a vested interest in the sports teams and a part in the success of the coaches he hired, because they exemplified his positive methodology and future outlook.
"I have had a pleasure working with Mike the last two years," said cheer coach Kelsey Sugg. "Being a new coach is not always easy and he was always there for me whenever I needed something. He always supported me, encouraged me, and has helped me in building my program. The Dalles High School has been so lucky to have him and he will be greatly missed. I wish him the best on his next adventure."
One big change for Somnis is that he will now be home a lot more.
His duties as an athletic director and administrator spanned 70 to 80 hours a week, which meant a lot of time away from his wife Carrie and their three daughters.
"This cannot work without their love and support," Somnis said. "There are a couple things I have learned in the last four years. Time does matter. I have three kids in elementary school that haven't seen a lot of their dad and that is more important than any job. I really enjoyed my time in The Dalles, especially the people I worked with. However, the opportunity to come back to Moro where I live and run the school my kids attend was one I could not pass up."