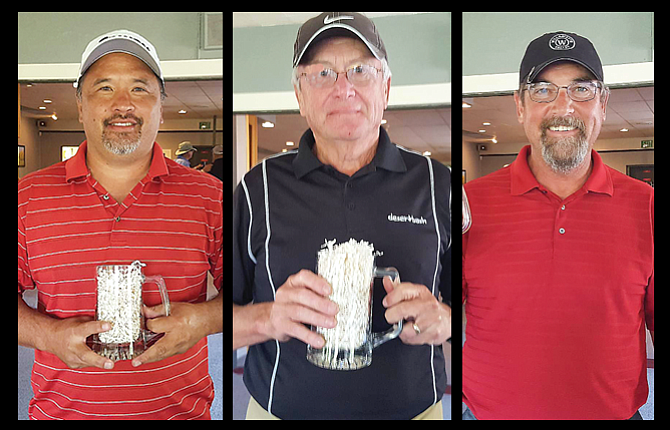 For 36 holes covering two days in The Dalles, Dan Telles and Paul Titus battled back and forth for bragging rights.
Telles rode a first-day, two-stroke lead to top honors at The Dalles Classic Club Championship ending Sunday at The Dalles Country Club.
"Dan has always been close, but he finally did it," said TDCC club professional Amy Wilson. "He is the best scramble player I've ever seen."
Ted Proctor won his second consecutive Senior Club Championship following his impressive two-day total, and Terry Way unseated 2016 Net Club Champion Dan McHale for his net crown after a 139 on the scorecards.
Wilson was happy to see three long-time community members earning their stripes on the big stage against 15 of the top golfers in the gorge.
"What I think is cool is how much all three of the champions have impacted local high school sports over the past 30-plus years," Wilson added.
Telles carded an 80 on the first day this past Saturday, which put him two shots ahead of Titus and six in front of Stacy Alleman.
On the second day, both Telles and Titus wound up with identical 78s on the scorecards, giving Telles the best gross score for the victory.
Proctor added an 82 for second gross on Sunday.
Way led the net standings with a 71 on the first day, with Jim Wall (73) and Bill Ferderer (73) winding up deadlocked in second place.
Way and Carl Compton turned in 68s on Sunday's second day, and Robert May had a 70 for second place.
Titus claimed a pair of skins, and the trio of Way, McHale and Compton racked up one apiece in Saturday's action.
Seven different players had skins on Sunday, led by Titus, Telles and Ferderer, who had two apiece.
Proctor, Way, May and Wall each chalked up one skin each on the second day of play.
"There were only 15 in the field, but that didn't take away from the players' competitiveness," Wilson added.
Up next at the country club is the 78th annual Mid-Columbia Amateur Championships, scheduled for Saturday Sept. 2 through Monday, Sept. 4.
Participants from 2016 will receive first consideration, and the rest of the field will be filled on a first come, first served basis.

Entrants must have an established handicap of 24 or less, with revised handicap numbers from Sept. 1 to be used.
Entry fee is $100 per contestant, and there is a trail fee for personal, non-member carts for only $10 a day.
The $100 registration fee includes a practice round after 11:30 a.m. on Saturday, a 36-hole competition round and equal gross and net payouts by division for pro shop credits and bragging rights.
Optional honey pot and pay balls on the first day with a cash payout. All participants will receive a prime rib dinner following Sunday's action.

Mike Jesch is the defending champion for the MCA event, which is attended by men from across the Pacific Northwest.
People who would like to register can call the pro shop at 541-296-5252, from 8 a.m. to 5 p.m. from Tuesday-through-Friday, and 7 a.m. to 5 p.m. on Saturday.
The Dalles Golf and Country Club is located at 4550 Mosier-The Dalles Hwy in The Dalles.
Established in 1921, TDCC is a nine-hole, regulation Par 71 golf course that plays to 6,094 yards from the longest tees, with a course rating of 69.8 and slope rating of 121.
Each hole has three sets of tee boxes for players with different skill levels, where four sand bunkers and one water hazard are featured.