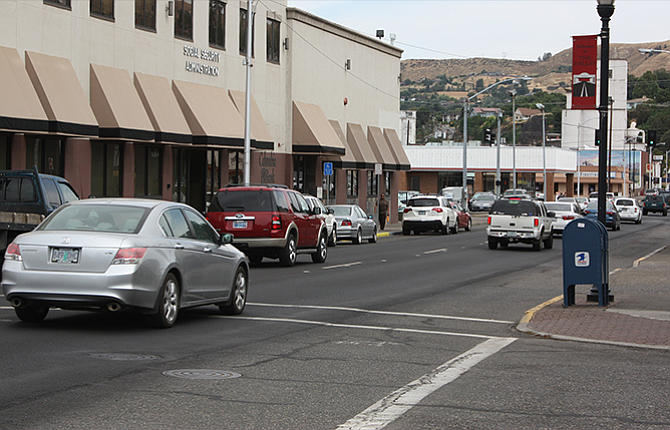 The city of The Dalles is hoping to encourage residents to try different modes of transportation.
Starting Sept. 16 and continuing through the end of the month, the city will partner with Mid-Columbia Economic Development District and the Oregon Department of Transportation for the 2017 "Oregon Statewide Drive Less Connect Challenge."
The annual event is geared to encourage residents around the state to leave behind their single-occupancy vehicles and find alternative and healthy ways to get to their destinations. Options could include walking, biking, carpooling, or using public transportation.
"So far, we are planning on informing and encouraging city employees to participate in the challenge by distributing postcards to all employees, as well as include the challenge in our city newsletter," said Matthew Klebes, assistant to The Dalles city manager.
"We are also continuing to explore other incentives and ways to encourage city employees and the community to participate."
Klebes added that the Drive Less Challenge may coordinate with the owners of the Cascade Square mall. A ribbon cutting ceremony at Cascade Square is planned for Sept. 16, the first day of the challenge.

"I believe they will be raffling bikes off at the (Cascade Square) event and there will be a Drive Less Challenge booth at the event," Klebes said. "This will be the kickoff event in The Dalles."
Proponents of the "Drive Less" campaign list three key advantages to participating. First, it saves money for motorists who can cut fuel and car maintenance costs. Second, it can alleviate stress because commuting can allow you to "read, relax or even work while commuting." Third, commuting helps the planet's environment, and therefore all of us, by reducing air pollution and traffic congestion.
"Any time we can encourage alternative forms of travel, we all benefit," said Mayor Steve Lawrence.
On July 24, The Dalles City Council voted unanimously to approve a proclamation committing the city to take part in the campaign in September.
"The city of The Dalles has an interest in supporting opportunities that can improve the health of its residents, reduce the strain on public infrastructure and promote transportation alternatives," read an excerpt of the proclamation.
"The challenge helps further these goals by encouraging Oregonians to discover healthy, green travel options for work, school and play."
The proclamation also encourages city residents to take part in the challenge, and Timothy McGlothlin, a member of city council, said he intends to help set a positive example.
"This sounds to me like a great thing," McGlothlin said. "I will get my bike ready and commit to taking the bike rather than driving whenever possible. I will also walk instead of driving when possible as well."