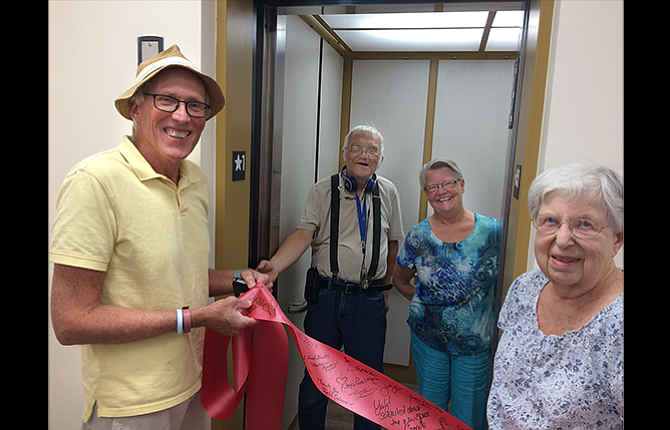 In a short ceremony Wednesday afternoon, the Mid-Columbia Senior Center officially opened its long-awaited elevator. Winning the honor of taking the first ride was Gary Bradley and Sandy Haechrel.
Senior Center Director Scott McKay thanked, in particular, Roberta Heisler, who contributed $75,000 toward the $397,500 project. He said she first donated $50,000 "when she came to lunch and handed it to me and I wasn't sure to really believe it."
Then, as the project was nearing goal, but wasn't quite there, she donated another $25,000 "to get us over the top."
The elevator passed its final inspection Aug. 8, and has been "a fantastic addition to the senior center," McKay said.
The elevator is where the Nu-2-U shop used to be. Now, in its relocated quarters, the Nu-2-U shop is doing better than ever, he said.
McKay then introduced Joan Silver as the "engine to make this possible."
Silver, project chair, spoke of dreams from eight years ago to build an elevator and add an urgent care facility to the senior center. The plan proved difficult to finance, and while some local contributions still came in, the plan for remodel was not clear, she said.
It took a new committee, she said, to narrow the focus to an elevator.
"All the time we're figuring out what to do, there was a donation jar in the lobby" that kept collecting funds, she said.
Seven different grants were obtained, including $115,000 from the Ford Family Foundation, $20,000 from the Collins Foundation, $15,000 from the Oregon Community Foundation, $10,000 from Northern Wasco County PUD, $25,000 each from the City of The Dalles and Wasco County, and $1,500 from Northwest Farm Credit Services.
With the funders and the donation from Heisler, the senior center did not have to borrow money for the project, Silver said. "We are grateful for each and every donor," she said.
Now, a lighted stairwell leads downstairs. Perhaps not many know about it, but one of the biggest services of the senior center is the durable medical equipment closet, located in the basement, where people can loan out equipment for a $5 fee.
Once it is returned, it is sterilized and put back out for loan.
Now, that equipment can be easily brought up in the elevator.
The Springs at Mill Creek commissioned two paintings from the 506 Gallery, a project of Opportunity Connections, for the elevator. The artwork is done by adults with developmental disabilities.