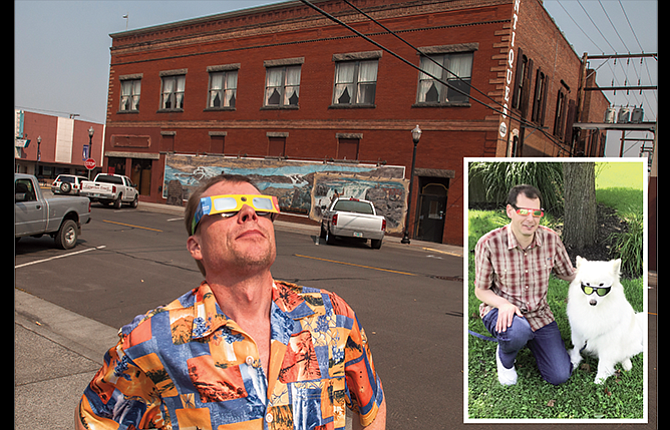 Neil Pober of New Jersey is flying to Oregon for Monday's total solar eclipse, but he didn't really think that tens of thousands of other people would be making the same trip when he booked a hotel room six months ago.
"It's a once in a lifetime event, I think," he said.
Pober knew the eclipse was going to be popular when he tried in vain last winter to reserve a room in Madras, a small Central Oregon town at the heart of the Path of Totality.
The path is a the 70-mile wide swath of land across the U.S. where experts believe people will have the best, and possibly only, opportunity to see the moon passing between the Earth and Sun, a rare phenomenon.
Oregon will be first to experience the moon's shadow passing between the Earth and sun, but Pober was shocked to learn that he would be among one million visitors.
"I was not aware that there were going to be that many people," he said.
The nearest he could get lodging six months ago was Bend, about 44 miles from Madras, a community with less than 10,000 residents that is expected to host 250,000 visitors by Monday.
"The price of the hotel was astronomical — $600 for two nights — it's like you could go to Hawaii cheaper," said Pober.
The upcoming eclipse will be the first one visible from the contiguous United States since Feb. 26, 1979. The last time a total eclipse was available from coast to coast was June 18, 1918.
The 2017 total eclipse will also be the first exclusive to the U.S. since before the nation's founding in 1776.
"I had no idea Madras was going to be like Woodstock," said Pober, referencing a 1969 music festival on a dairy farm in New York that attracted an audience of more than 400,000 people. "I don't know if I should hope for that or not hope for it."
Adding to the excitement of traffic snarls and gridlock is the four wildfires that are still burning in or near the path, which could shutter campgrounds and cause sudden road closures, putting even more people on available roads.
"I work in the medical field (anesthesiologist) so maybe I should bring my own urinal in case I can't get to the porta potties, which I hear might be in short supply," Pober mused.
In addition, he has read that emergency responders are concerned about more fires being set in bone-dry brush and parched pine and fir forests.
"I thought since it was out in the desert, it would be perfect viewing – I didn't count on fires," Pober admitted.

He said the problem with not coming to Oregon at this time is that there is no way of predicting what conditions will be like for the next eclipse, in April of 2024.
"Who knows what the weather will be like, if I will even have a job, or if I will be able to take time off, or I could be ill," he said of deciding to go ahead with the journey.
Pober began planning the cross-country adventure almost a year ago to meet up with Jim Drake of Hood River, his friend since their days at Rutgers University in New Jersey.
"We were the oddballs in college because we were the ones actually studying," said Drake, a local musician who works in composition/production at The Dalles Chronicle.
He also provides services for the Hood River News and has been with Eagle Media, the parent company of other newspapers, for about 20 years.
"We thought this summer would be a good time to reconnect and we could go to this low-key event that is turning out not to be so low key," said Drake. "I had no idea it (Madras) was going to be the eclipse universe for the state."
Until his first trip to the Pacific Northwest a couple of years ago, Pober couldn't understand why Drake, who holds an environmental science degree and once worked for a high-profile energy company, would leave everything behind to move across country.
However, after viewing the scenery of the Gorge, Mount St. Helens and other tourist destinations in 2015, Pober said he gets it.
"He's in a beautiful place, it's really breathtaking," he said.
Pober decided to make a return trip because he wanted to continue exploring Oregon; in particular, he wanted to see Crater Lake, the remnant of a destroyed volcano in the southern sector of the state. That is on the agenda once the eclipse is over.
He is a photographer so will be working to capture pictures of the event. Drake is interested in the phenomenon from a scientific standpoint.
"The thing I'll be thinking about really has to do with an eclipse that happened about 100 years ago," he said. "They were able to use data from that eclipse to confirm part of Einstein's relativity theory."
Theoretical Physicist Albert Einstein predicted that light could be bent by gravity, which was proven after Sir Arthur Eddington led an expedition to photograph stars during the 1919 eclipse.
"That was really interesting to me," said Drake.
He said it is also fun to have a record number of people coming together to witness the 2017 event.
"I think that kind of crowd will be peaceful — and there will be plenty of room for everyone to enjoy it," he said.
Drake said it is important that people wear the right eyewear to look at the sun during the eclipse.
"Some guy thought regular glasses or sunglasses would work," he said. "But the sun puts out a spectrum of light — infrared and ultraviolet — and the special glasses reduce those rays to what you would see if you were watching the moon and it was really bright."
People are being warned by experts to purchase only eclipse glasses that have been approved by the American Astronomical Society and have a label on them that says ISO, which stands for the International Organization for Standardization. Looking at the sun without the proper eyewear can lead to permanent blindness.
One of the key differences between sunglasses and eclipse viewers is the amount of light the two types of equipment offer. Sunglasses typically reduce the amount of light that reaches the eye by between 30 and 80 percent. By contrast, eclipse viewers reduce the visible light by a factor of about 250,000.
"It's just really important to protect your eyes," Drake said. "The sun will be put in an amazing light; you will see the correct color with the glasses. It will become a distinct orange disc and there's just nothing else in the sky like it."
Before hitting the road for Central Oregon after Pober's arrival late Saturday, Drake will stock his vehicle with plenty of bottled water, food and camping gear in case they are held up in traffic on Sunday morning.
Pober is wondering if they ought to head for Bend as soon as he gets in since there is unlikely to be as much traffic in the middle of the night.
"We are going to get to Madras early Monday to try to scout out a spot," said Drake. "Hopefully, that will take some of the stress out of the event."
As for Pober's suggestion that they might be headed toward another Woodstock-type festival, Drake disagreed.
"I think it's going to be more like a Pink Floyd concert," he said.
He is relieved that haze which settled over the area because of all the wildfires seems to have dissipated with last weekend's rain. At least that is one worry off his plate in a weekend that promises to be filled with the unexpected, said Drake.