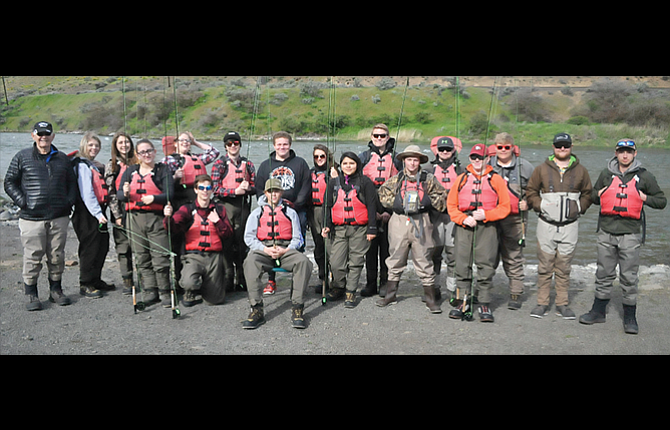 MAUPIN – What started as a senior class project has turned into a popular physical education curriculum.
Back in 2008, South Wasco County senior Kris Belozer organized a fly fishing program to help local youth understand the rules and regulations of the sport, while fishing renown bodies of water across the Pacific Northwest.
His goal is to establish a baseline where kids gain a love for an activity that will last a lifetime.
"It is so rewarding to be a part of this program," said Belozer, a guide from Belozer White Water Fishing out of Maupin. "It is all about giving back to the community. That's what I get out of it. I just want to see that joy in their eyes. Once you see that light go on and they get it, they are hooked, and then they pass that knowledge on to a future generation of fishermen."
Belozer grew up on the Deschutes River fly fishing with his dad, Jon.

Kris realized that many of the students at the high school never had the opportunities to fly fish, so through some of Jon's clients, Kris purchased waders, rods and other equipment necessary for success on the water, and he also set up a fund to purchase fishing licenses year-after-year.

Every spring, around the first part of May, SWC physical education instructor Lynn Larlee has local fly fishermen and volunteers come in and teach the kids how to fly fish.

First, they practice on the football field with casting, and then they get on their supplied waders and go down to the river and fly fish.
Larlee had 18 seniors participate in the activity, one of the largest turnouts in several years.
"We are so blessed to have this gift and now it is integrated in the PE curriculum for the seniors every year," Larlee said. "Someday, one of the students in the PE class is going to catch that highly-esteemed fish, but until then, we are so thankful that we can fly fish because of Kris Belozer's project."
According to study from www.TakeMeFishing.org, Americans are fishing more and more every year with running being the sole outdoor activity that attracts more people annually.
In the report's summary, the author states that in 2016, more than 47 million Americans were unified by the pure joy of fishing.
Out of the two main categories of fishing (fresh versus saltwater), freshwater was by far the most popular, garnering 38.1 million participants.
Fly fishing, the least popular form of fishing, saw a massive increase in participation with roughly 400,000 newcomers trying the sport for the first time in 2016.
Together, fishing participants went on a collective 885 billion outings, averaging 18.8 trips per participant.
"Fishing is the greatest sport," said community member and volunteer, Don Jacklin. "It is just you and your pole out here in the outdoors. Just you and your thoughts. You can clear your mind and leave the outside world away for a few hours. Nowadays, you have kids that are behind a computer or their phones, instead of enjoying God's creation. I hope this program lets these kids know that there is much more available to them."

Through education and trial and error, even the inexperienced angler can steadily progress and reel in some good returns.
Some tips for increasing your odds of catching fish include matching your fly with the natural bugs or baitfish the fish are feeding on that day.
Anglers should drift or retrieve their fly through current seams or water type transitions, where fish like to hang out.
It is best to work upstream and start from the back of holes and work your way up to decrease the amount of fish you will spook.
When a good location is found, anglers should cast to structures that provide breaks in the current or general protection for the fish.
"It is kind of like life. You learn about patience, strategy and using your surroundings to your advantage, just like football or basketball," said 2017 graduated senior Keith Kegel. "When you see all the practicing pay off, you don't want to put the fishing pole down. It is enjoyable and peaceful, but I still want to catch as many fish as I can."
All seniors at SWC know that there is a senior project they need to complete before they can graduate from high school, so various subjects are covered.
These senior projects, which were designed to meet the standards for Oregon's new diploma requirements, call for students to spend at least 40 hours devising a plan of action.
Some have developed into very meaningful learning experiences such as an Elementary Health Career Day, sending Valentine's Day boxes to send to Iraq, organizing a community recycling program for computers and parts, designing a path between a Health Clinic and Assisted Living Community, designing a new storage shelter for little league baseball, converting a 2-wheel truck to a 4-wheel truck, and preparing and teaching three days of a seventh-grade social studies class.
A lot of thought goes into every project, so when one of those turns into a school's curriculum, the rewards are endless.
"We have teachers who care and people in this community who care," said graduated senior Andrew Lindley. "When you have that and kids who want to make a difference, it is great to be a part of it. I have learned so much and I am definitely going to be teaching others. Without this class, I have one less skill, but it kind of feels like a new world has opened up."
To learn more about the program, Larlee can be reached at 541-395-2225.
For tours and other outdoor activities, call Belozer at 503-939-7677.