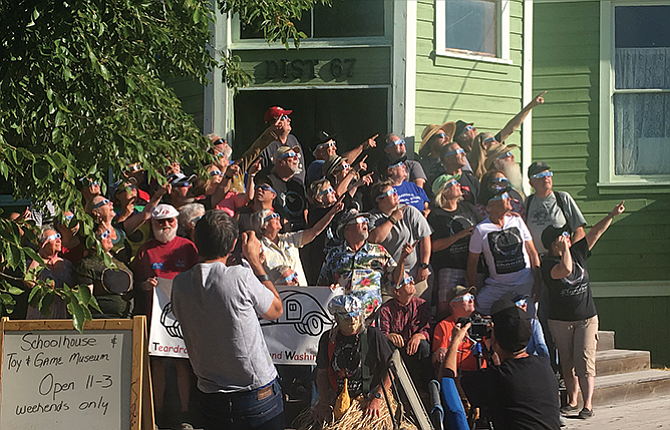 A sleepless night in the family van was the completely-worth-it price my kids and I paid for the thrill and privilege of seeing the total solar eclipse Monday in the wide-open spaces of Shaniko.
I'd written earlier about how Shaniko, some 75 miles south of The Dalles, was bracing for perhaps many thousands of visitors, stocking up on bottled water and issuing its 26 residents fire extinguishers to ward off potential fires from visitors parking on hay fields.
But visitors numbered in the hundreds, not thousands, and the scattered, genial crowd gave a sustained cheer from all around town as the eclipse finally reached totality. I whooped and whistled along with them.
Sharing that moment with randomly assembled others, all pursuing the same experience, made it that much more exhilarating.
As promised, the street lights flickered on in the all-too-brief minute and 26 seconds of totality. Contrary to other expectations, however, some bird didn't get the memo and kept right on chirping near us during the total eclipse.
My son Colin had downloaded a $2 app that told him what to expect during the eclipse. We looked for shadow bands, the tiger-stripe shadows that show up on white surfaces, but saw none.
We did see the brilliant moment of the "diamond ring" effect, when one last spot of sunlight glistens before totality takes over.
There is so much to look at and take in, and so little time to do it. The sun disappears, but true nighttime does not descend. Perfectly positioned as we were on the flat expanse that is Shaniko, a faint 360-degree sunrise effect was visible on the horizon all around us, beneath a deep blue dome of semi darkness.
I hollered excitedly when I saw some distant streetlights come on, having missed the moment when the ones closest to me lighted.
A longer lasting and strange effect was the change in lighting in the final minutes leading up to and away from totality.
The light became harsh and crisp, like fake sunlight on a low-budget movie set.
My daughter Grace McLoughlin noticed it first. "It doesn't look like afternoon or evening lighting. It's like nothing I've ever experienced," she said.
As the temperature gradually cooled leading up to total eclipse, we kept donning our eclipse glasses to check the moon's progress across the sun. It took more than an hour, but seemed to go fast, starting out looking like an olive — as neighboring eclipser Lance Carleton put it — and progressing to just a sliver of sun.
And no, even when the sun is almost totally eclipsed, you still can't look at it with your bare eyes. I briefly tried.
I took pictures of my kids with their eclipse glasses on. They both firmly declined to give me permission to publish them, one of the few things they have ever agreed on.
We were next to the Teardroppers of Oregon and Washington, a club of teardrop trailer enthusiasts who rented out the grounds of the Shaniko schoolhouse for the eclipse.
We walked by as they posed for a group photo, cool-looking silver eclipse glasses on, all enthusiastically pointing skyward to where the celestial event was about to take place.
In the tiny downtown before the eclipse process began, lines were long for the public bathrooms, and an enterprising woman had mostly sold out of her handmade eclipse shirts, at $30 a pop.
Another duo rode around on an ATV, offering eclipse glasses for sale. A few other locals had yard sales –while others posted no trespassing signs -- and one sign offered RV spaces for $200 apiece.
Perched on a lawn chair in the back of a pickup near downtown, Scott Davis, of Yelm, Wash., was reading a book and awaiting the event, accompanied by his dog, Dotty T. Speed McQueen. He left Yelm just after midnight Monday, and ended up in Shaniko at about 6:30 a.m. because "this is where I got tired."
When we walked over to check out the goings on downtown, we saw that the shoulder of Highway 97, which cuts through Shaniko, had begun to fill with eclipsers.
I was mad that I'd spent a ridiculous night in my van when I could've just driven up in the morning like these clever people had.
Having covered the story about the high traffic expectations for Shaniko, I'd been worried I wouldn't be able to find a place to park, so I'd made arrangements earlier with the town's mayor, Goldie Roberts, to hunker down in her driveway.
When I got there, Roberts had also extended her hospitality to another fellow who showed up a few hours before I did. He pitched a tent in her yard.
He and I visited off and on all morning, developing that friendly rapport among sudden neighbors that happens at events like this.
The fellow's name was Lance Carleton. He'd set off from Lake Stevens, Wash., on Sunday, trusting that "the universe" would provide him a stopping place, and it did.
He said, "I just turned 70 and I figured I may never get to see this again."
When totality was over, a nearby car headed immediately out.
My kids — who both pronounced the experience awesome and totally worth it, music to my ears — didn't want to stick around to watch the moon slide off the sun.
And so, a few minutes after totality, we headed back home, driving along Bakeoven Road past people still looking at the receding eclipse and a sign offering camping for $395 a spot.
The drive was a breeze, only slowed briefly to a crawl when we were in Maupin proper.
We still haven't unloaded the 12.5 gallons of water we brought along.