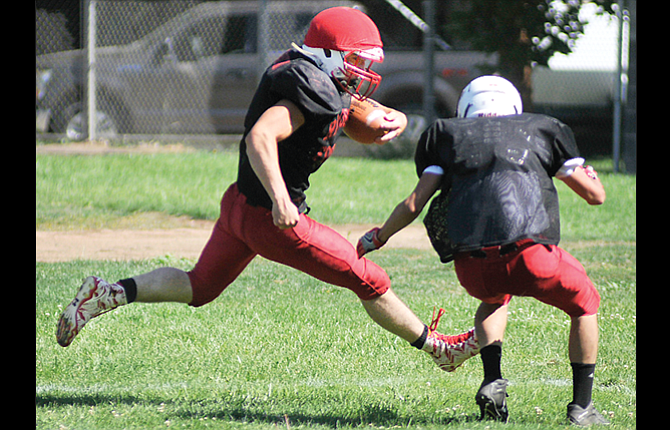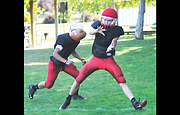 DUFUR – With a pair of championship rings already in his back pocket, Dufur senior Hagen Pence is looking for one more dance with destiny.
He warns, however, that the 2017 season and 1A football landscape has changed during the offseason and the proverbial target is even larger, so the back-to-back state champion Rangers cannot afford to look too far ahead.
"You have to come out here focused, ready to do your job and just play football," said Pence, an all-state winner last season. "We want to go after that third championship, but we have to respond to what all these other teams have for us and give it our all. We are here to play football, not to celebrate what happened last year or the year before."
When looking at this year's version of Dufur football, the biggest question is how the offense plans on getting similar contributions without the services of two-time 1A Player of the Year Bailey Keever.
Keever rushed for 565 yards and 16 touchdowns, and added 1,513 passing with 27 scores, as the Rangers had the 1A classification's highest scoring offense at 710 points scored.
That's where ends Curtis Crawford, Cole Kortge and Tanner Masterson, and the running back squad of Ian Cleveland, Abraham Kilby, Anthony Thomas, Andrew Richman, Hagen Pence and Asa Farrell come into play.
At the controls is junior quarterback Derek Frakes.
In limited duty over the past two seasons, Frakes has shown an ability to lead the offense and keep the chains moving.
Coach Jack Henderson will not put all the offensive responsibilities squarely on Frakes, so the plan is to better utilize the various weapons.
"What we have to do though is pick out what is going to work best for this football team and stay with that stuff," said Henderson, who has a career record of 242-87. "We will do a lot of different things, use all of our players and we will take advantage of what the defense gives us, while still playing Dufur Ranger football."
Now a sophomore, Farrell is no longer the new toy that had been stashed away, he is going to carve out a larger offensive role.
In his first four career playoff games as a freshman last year, Farrell rushed for 714 yards and nine touchdowns.
"I am looking forward to doing what I can to help the team," Farrell said. "I am also very excited to play with everyone on this team because they know how to block, play physical and run. We have a lot of good players who can play different positions. I might not be the only one running. We have so many other weapons here that can also be the Ferrari in the garage that can come in and do some good work."
As the offense rolled up big numbers in 2016, the Ranger defense held league opponents to 10.8 points a game, and overall, gave 14 points or less eight times with three shutouts.
T.J. Kennedy and his 28 sacks are gone and Keever, a safety, is also not on the field, which puts Henderson and defensive coordinator C.S. Little into a position of finding players to fit certain roles on the defensive side.
Kilby, Pence, Cleveland, Kortge and Farrell will be pivotal pieces for this hard-hitting unit.
"The keys to defense with these young guys is not playing scared," Pence said. "You just got to go out there and hit people. In practices, I have seen a little bit of that. Those young guys are flying around and hitting people and playing tough. That's what our defense wants to be known for. We want to intimidate other teams and pound them every chance we get. That is just the style we need to play with if we want to meet our goals."
The new-look Big Sky Conference is without Mitchell-Spray and South Wasco County this season, but Arlington/Condon, Ione, Perrydale and Sherman are formidable groups that Dufur will compete against.
Last year, Sherman defeated Dufur 30-24 on Sept. 30, 2016, to eventually finish 6-0 for the league crown.
"Sherman is always going to be tough. They have beaten us two years in a row. They have some great kids coming back this year, so they will be a good challenge for us," Henderson said. "Perrydale is going to be a good team as well and Arlington is going to be a threat. We just have to prepare every week and be ready to play and be intent on improving each week to get where we want to be in the end."
While graduated seniors Keever, Kolbe Bales, Travis Lucas, Josh Brown, Cole Morrison, Ben Anderson and Kennedy are not on the roster, the younger Ranger players have made it a point to fulfill the legacy those standouts created.
Winning consecutive championships and eight as a program is a good thing, but to a man, they want more.
"We are always hungry. Every year we get hungrier and hungrier," Farrell said. "We are in the weight room, practicing and fighting to get back. That's a good thing because you have to be willing to work hard for it. If you go that extra mile and push yourself, you can accomplish anything. That's where are minds are at this season."
Dufur makes a trip to North Douglas High School for a three-game jamboree starting at 6 p.m. tonight.
The Rangers kick off the regular season at 7 p.m. next Thursday evening with a home matchup versus Falls City, as the opener for the annual Eight-Man Classic.