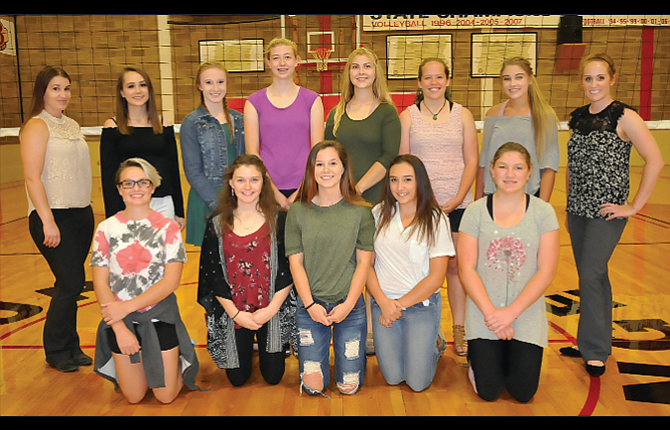 DUFUR – After a one-year break, Kayla Bailey is back and ready to be a driving force behind the surge of the Dufur volleyball team.
As one of four setters on the roster, Bailey is looking forward to the chance to take over the role vacated by graduated senior and all-state winner, Sydney Reed.
She is steadily finding her volleyball comfort zone.
"It was really hard to come back after taking a year off. I was rusty on my hitting and everything," Bailey said. "There are a lot of good, young players here and I had to fight hard with them just to make it on the varsity team. I think I am finally getting back in a groove of everything, so I think it will be good."
Bailey joins a Lady Ranger varsity team that features six underclassmen, two juniors and three seniors, led by first-team all-leaguer Chloe Beeson.
Last season, Beeson had a team-leading 279 kills, served at an 85-percent clip with 135 aces, totaled 107 digs and tacked on a career-high 41 blocks.
Although she will no longer be receiving passes from Reed, Beeson heaped praises toward her new quartet of setters, Zoe Hester, Haili Wolf-DePriest, Trinity Blake and Bailey.
"I am really excited because our setters this year are extremely mind-blowing," Beeson said. "They just come out and they set the ball up well every time. They can make the good plays and make the adjustments at the right moment to help the hitters out."
During the 2016 campaign, Dufur started with four consecutive losses, but then rebounded with a five-match winning streak from Sept. 23 to Oct. 6 to vault to the top of the Big Sky Conference standings.
The Rangers defeated South Wasco County in their district tournament opener, to clinch a state playoff berth, but lost to Arlington in the Big Sky Conference championship.
Dufur swept Damascus Christian in state sub-round match on Oct. 26 to put itself within one win of moving to Redmond for the state tournament.
Three days after the Damascus win, the Rangers had their season cut short in a three-set loss to Crosshill Christian.
Dufur posted a 15-13 overall record and went 11-3 in league action, finishing with a No. 12 ranking.
All those numbers were put up with Jody Weaver at the helm, but now with new head coach Kristin Whitley, the expectations remain unchanged.
The Sherman High School graduate is looking forward to the challenge. She joins forces with assistant coach Dezi Remington to lead a program that features 21 junior varsity and varsity athletes.
"I am excited to have the opportunity to coach," Whitley said. "I think the girls are really enjoying themselves so far and you can see it in the energy they show at practice. They have a lot of big dreams for this season and I want to do the best job possible to help them facilitate those. We have three captains per team and I am excited to work with them on team-building activities to foster that relationship and grow from there."
Along with the four setters and Beeson, the Rangers welcome back Aleksei Uhalde, Sydnee Byers, Maddy Smith, Mikayla Kelly, Kalie Ellis and senior outside hitter Alexus Outlaw.
Beeson and Kelly are in the middle, Outlaw and Byers will take care of the outside hitter role and Bailey, Blake, Hester, Wolf-DePriest and Ellis will log some minutes as opposite hitters for Whitley's 6-2 formation.
She thrusts a lot of responsibilities on her setters and their attitude and will have improved the team chemistry.
"I need my setters to be leaders on the court, to know the game and know where they are supposed to be," Whitley said. "I need them to be aggressive on that second ball touch, because it is theirs to take. We have been working a lot on the aggressive communication of our setters, so they are facilitating communication on the court."
Looking down the road to Big Sky play, Whitley envisions nightly showdowns against some solid groups.
Even without Horizon Christian, Arlington and Mitchell-Spray in the league due to a lack of numbers, Whitley knows that whether Condon-Wheeler, Sherman, South Wasco County and Ione are in first or last place, those matchups are expected to be closely contested.
"I think the fact that we have had a few teams drop out from the Big Sky makes it almost more difficult. The challenge is kind of concentrated to beat a team," Whitley said. "Anything can happen on any given night. You never know. But, we just need to focus on our game, our offense and our defense, and focus on being aggressive and being collective in our offense. I think that will help us be very successful."
In her first three years in the volleyball program, Beeson has been part of teams that have amassed a 62-28 overall record and a 30-4 league mark.
All three years, Dufur has played in state contests, including a 2014 runner-up finish under retired coach Kelly Darden.
Beeson wants to pass on that winning attitude to her teammates, where losing is not an option.
"Mindset is a really big part of the game and really how you are as a person," Beeson said. "Every single game you play, you need to stay sharp and on your game. I see good things with this team. We are mentally and physically strong, so if we can play up to our capabilities, we can get far."
Bailey and the rest of her teammates have made it a personal goal to send off Outlaw, Wolf-DePriest and Beeson on a winning note.
That's why every repetition has a purpose.
"We have seniors this year who have getting to state as their ultimate goal and their final goal to strive for before they graduate," Bailey said. "I know all of us who will be back, want to do everything we can to help them realize those goals."
After Saturday's games at Cove High School, Dufur hosts Heppner (2 p.m.) and Vernonia (6 p.m.) in a home double dual on Tuesday.