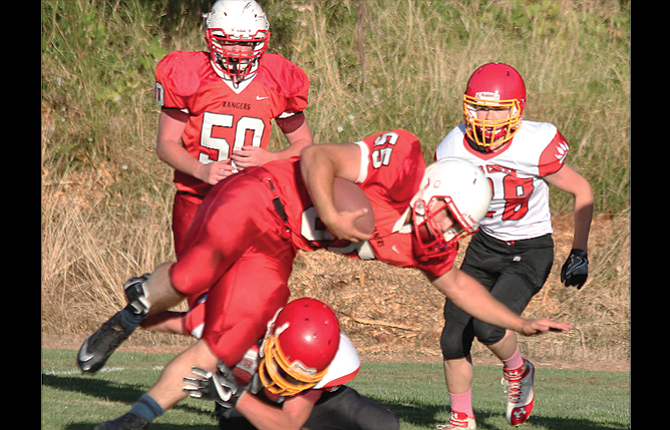 With a chance to hit someone else besides themselves, the two-time defending champion Dufur Rangers reeled off nine touchdowns and the varsity defense gave up one score in three games played to go 2-0-1 at the North Douglas Jamboree Friday in Drain.
"We had a long trip to North Douglas and we started out sluggish, but as the evening went on, we just played better and better," said Dufur head coach Jack Henderson. "We did a nice job defensively in the last two games. The varsity defense flew around and made great plays, which was good to see."
Each team had 12 plays on offense and defense for this jamboree.
In their opener against Camas Valley, Derek Frakes connected with Cole Kortge on a 38-yard touchdown pass, and Tyson Byers added a 10-yard reception to go with Hagen Pence's six yards rushing.
Camas Valley ran eight plays before getting its only touchdown for the 1-1 tie.
Against Days Creek, Ian Cleveland had a six-yard touchdown rush, Frakes hit Pence for a 32-yard touchdown pass and Abraham Kilby added two catches for 32 yards and recovered a fumble in Dufur's 5-1 win.
With a 1-0-1 record through two games, the Rangers capped a successful day with a 3-1 win over North Douglas, as Pence and Frakes hit the end zone on rushes, and Frakes completed a 26-yard pass to Kilby. Pence totaled 35 yards on four attempts and scored from six yards out. Frakes' score went for nine yards.
North Douglas managed a late touchdown on a 15-yard rush.
Overall, Henderson saw some good production from Frakes at quarterback and the offense strung together several drives in a balanced attack.
The defense displayed its hard-hitting prowess against three 2016 state-playoff teams.
"Our guys up front did a real nice job. Russell Peters and Abraham Kilby did well on the defensive line, and Ian Cleveland and Hagen Pence got after it and put a lot of pressure on the quarterbacks," Henderson said. "Both Tanner Masterson and Anthony Thomas did a great job of stopping the run from their cornerback positions. It was a complete team effort. It turned out pretty well."
Up next, the Rangers host Falls City at 7 p.m. Thursday evening in the opening game of the Dufur Eight-Man Classic.