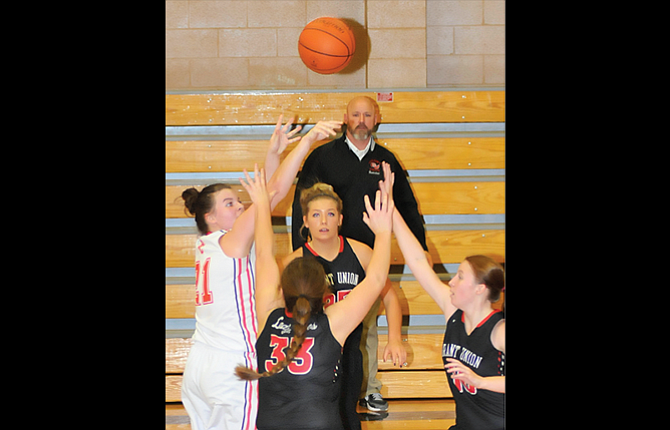 MORO – Sherman head coach Steve Bird is counting on his girls' basketball team to get healthy and further progress over the next 10 days his team has off.
This past weekend, the short-handed Lady Huskies split two games during Sherman Tournament action, defeating Stanfield by four points and losing Saturday versus 2A Grant Union.
"The girls showed they can compete and play tough in close games. We had some good moments in both games," Bird said. "With our injuries, we are giving some freshmen girls some extra time, so I think that experience will help them."
Right now, Sherman has four players sidelined due to injuries.
With that, the freshmen trio of Grace Poirier, Savanna Orendorff and Nancy Ambriz have an opportunity to get used to the varsity game, joining upperclassmen, Lexi Grenvik, Emma Stutzman, Desiree Winslow, Sammie Lepinski, Bri McKinney and sophomore Jaelyn Justesen on the roster.
"We have a ton of potential," Justesen said. "When you look at this team, we have fast girls, tall girls and some pretty good shooters. As long as we stay positive and confident in our abilities, I think we can have a very good year. I am excited about what we can accomplish as a team."
Sherman (1-1 overall) has a trip to Klamath Falls scheduled for Friday, Dec. 15 and Saturday Dec. 16 at the Holiday Hoops Classic, with a first game at 6 p.m. versus Hosanna Christian.
"Now that we have a week and a half off, we can get the girls in game shape and add some new things on offense and defense," Bird said. "We want to run. That's our goal. But, we need to get our girls healthy and back on the team to do that."