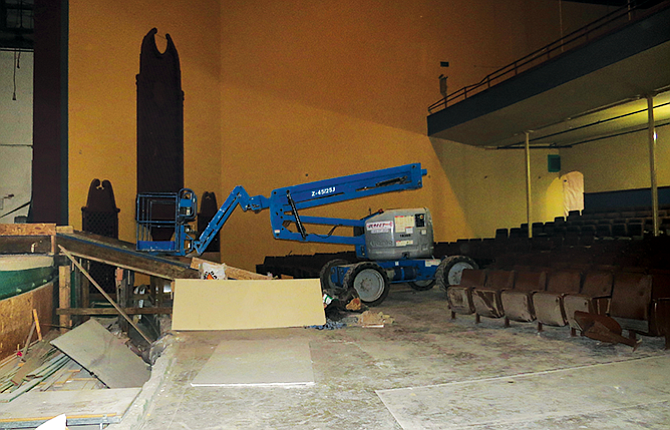 The Trail Band returns to the Civic Auditorium on Monday for its 24th annual concert — and this year people will not have to bring blankets into the theater to stay warm.
The theater has been closed since last December for roof and HVAC (Heating, Ventilating and Air Conditioning) system repairs.
The Trail Band will be the first performance in adequately heated space, although the cold has not stopped tickets from selling out in the past.
"Sometimes you could see your breath, but people still came," said Lisa Commander, a member of the Civic board.
"Having the trail band come to the Civic has become a tradition, a kickoff to Christmas," said Dennis Morgan, president of the Civic board.
Doors at the Civic, 323 E. Fourth St., open at 5:30 p.m. Dec. 11 for the band. No-host beer and wine, along with complimentary appetizers, will be served in the lobby that has been spruced up by volunteers for the holiday season.
The show begins at 7 p.m. and fetures special musical guest Mike Horsfall on vibraphone. Tickets are $25 and can be purchased at Klindt's Booksellers, 315 East Second St., by calling the Civic at 541-298-8533 or accessing thedallescivic.com.
"We don't really want to call it a re-opening because we still have a lot of work to do," said Elizabeth Wallis, manager of the Civic.
Morgan said, "Let's call it our soft opening."
The leaky roof over the theater has been repaired, insulation installed in the ceiling and duct work overhauled.
"The latest project was precipitated by falling plaster," said Morgan of the reason for the theater's one-year closure.
The Civic received a $300,000 grant from the Columbia Gateway Urban Renewal Agency for that work.
Another $745,000 for renovations was approved this year by the Oregon Legislature and will be available by the spring of 2019.
Two local families have pledged a total of $250,000 and Morgan said that challenge is gaining momentum.
"We're trying to be good stewards of the money," he said of continuing efforts to match incoming funds with donations, in-kind services and use of volunteer labor.
Toward that end, he said Griffin Construction, a Bend firm hired for major work, has been quick to offer suggestions about cost-saving measures.
The goal of renovations that began in 1991, said Morgan, has been to restore and preserve the original character of the auditorium. The Civic was built in 1921 and dedicated as a memorial to local veterans of World War I.
"I think we're really fortunate that people had that vision," said Wallis.
In its heyday, the Civic served as a hub of the community, providing a movie theater, dance hall and a site for high school graduation ceremonies. It was also used for tennis lessons that damaged crystal chandeliers in the ballroom, shuffleboard tournaments that marked the floors and other harmful activities.
"Preservation wasn't on people's minds back then," said Morgan.
The theater is a work in progress and, although there is still much to be done, its elegance is slowly emerging.
Morgan pointed out ornamental arches and decorative woodwork on each side of the stage that now "pops" because it is no longer the same color as the walls, which will one day also be repainted.
"It really shows the glory of this place," he said.
He is excited about one day having the two grand chandeliers rehung in the theater to reflect that glory.
On the to-do list is modifying the steep slope of the floor, and enlarging entrances, to accommodate people with disabilities.
At the moment, the working board of the Civic, along with Wallis, are scrambling to get the stage ready for the Trail Band.
One day there will be curtains gracing the stage and dressing rooms for stars making appearances, but not for the moment.
"It's sort of incremental," said Wallis. "It's a labor of love."
The theater once seated about 800 people and can currently accommodate about half that number. Once the balcony is brought into play at some point in the future, the audience capacity will grow.
"It's all dollar dependent," said Morgan.
Skot Barker has been hired as managing director of the theater and charged with searching for talent.
The board is working on a five-year management plan that will guide the work done by Wallis and Barker.
"Skot and I will be in close partnership to market the Civic as a venue as well as a theater," said Wallis.
Commander said the theater was built to provide excellent acoustics since the people of a bygone era did not have the sound technology available today. She said it was already a great venue for musical events and the digital presence will only heighten the experience.
Barker will be responsible for sound and lights during performances.
Morgan has been involved with Civic preservation since 1995, when there was a movement underway to have aging structures demolished.

"There were people who said, 'Just tear it down,' and, obviously, I disagreed," he said.
Sherry Munro, a board member, said Old St. Peter's Landmark was days away from being torn down, but preservationists were able to keep that from happening, as they were the Civic.
She is thankful the focus of community residents and government leaders turned toward showcasing the city's rich heritage to build community pride and attract visitors.
"Fortunately, the community changed its perspective and now believes in preserving what we have," said Morgan.
As money became available over the years through urban renewal, grants, donations and fundraisers, work plodded along and the east side of the Civic and was finally finished in 2000, he said.
T­he hardwood floors now gleam and the bathrooms have been fully modernized. There is a catering kitchen upstairs and the Civic regularly hosts cultural events and community gatherings.
The daunting challenge of renovating the theater is underway and Morgan said its completion also requires a community commitment.
"What we would like to see is more local support — that's what we're looking for — because that will open a lot of doors with granting entities," he said.
Even if people can give only $25 or $50 at a time, Morgan said they will make a difference. He said by taking ownership, community members will be able to share in the accomplishment of restoring a historic building to its former glory.
"This has become a passion for many of us," said Morgan, who followed in his parents' footsteps with preservation work.