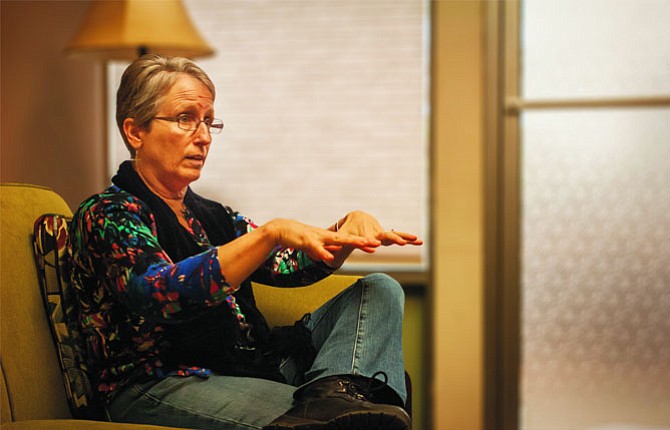 A long cold winter is making it more difficult for people to cope with upheaval at the federal level as new President Donald Trump and other Republican leaders roll out dramatic policy changes that are drawing fire from millions of Democrats, says a professional counselor.
"People are stuck inside more with the cold weather and, what are they doing? They are watching news or getting on Facebook," said therapist Colleen Worrell of Strong Tree Counseling, Inc., of The Dalles.
She said the current deep cultural divide over ideologies has the potential to help Americans stretch themselves as human beings — if they can learn to stop reacting from an emotional place of fear.
"Fear is at the bottom of anger and a lot of other emotions," said Worrell. "Whenever you're not acting out of a loving spirit, then there is probably fear involved. So, you need to recognize that and think about where those feelings are coming from."
For example, she said many Americans embrace the change Trump is bringing and are afraid political opponents will block those changes. Other Americans are strongly opposed out of fear of where the country is headed under the new policies.
It ratchets up the potential for disputes, said Worrell, when many "hot button" issues are being debated at the federal level, such as gun control, gay marriage and abortion.
"My thoughts regarding change and the complications of discussions with others who are not in the same camp politically are 'empathy' and 'respect,'" said counselor Julie Mellow.
Worrell said empathy and respect can only happen in their truest forms when people shelve judgements and work to understand the basis of another's beliefs.
"Everyone grows up in a different background and there are many different personality types and temperaments, all of which contribute to how we view the world," said Worrell.
"We can learn to hate what people do, or believe, without hating the person. The way we do that is to truly try to understand how they think and then come to the place where we can agree to disagree without seeing that person as an enemy."
Dr. Jeff Cook is new to the counseling center. He said, at this politically volatile period in American history, it is crucial that people learn to "transcend their personal lens (right/left/Democrat/Rep-ublican) and learn to listen, which requires a much stronger person than the one who simply expresses their view without regard for the other."
"Many disciplines — philosophy, art, theology, biology, neuroscience — suggest that we, as humans, are at our core, relational beings," said Cook. "Sharing, even sharing passionately, is a form of intimacy, as the other person allows (the listener) to see a passionate part within themselves."
He and Worrell say that much of their work with couples involves helping them learn the difference between a perceived need to be "right" versus what it means to be "relationally right."
"If my need is to be 'right,' then I have already closed the door to understanding and relationship," said Cook. "But, to be 'relationally right,' means that I strive to understand both the other person's view and why they hold it so tightly. As the other person feels they have been heard, they are more likely to feel compelled to know and understand me as well."
During this period of history, Cook said people enhance their humanity with personal growth or choose the need to simply be "right" and, in so doing, dehumanize both themselves and the other person.
Worrell ascribes to the advice of Mother Teresa that, "If you judge people, you have no time to love them."
She said a pro-life advocate can practice this philosophy by trying to understand what was going on in the life of a woman who chose an abortion.
A gun control advocate can spend time considering the mental issues involved in a gunman choosing to take a life instead of just trying to reduce ownership of weapons, which inflames the Second Amendment battle.
Worrell said there are proactive things people can do to support their viewpoints that bring healing and not division to society.
For example, a pro-lifer can work to make sure there is a support system in place for pregnant women. And gun control advocates can work to get more resources to troubled teens or reach out to families in crisis.
"Instead of wasting your positive energy or physical time criticizing or trying to legislate these issues, why not get busy listening, seeking to understand and reaching out to your fellow human
beings with a helping hand?" said Worrell.
Although the four counselors at Strong Tree hold a Christian faith, they all feel called to serve the community at large and routinely interact with people of different beliefs, or none, and are respectful of those differences, said Worrell. She said that same type of stance needs to be taken by society as a whole.
When political conversations devolve into negativity, she said people need to stop pursuing the subject if they are interested in keeping the relationship intact.
Worrell remains hopeful about the future and said civilizations have fallen on tough times throughout history and mankind has always found a way to keep moving forward.
"Freedom has ebbs and flows," she said. "This is an opportunity to bring freedom back to its original glory."
Toward that end, she said there is a lot of "alternative news" and "fake news" circulating in media reports and on social networking sites that is intended to ramp up division.
Worrell believes it is the responsibility of each and every adult to do their research and use logical thinking to figure out the facts.
That enables people to educate each other and pare back dissension, she said.
For good mental health, Worrell recommends that people shut down the computer and silence their phones every evening to truly relax and get restful sleep, which strengthens coping skills.
Strong Tree Counseling Center is located at 500 Washington Street and the individual information for each therapist is available via the website at strongtreecounseling.com.