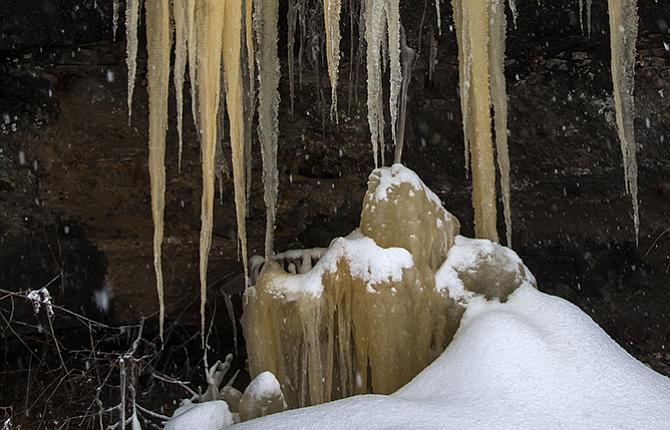 Chilled to the bone as you're sitting by your drafty window at home? Pondering your bare roof when neighboring houses are still covered in snow? Have you recently become aware of the term "ice dam?"
The bitterly long and cold winter has provided a sharp lesson for some homeowners about the need to better weatherize their home to keep the winter chill — and eventually the summer heat — at bay and to save on power bills.
Travis Hardy, energy management technician for the Northern Wasco County PUD, oversees the weatherization program.
The utility offers free energy audits in which a technician does a walk-through of your home and lists the steps that can be taken to improve energy efficiency and, over time, save significant money.
The audit, which usually takes 30 minutes to an hour, does not require a commitment to do any work.
"It's just an informational audit," he said. Visit www.nwasco.com to learn more about the energy audits, or call 541-296-2226.
Weatherization could even spare potential home damage, which is where the "ice dam" comes in. That is the buildup of ice along gutters that prevents melting snow from draining off the roof.
Water backs up behind the dam and can leak into a home and damage walls, ceilings and insulation. Ice dams form in part due to heat loss from inadequate attic insulation.
Once an audit is done, the PUD has funds available to help reimburse customers for part of the cost of weatherization.
The work is free for low income customers. The audits focus on insulation, windows and heating systems since those are the grant programs available, Hardy said.
The minimum requirement is about 14 inches of insulation. "And what I see in a lot of homes is either three inches of insulation or six inches of insulation, so most of them need to double or triple the insulation," Hardy said.
Once the work is done, "It's an instantaneous comfort improvement," he said. "It's definitely going to be worth it if you have to do the attic insulation. That's your low hanging fruit."
Insulation costs about $1.75 to $2 per square foot, he said, based on three years of data covering 300 to 400 jobs. "We will rebate you 75 cents a square foot," he said.
So a homeowner can expect to pay out of pocket about $1 per square foot for insulation, depending on how much more insulation has to be added, he said.
Duct sealing is also an inexpensive weatherization.
The weatherization program is popular and the funding is limited.
The PUD gets $1.2 million for a two-year period from the Bonneville Power Administration for grants and contributes $500,000 yearly of its own money, for a total of $1.1 million per year, Hardy said.
He did 95 audits in 2016, and the homes are usually ones built before 1993. "All of the homes after '93 are up to code."
He said a large portion of the homes he audits are manufactured homes, most of them built before 1985.
The PUD also has a low income weatherization program, and 80 percent of those customers live in a manufactured home or a trailer. "Our low income program has kind of taken off crazy," he said. He started it two years ago.
Since the weatherization program's 1982 inception, the PUD has audited about 4,500 homes, most of them stick built, and most of them have had the improvements done that were recommended.
Most of the audits — 70 percent — are for homes that do not qualify for the low income program, Hardy said, but most of the funding — about 80 percent — goes to low income qualifiers.
Low income weatherization work is fully paid for by the BPA and PUD.
"We have a very long backlog of people. I think we're probably 30 deep right now because we ran out of money last year and had to put people on hold," he said.
People aren't getting turned away, he said, but they are being put on hold.
The program has proven so popular that "we blew through two years of money in 11 months. We were struggling a little bit keeping everything under control. We were saying yes to everything, now we have to say no a little bit," he said.
The money is allocated quarterly, and the current quarter's money was just fully utilized last week.
The next quarterly availability for weatherization rebates begins April 1. "I know it's not going to be long until we go through that money, too," he said.
There is no wait time for an audit.
But to qualify for a rebate, the PUD has to review a homeowner's bid for the proposed work, and the work has to be done within 60 days of getting qualified for the rebate, or it may be delayed or denied.