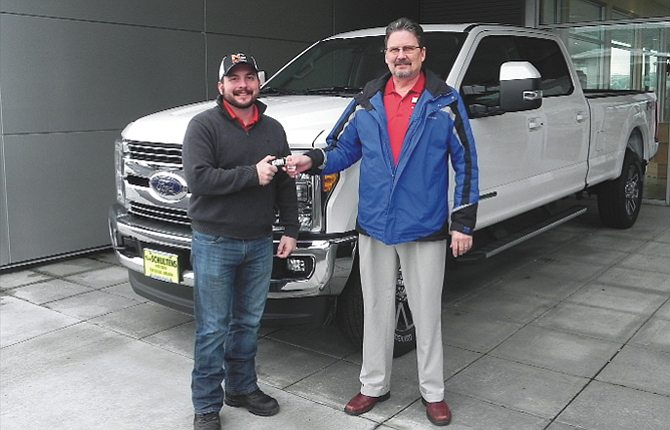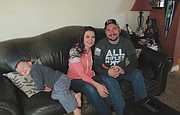 Brandon and Katie Kuehnl of The Dalles were recently given the "chance of a lifetime" by Ford Motor Company to get their finances in order and prepare for the future.
"We were pretty shocked," said Katie about learning they had won a sweepstakes prize of a new pickup and a hunting trip.
Brandon entered the online contest last year without any expectation that he would win.
"I clicked on it and thought, 'What the heck, I might as well try it,'" he said.
"He was just bored that day and filling out sweepstakes," said Katie of the moment.
In January, Brandon received a call from Ford notifying him that, as a winner of "The Ford Outfitters Truckin' to Texas Giveaway," he could pick out a vehicle valued up to $60,000 – and take his wife on an all-expenses hunting trip for Nilgai, an Asian antelope, on the King Ranch in Texas.
"It was a package deal," said Brandon.
Ray Schultens Motors in The Dalles was the nearest Ford dealership, so the Kuehnls worked with sales personnel there to select the vehicle they wanted.
After looking through the inventory on the lot, and what was available online, Brandon decided on a white 2017 Ford Super Duty F-350.
"We were thankful for everything they did to make this happen," he said of Schultens' assistance.
The local car dealership arranged for the Kuehnl's truck to be transported to The Dalles and Brandon could hardly believe it when the keys were turned over to him, which finally brought home the reality of the win.
"It was awesome," he said. "This just never happens."
He and Katie each brought two children into their marriage, had son Elijah, 3, together and take in two to three foster kids at a time.
Brandon, 30, works in security and Katie, 26, holds down the home front while operating a small business from their 10th Street residence.
The Kuehnls decided that selling the truck would be the best option for their family because it would allow them to pay off the existing debt and put money away for a house – so they could go from four to six bedrooms to better accommodate the children.
"When the foster kids come through the door, they are part of the family," said Brandon.
Katie said everyone is treated equally so it will be nice for all the children, ages 3 to 9, to have more space.
The Kuehnls are going on the Texas hunt in April and looking forward to the trip and tasting the meat of a Nilgai, which will be packaged and shipped to their house if they are successful.
"I've never tasted it but they say the meat is really good – comparable to elk," said Brandon.
He encourages people to take time to enter contests because there is nothing to lose and a lot to gain.
"We're proof that you can win," he said.
Katie said people who do win need to be prepared to pay taxes on the prize, which is treated by the IRS as an income.
"The amount of debt we paid off compared to the amount of taxes we're paying – we still came out ahead," she said.
Her other recommendation is that people who do enter a Ford contest get an email address set up to receive correspondence from the company about vehicle specials and service deals, which is plentiful.