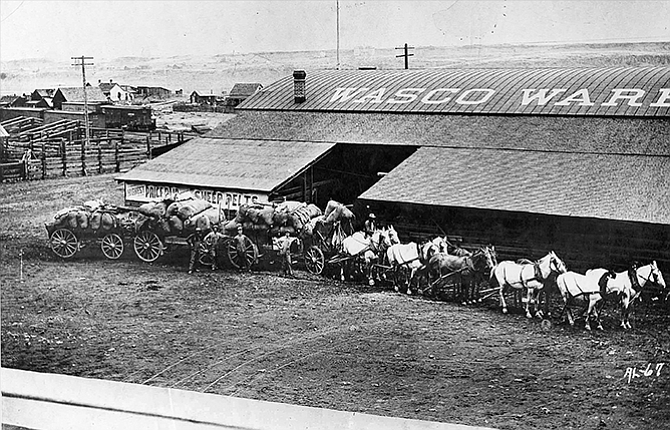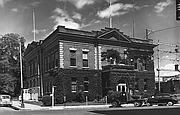 20 years ago – 1997
Two squares on the Threads of Life Quilt have deep emotional significance for the family of the late Kayla Rose Chance of The Dalles. They are the squares that memorialize the four-year-old girl whose organs were given to the Oregon Donor Program.
When his girlfriend was eight months pregnant, Patrick D. Osterhoff Jr. told her he wanted the baby dead. Osterhoff, 22, went on trial Tuesday in Wasco County Circuit Court on charges of murder by abuse in the death of his son, Jonathan, who was 22 days old when he died on May 14, 1996.
Workers, shoppers and other patrons will find a changed parking environment downtown under a plan approved by the Hood River City Council Monday. The plan adds metered parking to several streets, increases parking time from two to three hours at others, and ends the practice of "block-hopping" by downtown employees and residents.
The responsibility of landowners for the water temperature in salmon and trout streams on their property will be explained in an open house Thursday.
40 years ago – 1977
By ELROY KING – The winter of 1977 seems to be causing problems for nearly everyone, but for different reasons. In some places there is too much snow, in other places there isn't enough. In some places the economy is suffering because it is unseasonably cold, in others it is in equal difficulty because it is unseasonably hot.
MAUPIN – The South Wasco Swimming Pool Association is trying to begin a petition drive for the formation of a recreation district in southern Wasco County. Barbara Hore and Kathie Martin, two members of the association and organizers of the drive, said they want to submit the petition to the county court. They emphasized that the district would not cost any money for the residents now. If the recreation district is approved, a board would be formed from the residents.
CINCINNATI (UPI) – A marijuana-smoking gunman, searching for a son he abandoned 20 years ago, surrendered today and eight persons he held hostage in a home for unwed mothers for about 15 hours were reported safe, police said. Police said Jessie l. Coulter, 39, Detroit, surrendered peacefully in the Catherine Booth Salvation Army home in its Avondale section. Salvation Army Maj. David Baxendale told how the six took away Coulter's gun and escaped. "I guess he was smoking pot and he started to roll a cigarette and one of the nurses grabbed his gun and it discharged," Baxendale said, "but no one was hurt."
60 years ago – 1957
For the second straight week The Dalles Trap and Skeet club was represented in the Spokesman-Review Skeet Shoot with a perfect 75 total. Last Sunday there were six members who shot perfect 25s. Included in the select group were Walt Erickson, W. D. Fraties, Warner Henderson, Wes Meyer, John McNab, and J. B. Whier.
The theft of five state payroll checks from the Eastern Tuberculosis hospital in The Dalles is being investigated, state police reported this morning.
Gene Calvin Hatch, 21, was sentenced to a maximum of 12 years in the state penitentiary at Salem yesterday afternoon by Circuit Court Judge Malcolm Wilkinson. Hatch, convicted of manslaughter by a jury of 10 men and two women Feb. 1 in connection with the fatal stabbing of his employer Walter Freeborn, 75, during a fight in Freeborn's house trailer the night of Oct. 14 in The Dalles, maintained complete silence during the proceedings yesterday, except for a softly spoken "no" when asked if he had any comments to make.
WASHINGON (UP) – A three-man Army medical team was chosen today to fly to Saudi Arabia to give little Prince Mashhur further treatment for cerebral palsy.
80 years ago – 1937
At noon today residents of The Dalles had enjoyed 24 successive hours without seeing their thermometers register below the freezing mark – something that hadn't happened here for 39 days. Last night's minimum temperature was 32 degrees, just freezing, and marked the first time since January 3 that a full day has passed without a nightfall drop in temperatures to a below-freezing level. A warm southwest wind and light rainfall Thursday afternoon and last night speeded thawing of ice and snow left here by the January cold spell.
A fine of $25 and costs was assessed John Quincy Adams, who gave Hillsboro, Ore., as his address, when he pleaded guilty in justice court before Judge H. G. Meredith yesterday to a charge of killing game birds out of season. Adams was arrested near Dufur by a state police officer for shooting a China pheasant.
Coast into popularity in Pacific coast styles. New spring dresses just received from our San Francisco buyer. $7.95 to $14.95. Ella May Apparel Shop, located in Pound's Jewelry store.
Learning that his men are contemplating a sitdown strike, the astute employer will interest them in horseback riding.
SALEM, Ore., Feb. 12. (UP) – The senate today killed legislation for a one-house legislature, lieutenant-governor, liquor advertising prohibition and legislative salary increases in a hot flurry of bill-junking. A pair of senate joint resolutions calling for a unicameral assembly consisting of 30 members came out in committee with unfavorable reports and were indefinitely postponed by verbal vote after a brief debate.
100 years ago – 1917
The school board met Saturday evening and elected S. W. Moore of Omaha, Neb., more recently of Gooding, Idaho, city superintendent of schools in place of I. B. Warner, who resigned. The taxpayers, at their annual meeting last fall, limited the salary of the superintendent to $2000 a year.
An automobile belonging to Leon Dawson, was slightly damaged Saturday night, when a horse, attached to a wagon, shied and ran into the machine. The fender is bent and the enamel of the car is scratched.
FOREST GROVE, Feb. 12. – The postoffice safe was dynamited and looted early this morning. The postmaster has not divulged the amount of the sum which was missing. There were two explosions and the safe was blown to bits. Paper money was burned.
Get one of those handy little ladder stools. Price $1.25. Gus H. Walther company. 13w7
WASHINGTON, Feb. 12. – Administration officials began today to share the impatience of shipping men over forced detention of American vessels in their home ports because of Germany's U-boat war. This feeling appeared likely to hasten the solution of the question of armament for merchantmen.