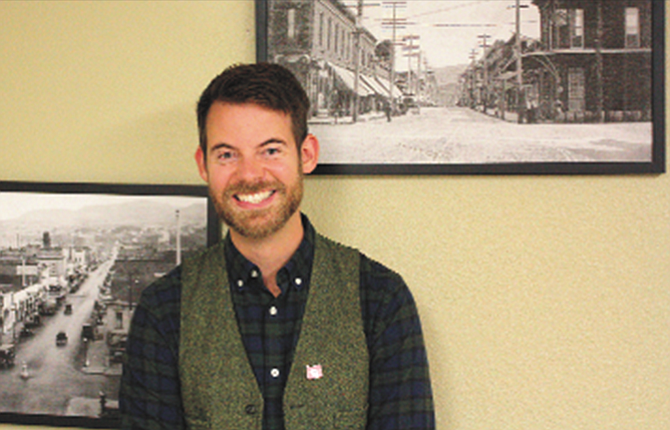 Jeremiah R. Paulsen has been hired to serve as the new executive director of The Dalles Main Street Program.
"This is an exciting transition not only for my personal and professional growth, but also because it mirrors the same transition that our past executive director, Matthew Klebes, embarked on when he first came to The Dalles," said Paulsen. "One of us chose to float down the Columbia while the other made the journey on the Barlow Toll Road. I will let you decide who did what, but ultimately we both reached the same destination and traded wagon parts over a beer."
The Dalles Main Street works to comprehensively revitalize downtown The Dalles using a four-point approach: Promotion, design, organization, and economic restructuring.
Paulsen, who will officially start his new duties on March 1, arrived in The Dalles in 2014 when he worked as a Washington Reading Corps member serving schools in Wishram.

After two years as a teaching assistant, Paulsen joined The Dalles Main Street organization as an AmeriCorps Resource Assistance for Rural Environments volunteer for an 11-month contract beginning September 2016.
"Having Jeremiah on board for several weeks before I left was very helpful; he has been able to get right up to speed as 2017 gets started," said Klebes, the former director of Main Street who recently was hired by the city of The Dalles to serve as the assistant to the city manager.
Since his arrival to the Main Street organization, Paulsen has assisted with a variety of activities, including the Fall Pub Crawl, Main Street Uncorked, helping downtown shine bright with holiday lights, Santa in the Downtown, and the Oregon Main Street Conference where the organization accepted two awards for "Best Partnership with the City of The Dalles" and "Best Community Education" for The Dalles Main Street's promotional volunteer booklet.
"I have seen so much positive growth for The Dalles just in the short time I have lived here. The community has momentum and I look forward to our exciting developments as we press forward into a hopeful future," said Paulsen.
The Dalles Main Street office is located in the Mint Building, 710 Court Street.