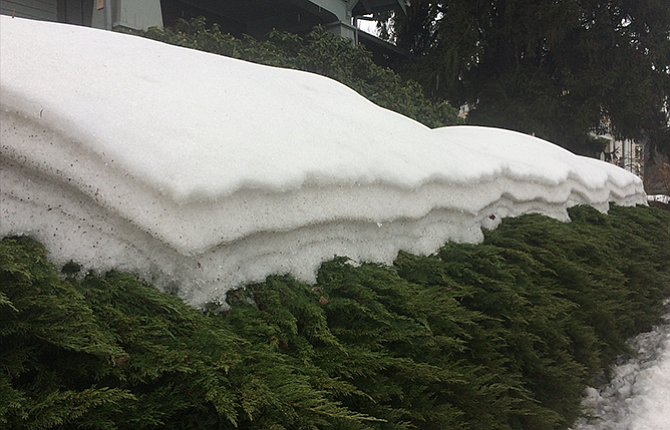 For the first time in 73 days, the warming shelter at St. Vincent de Paul was closed Wednesday night, though weather forecasts indicate it will be reopening soon.
The criteria for opening the shelter are if it's 30 degrees or below, including windchill, or 35 degrees or below if there's precipitation, said Ed Elliott, chair of the Warming Place committee.
Though it was raining, it was supposed to reach a high of 37 last night.
This winter, for the first time in its seven-year history, the Warming Place has been continuously open since Dec. 4.
Asked earlier Wednesday how long it had been open, Elliott cracked he didn't know "how many hundreds of days that was – it seems like that to everybody anyway."
The shelter was closed Wednesday because the temperature was supposed to actually get warmer throughout the night, "whereas most nights it's the other way," he said.
He said, "We keep hoping we'll get a break somewhere just because the volunteers need a break."
The Warming Place has not only had its longest continuous stretch of open days, but it is doing it with a much smaller than normal volunteer pool of about 60 volunteers.
The Warming Place, which has room to house 19 people, is staffed by two volunteers per night. Most volunteers are affiliated with local churches, but anyone over 18 is welcome to apply. For more information, call Elliott at 541-386-5857.
He has put out repeated calls for volunteers, with almost no luck. One volunteer who he trained just before Christmas said he would be gone until early February. "He called me Monday and said, "I'm back and ready to go.' He's one of the volunteers that would have worked [Wednesday] if it had been open."
The warming shelter has been averaging about 10 people a night, although in recent weekends, a couple of nights only four people showed. "We have absolutely no explanation for that, because they're out there, but apparently they're comfortable with where they're at so it's not a problem for them. But the facility is there if they choose to make use of it."
The Warming Place relies on the National Weather Service for its forecasts. The organization has two people who trade off weeks, and it is their duty to decide whether to open that night, and if so, to notify not only the needed volunteers, but a host of others, including the police department, fire department, Salvation Army, the local mental health agency and hospital.
Elliott said "It's been such a weird winter everywhere."
He read that New York City and part of New England got 2 feet of snow, while a town in Oklahoma recorded almost 100-degree weather and a dam in California threatened to be breeched after rains swelled water flows.
"The gorge is really unique in the fact that it's this trough in the mountains and cold air sinks to the bottom and sits there," Elliott said. It takes a strong storm off the coast to get rid of it, "but we haven't got one of them. It will take a good push of air from the west to scour it out."
The record for total days open at the warming shelter is 83 days, set in the 2014-15 winter.