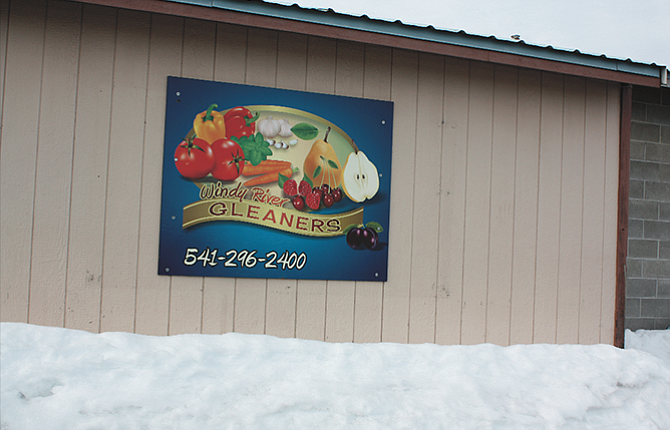 The Windy River Gleaners has been struggling to keep enough food on the shelves to help community members in need.
Bad weather has halted food deliveries, forcing the organization to curtail office hours and pare back volunteer-led fundraising activities.
Gloria Dunagan, warehouse manager for Windy River Gleaners, said the weather has taken a real toll.
"We run on a shoestring and sometimes the shoestring gets very frayed," said Dunagan, who has volunteered for the past two years.
Windy River Gleaners, 3400 Crates Way in The Dalles, serves Wasco, Hood River, and Sherman counties. Volunteers usually take in food and distribute it in the same week, but that has not been possible during a winter filled with a series of snow and ice storms.
"We usually put food in the warehouse during the week, and people come out on Tuesdays between 9 a.m. and noon to pick it up," Dunagan explained. "We missed two weeks because of the weather, and a couple times we couldn't even get into the lot with the amount of snow. Then the freezing stuff made it impossible for people to get out there. It's not safe."
Kristen Burke, a new volunteer with Gleaners, said she is concerned about the impact of reduced food distribution.
She said a local company alleviated some of the access problem by volunteering to plow the Gleaners' property.
"F.L.I. Landscape was kind enough to help by plowing out the parking lot," she said.
The Gleaners' food distribution operation is entirely run by volunteers, and the food they distribute is donated.
According to Burke, the food comes from different government agencies and from the Oregon Food Bank. Grocery stores provide donations, and various seasonal crops are brought in from area farmers so food can be distributed to people who need it.
Sharon Thornberry, rural communities liaison for the Oregon Food Bank, said distribution problems brought by weather have been seen throughout the Gorge.
"There were two weeks the Oregon Food Bank could not deliver because I-84 was closed," she said.
Thornberry said the food bank has been stepping up to help make sure supplies reached those who needed them.
"We did five special deliveries to get food to people in the last week," she said. "We asked organizations around town to help those who couldn't pick up."
Thornberry believes Windy River Gleaners' fundraising efforts have also been impacted by the icy weather. The organization brings in money by serving coffee and donuts at rest stops along Interstate 84, but recent highway closures and reduced traffic have hampered those efforts.
"For weeks we couldn't even get out to do that," Dunagan said. "We couldn't get out there."
This weekend, however, with no big storms looming on the horizon, Gleaners will take advantage of the break and be at the Memaloose Park Rest Area offering pastries and coffee.
"We'll be out there on Friday, Saturday and Sunday," Dunagan said. "People can give a donation. It's strictly on a donation basis."
Gleaners is dealing with more than simply bad weather, however. Its warehouse building on Crates Way is for sale, creating uncertainty for the organization and those who rely upon it. And the phone number listed on a sign on the building is not currently working.
"Having the building for sale, that is a worry," Dunagan said. "Community Action owns the building and wants to sell."
The building has been for sale for six months, and the organization is looking for a new location.
Dunagan said the icy weather is to blame for the phone number being temporarily taken out of service. "Our treasurer didn't get the bill paid in time because she couldn't get out of her parking lot," Dunagan explained. "Everything has been weather-related."
Despite the challenges, Dunagan said the need for Gleaners' services continues. "When the weather is better, we have between 150 and 200 families coming out," she explained. "We give out 2,000 pounds of food a week, and we're not skimpy. We serve a lot of families."