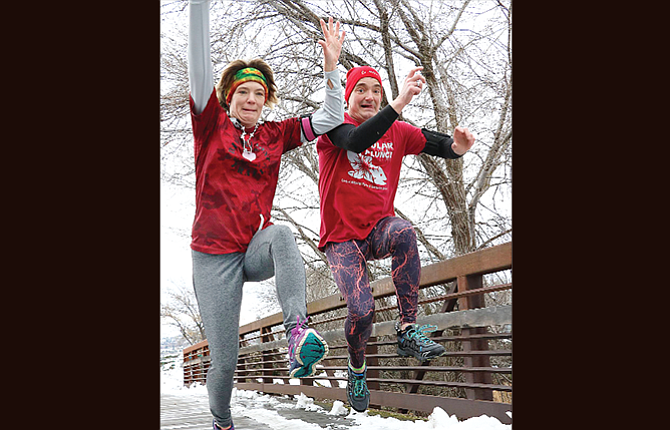 Two days before the 10th annual Valentine's Day Trail event, The Dalles saw a complete snow whiteout.

It did not look good for the Saturday event.

However, the temperatures took a sharp turn and reduced the snow on the trail to nothing, so 79 running enthusiasts had the opportunity to participate in the 3k, 5k and 10k run at Lewis and Clark Park.
"The temperatures reached 43 degrees during the race, and I can't remember when the last time we had that high of temperature in The Dalles," said official timer, Daphne Flud.
In the 3k race, Chloe Cook headlined the female side, ending her run with a time of 14 minutes and 45 seconds to secure first-place honors.
Riley Parker was second after a 15:27, Sierra Cook added a 16:45, Sydney Parker turned in a 19:57, five-year old Josie Gunderson, the youngest participant, timed out in 22:18, Cheyenne Hulit-Pulicella ended up with a 24:57 and Callie Waters placed seventh after her 25:51.
Grant Loughmiller controlled the pace in the male 3k race, topping the field with a mark of 15:34, besting Brayden Strong (15:42) by eight seconds.
Ben Kramer (18:46), Daniel Elias (21:41), Diego Elias (22:50), Sam Kramer (26:08), Doug Kramer (26:09), and Russell Loughmiller (28:22) rounded out the top-8.
The Fortin team of Kay and Mark sizzled the 3k run course (1.86 mi) in 33.37.
In the 5k event, Gabe Lira scored top honors for a final mark of 18:36 in what was the closest finish of all three distances, inching ahead of Gary Daubenspeck, who had an 18:39.
Jeff Cook (18:58), seven-year-old Colonel Wright first-grader Emmett Gunderson (27:11), Daniel Richardson (27:18), Ronald Harper (27:43), and Dillon Melady (32:13) made up the best seven male harriers.
Jenny Loughmiller hit a personal-best 5k time of 24.59 to pick up top recognition, finishing in front of Ronda Strong (25:54) and Judy Richardson (27:26).
Christina Fauth (29:30), Carol Rodecap (29:37), Michele Gunderson (30:01), Luciana Carosella (32:48), Mary Clark (32:52), Patty Cooper (38:43), Chelsea Nares (38:53), and Danielle Lower (38:54) made up the best of the women's field.
Jarren Seal captured first place on the men's 10k side after a 40:43, nearly nine minutes ahead of Brad Anderson (49:26).
Bryan Mears placed third with his 58:34, and Scott Bryant was fourth, as he crossed the finish line in 1:04.46 and Shane Thompson was fifth with a 1:06.33.
Amanda Hoey cruised past the group of 11 female 10k runners, placing first with a run of 51:40.
Carmen Myers (58:30), Rebekah Beck (1:04.54), Maria Keilman (1:05.13), and Cindy Berkshire (1:06.33) rounded out the finishers.
Participants set a time to measure their fitness.
At 10 a.m. on Saturday, March 11 on the same course, they will have the opportunity to improve on their performance.


For information or to register, call 541-340-9307.