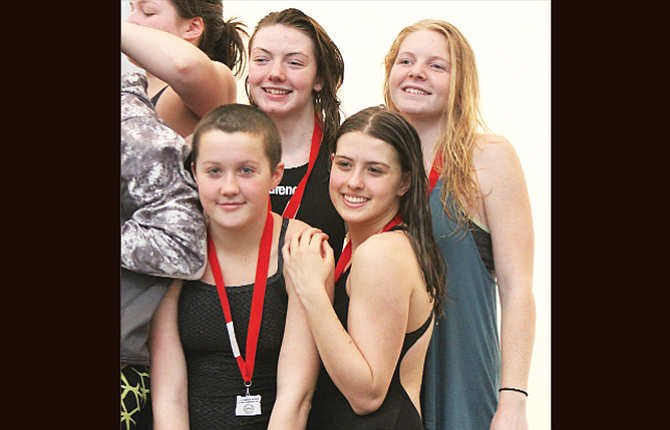 Moments after finishing less than a second behind Pendleton in the 200-yard freestyle relay at the Columbia River Conference district swim meet in Hood River, members of The Dalles girls' swim team felt a surge of emotions.
It looked as though the state journeys of seniors Hannah Weeks and Molly Taylor were dashed.
In a stroke of luck, however, the Riverhawk duo, along with Bree Webber and Natalie Varland were given wild card invitations for this weekend's OSAA State Swimming Championships at the Mt. Hood Aquatic Center in Gresham.
"This means a lot to us, because now we can get two seniors to state for the last meet of their high school careers," Nelson said. "We worked really hard as a relay team, so the opportunity to make it to state was very rewarding for us."
The quartet had a seed time of one minute and 48.33 seconds, and put together a finals mark of 1:51.62, trailing Pendleton (1:50.84) by .78 seconds.
With this second chance, Nelson, whose team is a No. 11 seed entering Friday's state preliminary rounds, said there is no pressure on how they finish, but that her primary focus is on enjoying the moment with three other teammates who have been with her every step of the way.
"I think this last meet will be more of a celebration of all of our hard work together, since Hannah and I have been through this for four years and two previous times at state before this year," Nelson said. "It will be the grand finale to our swimming careers here at TDHS."
In addition to joining her relay mates, Varland captured first-place honors in the 100-yard breastroke with a mark of 1:15.06, besting the top two seeds, Olivia Broker (1:16.16) and Landry Huth (1:16.29), both of Pendleton.
In the 21-person preliminary round, Huth and Broker finished 1-2 and Varland was third after a time of 1:18.22.
"This is very impressive as this is Natalie's second appearance at the state meet in the 100 breaststroke and she is only a sophomore," said TD head coach Shea MacNab.
Varland qualified for finals in the 200-yard freestyle, where she swam a lifetime-best 2:25.44 for third place.
The sophomore shattered her previous mark in the final round, ending up with a mark of 2:23.46, also for third place.
In the 50-yard freestyle, Weeks, Webber and Jaeden Biehn all made it to the finals, and in that round, Weeks placed third with a 28.13, Webber added a 29,32 for fifth and Biehn wound up in sixth place after a swim of 30.56.
Weeks notched a 1:18.72 for third place in the 100-yard butterfly preliminary race, and completed her finals race in 1:19.44 to take hold of third place.
Nelson and Webber were the only two Riverhawk swimmers to advance past the 100-yard backstroke preliminaries, Nelson placed second with a 1:11.29 and Webber a 1:21.53, but in the finals, Nelson shaved nearly four seconds off that mark, ending up in second place with her time of 1:07.88.
Webber touched the wall in 1:19.78 to place sixth.
Webber, a freshman, dropped times in her tries in the 100-yard backstroke and 50-yard freestyle, and Nelson improved on her lifetime-bests in the 100-yard backstroke and the 200-yard individual medley, where she clocked in at 2:41.59 in the prelims, but then followed that up with a 2:34.90 to secure fourth place.
"Molly was our female swimmer of the meet," MacNab said. "As a senior, she has been a consistent leader for our team over the past four years and is always the hardest worker in the pool."
Lydia Evans had a 3:28.05 to score seventh place in the 200-yard individual medley, her first try in this event, and Emily Peterson motored home in 3:31.06 to grab eighth-place honors.
Biehn was sixth in the 100-yard freestyle finals (1:11.44), Emily Nolasco) added an 8:07.24 final mark in the 500-yard freestyle, and Maya Hernandez, a senior, hit a finals tally of 1:29.34 to take sixth place in the 100-yard breastroke.
While the group of Weeks, Varland, Webber and Nelson reeled off second place in the 200-yard freestyle relay, they added third-place recognition for their part in the 200-yard medley relay, where they had a combined time of 2:08.17.
The quartet of Hernandez, Nolasco, Peterson and Biehn had a time of 2:11.35 for sixth place in the 200-yard freestyle, and added another sixth in the 200-yard medley relay with a final mark of 2:40.43.
Also in the girls' relay, Marin Alvarez, Madeline Larson, Evans and Samantha Beall combined for a 5:12.91 in the 400-yard freestyle relay to place sixth.

Those relay and individual finishes garnered The Dalles 59 points for third place, behind Pendleton (99) and eventual champion, Hood River Valley (135).