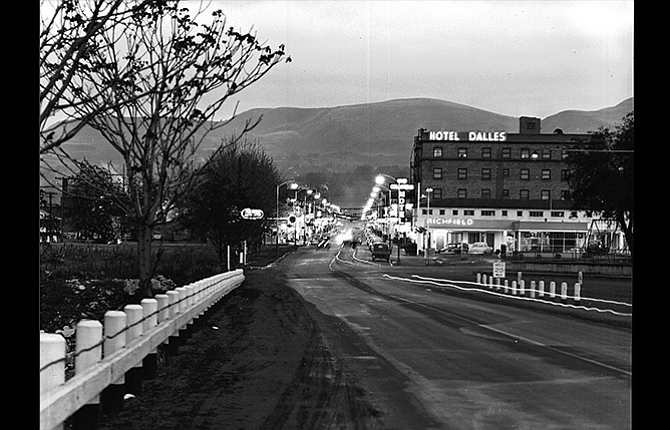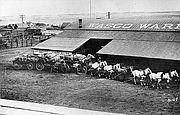 20 years ago – 1997
Lois Stewart had seen her only grandchild just once before he perished at 22 days old, a victim of abuse. Her anger and anguish spilled out as she took the witness stand last week in the murder by abuse trial of Patrick D. Osterhoff Jr., 22, accused of killing his son Jonathan Osterhoff last May by fatally shaking him. The baby's mother, Erin Stewart, is Lois Stewart's daughter.
The Fremont intersection at Highway 197 is dangerous and needs immediate remedy, local residents told the Oregon Department of Transportation Tuesday night.
Court had just ended, and the man was ordered, pending trial, to stay away from his girlfriend. And what happened next still grates at Eric Nisley, a deputy district attorney for Wasco County. "He walks out of the courthouse and I watch him walk across the street and start talking to her," Nisley said. "He's arrested 20 minutes later in the park after assaulting her … Unbelievable. And if we could hold the guy, we could protect the people. That's a guy that never would've been released if we'd had a jail."
40 years ago – 1977
The death of Thelma Ruth Hiatt, 58, 746 Pleasant Court West, is tentatively being listed as a traffic fatality, the Wasco County Sheriff's office said Saturday. An autopsy was performed but results are not expected for several days, a deputy said.
A committee formed to explain the proposed state office building project here has members available to discuss it with groups, member Don Williams said today. Members have been addressing civic clubs this week mainly on key questions in the project, Williams said.
There is a critical need for type O Negative blood which is kept for use in kidney transplants and care of kidney dialysis patients.
WASHINGTON (UPI) – The U.S. Forest Service has proposed new regulations which could ease some current restraints on use of open, oral auctions in selling timber from National Forests in Western states. Under existing temporary rules, timber sales in communities classed as "dependent" because their industries rely heavily on lumber from adjacent National Forests, can be made on a half-and-half basis — half oral auctions, and half by sealed bids.
60 years ago – 1957
The $15,000 personal injury suit by Fire Chief Charles Roth against owners of the Commodore Apartments may reach the jury of four women and eight men late today. At noon today both sides of the case, which is an outgrowth of Roth's fall through a skylight in the building March 16, 1955, finished their testimony, and final arguments by opposing attorneys were set for this afternoon.
Crop conditions were described as the best in five years today in the wake of two days of rain over portions of the Southwest drought bowl. Agricultural experts said the general rains in the Rio Grande Valley region gave a "tremendous boost" to the multimillion dollar cotton, citrus and vegetable crops.
TEMPLE CITY, Calif. (UP) – Baseball Coach Bill Davis rues the day he decreed that the member of the Temple City High School's team with the longest hair would have to carry the bat bag throughout the coming season. Davis, who wears a crew cut, wound up being the longhair himself Monday when all the players showed up with their heads shaved bald.
HOLLANDPOINT, Md. (UP) – Three Navy attack bombers inadvertently bombed and damaged the Holland Point, Md., lighthouse Monday night. The lighthouse is located at the entrance to Kedeges Straits south of Patuxent River, Md. Chief Petty Officer George Gatton, in charge of Point Lookout, said this morning the lighthouse took three or four hits from rockets which made holes about 18 inches in diameter. Four men were at the lighthouse at the time, but they were removed from the lighthouse at 3 a.m. today. He said two of the men suffered some minor scratches.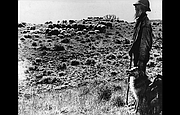 80 years ago – 1937
Although the fresh snow that fell over Wasco county Wednesday night and Thursday was light, a number of roads in the Tygh ridge and Friend vicinities were blocked due to a high wind that blew the snow and drifted it into cuts, the county road department office here reported. Equipment had been dispatched to troubled districts today, it was stated.
With the resumption of vocal music in The Dalles public schools this year the announcement of the revival of the high school operetta has created unusually keen interest, Paul McCulloch, high school principal declared today. It is to be an event of March 11 and 12 in the school auditorium under the direction of Miss Marjory O'Dell, music supervisor. Plans now being perfected stamp this year's production as one of the most enterprising ever attempted.
WAUKEGAN, Ill., Feb. 19. (UP) – Strenuous peace efforts were made today after 120 police and sheriff's deputies had battled unsuccessfully for two hours in an effort to dislodge 100 sit-down strikers from the Fansteel Metallurgical corporation plant near here. Two sheriff's deputies were injured seriously, one by explosion of a tear gas gun in his pocket, and the other by acid hurled from the besieged buildings. One sit-downer, ill, ran from the plant but the others smashed windows to let out the dense clouds of white gas and remained in the $1,500,000 factory which they have held since Wednesday.
100 years ago – 1917
One hundred boxes standard varieties of apples on sale at 207 Court street. One box in every ten given away. Come in and try your luck for a free box.
Frank Tyler arrived in The Dalles today from San Francisco for a brief visit with friends. He will sail from San Francisco March 5 on a transport ship for Manila. He is in a naval training school.
WITH THE BRITISH ARMY, Feb. 19. – There has been a continued advance despite fog and mud today. The lines overlook Maraumont at several points. A violent German counter attack north of Ancre was bloodily repulsed. British raiders penetrated 250 yards of Crown Prince Rupprecht's second line of trenches north of Armentieres. The British killed 60 Germans and bombarded many dugouts.
NEW YORK, Feb. 19. – Officers of the French line freighter Guayne reported today that the vessel sank a submarine off Bordeaux January 32. Captain Rousellet declared that the submarine fired three ineffective shots. The Guayne fired twice. The second shell sank the German diver.
Investigating commissions usually discover what everybody knows. They serve a useful purpose, however, in showing the concrete facts on which public belief is based. It will probably be so with the inquiry which the president has directed the federal trade commission to make with regard to the cost of food.