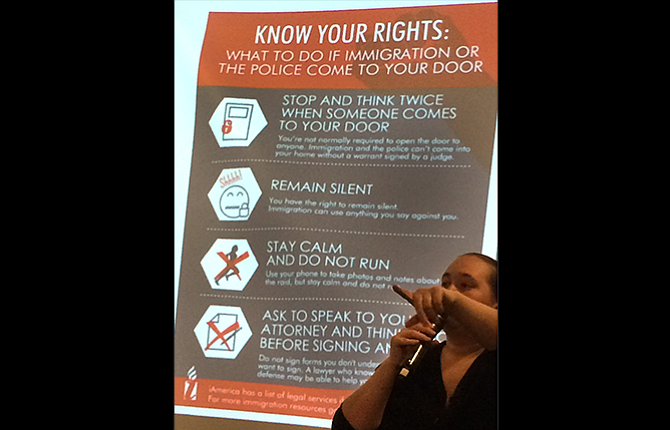 Over 100 people attended an immigration workshop Wednesday night, getting tips from an immigration lawyer on their rights and how to respond to contacts from immigration officers.
The workshop came just days after sweeping new deportation rules were announced by the U.S. Department of Homeland Security. The rules extensively broaden who a priority for deportation – basically "everyone," the immigration lawyer said —and significantly widens the "expedited removal" process.
Under the Obama administration, expedited removal – which is done without a hearing, judge or lawyer – was done for those who had been in the country for 14 days or less and only those found in border areas.
Now, said Mariruth Petzing, a Hood River-based staff attorney with Immigration Counseling Service, expedited removal will cover those in the country two years or less, and will apply nationwide.
That marks a return to a rule that had already been on the books, but was not used by the Obama administration, she said.
She encouraged people to carry documents, such as power bills or doctor bills, that proved they'd been in the country longer than two years.
And while this workshop focused on immigrant rights, Petzing hopes to see an orchardist's rights workshop scheduled soon. Orchards are private property, for example, and immigration officers do not need to be allowed on the property.
Orchardists are concerned about how the new deportation rules will affect the employee pool used to harvest fruit.
Petzing said, "The fruit picking cannot be mechanized and will not be saleable" without pickers. "Somebody will pick that fruit and it's not going to be me."
Language in the new rules about who is eligible for deportation include not only those convicted or charged with a crime, but anyone who has "committed acts which constitute a chargeable criminal offense," she said. "That's everybody; that's littering, that's fishing without a license, that's stealing a candy bar." Another catch-all category is anyone that, in an immigration officer's judgment, poses a risk to public safety or national security.
The Obama era rules prioritized those suspected of terrorism ties and those with aggravated felonies, she said.
Her main message was that everybody has rights as residents of the United States, whether they are legal citizens or not.
"There's a lot of fear and rumors and because of fear people are not doing things that they have a right to do," said Petzing.
A high school student, for example, was afraid to apply for college because she was afraid to send in the application.
Others wrongly believed the travel ban that was imposed in late January by the Trump administration, affecting seven majority Muslim countries, also applied to them, she said.
"I had people who didn't go to a family wedding because they were scared," she said.
The ban has since been halted by a federal court, and President Donald Trump is expected to issue a revised one.
Others feared immigration checkpoints would be set up off freeway exits. She said state borders do not have immigration checkpoints. Those checkpoints are only found within 100 miles of the American border.
At the California border, for example, people can get asked if they're bringing in fruit, but they cannot be asked for their papers, Petzing said.
She said the fear Hispanic residents feel is already having noticeable effects in the community. In Hood River, for example, fewer Hispanics are using public health services or domestic violence services, she said.
She encouraged people to become informed, and be sure they get the right information, "because that's where power comes from."
"It's so important to people's lives and there's so much bad information out there. It can feel really overwhelming," she said. Even immigration lawyers are unsure of what things mean in the fast-moving situation.
People also were afraid that if they signed their children up for free school lunch or Medicare that they would be deported. That derived from a series of leaked memos that suggested something that sounds similar to that, but that memo was never put into action, Petzing said.
She encouraged parents to continue to take advantage of free and reduced lunch programs for their children. If their children are born here, they are entitled to such federal benefits.
Another concern was that people with citizenship could have it revoked if they committed a crime. Also not true, she said.
She said everybody who is detained by police or immigration should not flee, but stay calm, remain silent, and ask for an attorney before they sign anything. Those are constitutional rights that everyone has, she said.
She showed examples of arrest warrants and said the key things to look for on a warrant was that it had to come from a court and be signed by a judge.
She said the Department of Homeland Security can also issue papers that have the word "warrant" on them, but they are not arrest warrants since they are not issued by a court or signed by a judge. "They know you're looking for the word 'warrant,'" Petzing said.
The government does not have to write warrants in Spanish, she said.
She urged people at risk of deportation to have a plan in place as a way to mitigate fear. Plans should include who cares for their children, where medication is kept for children, and who will pay bills in their absence and care for pets.
A man asked what people should do if they own houses or own businesses. Petzing said they should talk to a lawyer and create a plan.
People presented with an arrest warrant at their home should step outside and allow themselves to be arrested, she said. Otherwise, if agents come inside the home to get them, others could be put at risk of arrest as well.
She said if they have a search warrant for the home, they should be let in, otherwise they will kick the door down and they won't pay for it.
Petzing said the Obama administration had a policy against "collateral arrests" of others found in a location, but the Trump administration "seems to be arresting anybody they can find."
She said people who are arrested have the right to decide who watches their children. Immigration officials scare people with statements about their kids, she said, but they can't take away custody of your children.
She said it wasn't necessary to have a paper outlining who would watch your children, but it was a good idea to have one, and to have it in English.
Others feared that submitting their taxes could subject them to deportation.
Petzing said there is a risk to driving without a license. But she said a police officer can ask anything, but a person only legally has to answer questions about their name, address and date of birth. They do not need to answer questions about where they are born.
She said if they are asked where they were born, they can ask for an attorney.
She said immigration officers work directly under the Trump administration, but police and sheriffs do not, and do not have to follow the same rules.
Wasco County Sheriff Lane Magill said at an earlier meeting with Hispanics that his deputies will accept a Mexican driver's license as a valid form of ID.
He said if a person can prove their identity, they would not be arrested if they get pulled over for an infraction like speeding or having a taillight out.
While California has passed a law allowing non-documented residents to get driver's licenses, Oregon does not issue undocumented residents licenses.
Petzing said if drivers don't have their identity with them, they should ask the police to wait while they call someone to bring it. In one instance, she knew of a deputy who followed a person home so they could produce their ID.
She said if someone is detained, they have the right to ask why they are being detained. She said police cannot detain you for reasons like speaking Spanish, having a Spanish accent, coming from Spanish mass at church, or being in a Spanish store.
She said people have the right to videotape immigration officers, but she said not to do it if it puts a person at risk. She said, "I'm telling you what you have the right to do, but what happens in reality can be a different thing."
Petzing could not estimate how many Hispanics are undocumented, but she speculated the number was probably higher than people think.
She said most families are a mix of citizens, undocumented residents and documented residents.
She said the best estimate the government has of how many undocumented people there are is derived from how much unclaimed Social Security benefits there are.
Undocumented residents pay the tax, but can't collect it.
She said there are not just two simple categories of "legal and illegal" residents.
There are many different paths to citizenship, and only certain categories of people can even apply for citizenship.
Each category, such as skilled workers or asylum seekers, has different requirements, a different amount of people in each group, a different cost for each group, and a different timeframe for when citizenship might be obtained.
She said an undocumented person is a non-citizen who has no immigration paperwork. People like the Dreamers, the immigrants brought here when they were young, have work permits but are still undocumented. Others have had a temporary protected status for 20 years.
Others are here on different types of visas. A green card is a permanent visa, and Petzing said "many, many, many people have no effective way to get a green card."
Having a child who is a U.S. citizen, for example, does not make you eligible for a green card, she said.
Others can become ineligible for green cards.
She talked to one young woman who became permanently ineligible for a green card when she was about 5, "because of the way she, quote, 'broke' the immigration laws."
She noted the robust Mexican economy has slowed migration to the United States in recent years.