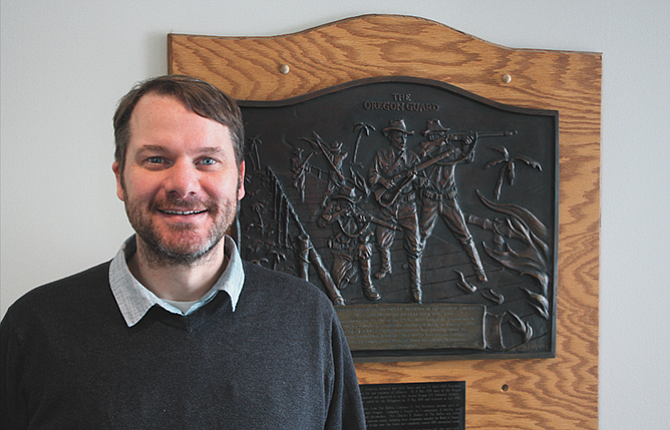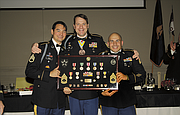 Oregon National Guard Sgt. First Class Benjamin Hall is retiring from his job overseeing operations at the Fort Dalles Readiness Center, the home of Delta Troop, 1st Squadron, 82nd Cavalry.
Hall has been assigned to The Dalles unit since November 2011 and has spent more than 25 years in the military.
His last day in charge of the center came on Dec. 14, but he remains on transitional leave. Officially, his final day as a soldier will be March 31.
Hall said his reason for retiring now is a basic one.
"I'm 42 years old, and if I'm starting a new career, it's the right age to do it," he said.
His replacement will be Staff Sgt. Roger Montavon, who resides in Parkdale and has worked at the Hood River Armory. He praised the work Hall has done.
"I've worked with Ben ever since I came into the National Guard in 2003," said Montavon, who also served for eight years in the Marine Corps.
"He's been my go-to guy forever, and I've been following in his footsteps."
Montavon said Hall's retirement has been well-earned.
"He's definitely done his time," he said. "And he's young enough he can go on and have another career."
As Readiness NCO (non-commissioned officer) in The Dalles for the past five years, Hall has been tasked with making preparations for monthly drill weekends and the annual, more extensive training sessions, for about 115 soldiers.
"We train on our vehicles' weaponry to make sure the guys are qualified on weapons systems, safety training, driver training, administrative requirements, a variety of classes, physical fitness. That is all part of the job of the Readiness NCO. It's a management position," Hall explained.
Hall's duties have included organizing everything from field activities to classroom work, supplying food for the troops, ensuring the proper training materials are available and making sure there is ammunition for firing exercises.
In addition, he has been responsible to provide transportation to offsite training areas and make sure there are hotel rooms ready for out-of-town soldiers; and even make sure payroll is taken care of properly.
"A lot of planning and resource work goes into this job," Hall said.
He has had a lengthy and interesting career that started as an administrative clerk at the Hood River Armory in 1991. He was sent to Portland in 1993, where he served as supply sergeant at the Jackson Armory near the Portland Air Base.
In late 1995, he returned to Hood River, where he soon became Readiness NCO for the armory, a role he served in for the nearly 15 years.
"I deployed with my unit to Iraq for a year in September 2010," said Hall, who currently resides in Hood River but lived in The Dalles for two years prior to his deployment.
According to Hall, while in Iraq, his unit was primarily responsible for convoy security.
"It was a pretty intense position, planning and coordinating convoy support missions," he said. "There was a lot of planning and monitoring and keeping track of the guys who were out. It was pretty busy and intense, especially for the guys in the convoys."
Hall said each convoy mission is meticulously planned.
"They (the soldiers) are well prepared to go on those missions, and that saves a lot of lives," he said.
The unit's troops were shot at while in Iraq, and some soldiers suffered serious injuries from improvised explosive devices going off against the sides of their vehicles, but, thankfully, no one was killed in combat.
"We were in Iraq until September 2011 and, at that point, I was reassigned to The Dalles," Hall said.
The Dalles Mayor Steve Lawrence, an Army veteran who saw combat in Vietnam, praised Hall for the way he has handled being "the face of the National Guard here in The Dalles."
"He is the person the community deals with, and they could not have had a better
representative," Lawrence said. "While honoring his military position, he displays the ability to interact with the non-military public at the highest level. I will be sorry to see him retire, and I hope he finds a way to stay in The Dalles."
One big change that took place during Hall's watch was the building of a new facility for the local National Guard unit. In April 2014, the Oregon National Guard held a dedication ceremony for the modern, energy-efficient Fort Dalles Readiness Center, which replaced a much smaller armory building on Webber Street that was constructed in 1951, during the Korean War.
Hall said he is very pleased with the new facility, but respects the heritage of the building the unit vacated.
"The old building had a lot of character to it," he said. "There was a lot of history in that place, but things needed upkeep. The new facility has a full-size weight room, simulation room, small arms simulator, a huge maintenance bay and a full-size kitchen. It's amazing what they've done."
Hall said the change from the old building to the new facility was like the difference between night and day … and almost literally so, because the new center features a wide "picture window" view of the gorge that lets in a tremendous amount of light. Although the digs might be a lot nicer now, Hall said his duties have remained largely the same over the years.
"It's been a great joy and I don't know if I'll ever get a job as good as this one," Hall said. "It has been a very rewarding position, dealing with 115 guys and helping them out and really see the results; and helping guys find employment when they get out. But you can't do it forever. There are guys behind you who want to get promoted."
As he moves toward a career in the civilian world, Hall said he is considering work in human resources or a similar field, which are similar to his military background.
"I hope my job experience will help," he said.