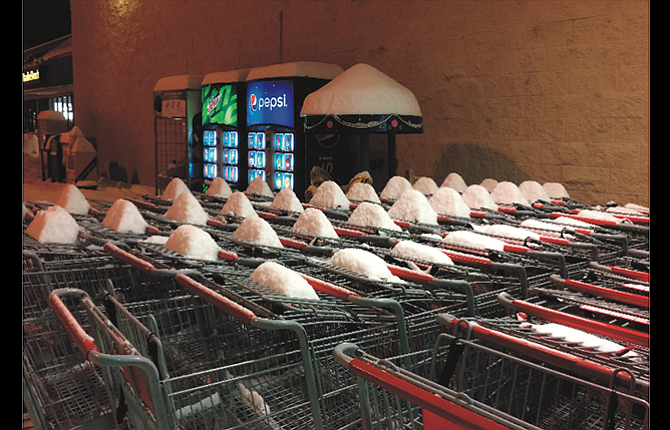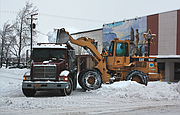 The unending series of snowstorms hammering The Dalles and the entire Columba River Gorge region in recent weeks are creating a lot of extra work for public works crews.
The good news is, the snow removal operations are not busting The Dalles' budget — at least not yet.
"We are incurring some expenses related to the winter weather operations of the last few weeks, but so far, not beyond the amounts budgeted for this purpose," said Dave Anderson, director of public works.
Anderson said the Public Works Department has $24,445 in its street fund to deal with overtime costs for any type of event that impacts streets, including snow removal. The department also has a budget of $13,000 for sanding rock to help make road conditions safer for driving.
Extra expenses this year have included some overtime pay, purchase of extra sanding rock and fuel, and reimbursement to the city's water and wastewater funds when employees from those divisions need to lend a hand with snow removal activities.
Anderson said the department is not in danger at this point of eating up what has been budgeted to battle snow.
On Monday in particular, motorists in the downtown business district noticed sizable berms of snow in the center of the street as crews worked to remove all the buildup.
Anderson said the berms are not new, that has been the traditional method used by the city for decades when the snowfall is heavy enough to require that it be carried out of the downtown area.
"It has been a number of years since we've had conditions that allowed the snow to remain from one storm event to another, so some folks may not have seen it before," Anderson said.
"Historically, and per the city's existing 'Snow Response Plan,' removal of snow from the downtown area was initiated when snow depth reached 10 inches."
Although the weekend accumulations in the downtown area did not quite reach 10 inches, the city initiated snow removal downtown a bit early because there was a forecast for more snow to come over the next couple days. "We have crews actually loading the snow from the berms into trucks and hauling it away," Anderson said. "Those activities were initiated Monday morning and continued into the night."
He said the snow was being stockpiled in an area behind the city pool on West Second Street.
According to Anderson, city employees have been extremely busy trying to remove all the snow from city streets.
"We've been averaging about eight employees on winter weather response per day, four on shift at a time, working 12-hour shifts and providing 24-hour coverage during the storm events," Anderson explained. "At last count, we added about 12 employees Monday from the Water Distribution and Wastewater Collection crews to assist with snow removal activities."
City officials pointed out that snow removal activities will occasionally require lane closures through the downtown corridor as accumulated snow is removed, and there are also temporary on-street parking restrictions in places to allow removal of snow from various locations.
Property owners and residents are being reminded by city officials that they are responsible for removal of snow and ice from sidewalks adjacent to their properties.
When clearing parking lots and driveways, business owners and residents are asked to avoid pushing snow into the street, and snow from parking lots should be piled on the property or hauled away. Snow left in the street can create a hazard for motorists and pedestrians, and it also prevents water from reaching the catch basins when melting occurs.
Further, the city is strongly discouraging the use of rock salt as an ice remover on concrete surfaces because it damages the concrete. Instead, the use of commercial de-icing products — which are specially designed for use on sidewalks and driveways — is recommended. And the snowstorms are not yet over. The weather forecast for the rest of Tuesday calls for snow showers and a high of 32 degrees; with snow and a high of 27 expected for Wednesday.