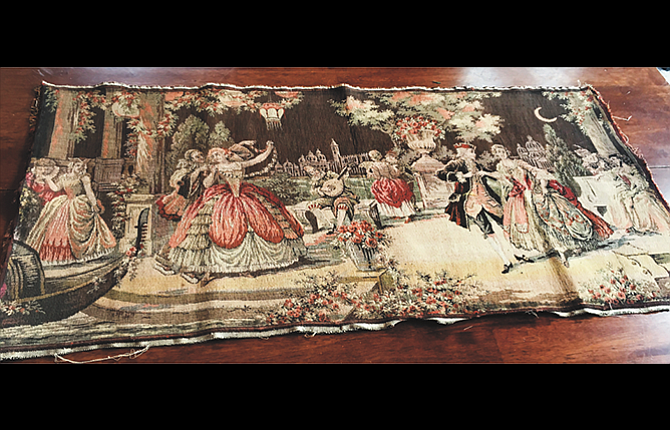 A missing tapestry worth $2,500 was returned — after it changed hands for $10 — within three days of its owner making an appeal on social media.
Doug Kirchhofer posted to the Facebook site he founded, "You know you're from The Dalles if…" on Dec. 29 saying a valuable tapestry belonging to his wife Melissa went missing from a storage location in the Commodore building downtown.
By Jan. 2, it was back, minus its frame. Kirchhofer said a woman contacted him after seeing the post and said she had purchased the tapestry from someone for $10. The Kirchhofers happily repaid her the $10 she'd spent to get the 19th century Belgian tapestry back.
"We put it out on Thursday night and got notified that it was confirmed stolen on Friday and got it back Monday morning. It's impressive," Kirchhofer said. "I think this town is just the right size to have a lot of eyeballs on it but small enough to track this kind of stuff. It's an interesting phenomenon with social media."
The item — a substantial piece measuring four feet across — was a gift to Melissa from her stepfather, an antiquer, Kirchhofer said. Kirchhofer's business, Northwestern Mutual, recently relocated to the Commodore, and office furnishings are being kept in storage while their office space is readied.
A few weeks ago they noticed someone unauthorized had been in the storage space, because cigarette butts were found. But they couldn't find anything missing until it dawned on Melissa on Dec. 28 that she hadn't seen the tapestry, Kirchhofer said.
They notified police, then posted on Facebook about the missing tapestry.
After seeing the post, a resident of the Commodore shared with Kirchhofer a photo he'd taken earlier of something curious he found — a torn up frame, left in the hallway.
Kirchhofer posted the photo, saying it made him fear they wouldn't find the tapestry again, and if they did, it would be damaged. But upon its return, they found the tapestry undamaged, with the staples that had attached it to the back of the frame carefully removed.
Kirchhofer said a person believed involved with the theft is a transient who is known to police. The woman who bought the tapestry back requested anonymity.
She told the Chronicle a homeless person she knows "brought it to my house and they wanted to sell it for $10 and so I bought it and I started showing it around because my mom has a tapestry similar to that one and I know hers is very very old and I took it to her house first thing and showed it to her."
She showed it to a few other people, and then just folded it up "because I didn't know what to do with it. Actually, I had been looking for a frame to put it in and put it on the wall and my mom noticed the thing Doug had posted on Facebook, so she called me and said, 'You know that tapestry?' I said yeah, and I got a hold of him right away."
Within an hour or two, it was back with its rightful owner. The woman said she had had the tapestry for maybe 10 days or two weeks by that point.
The woman doesn't believe the homeless person stole it, "but you don't know everything about everybody, but I don't see that that person would do it. I don't know how he came about it though. I knew it was old and certainly something he shouldn't be packing around, so I paid him for it, and of course showed it around, figured that'd be a good way to see if anybody recognized it. It didn't even dawn on me that he would've stolen it."
She figured "he found it in some weird location, or it was street people trading stuff." She said she asked him how he got it "and he said, 'I just came upon it.'" Asked what she would've ultimately done with the tapestry, she said, "I guess I would've probably kept it until further notice, which happened pretty quick."
She added, "I'm not into keeping stolen property or having anybody's stolen property. I knew if I had it, it would be kept safer than if he would've drug it around."
She said, "In fact, I probably should've called the police department to see if anybody reported it stolen but I didn't."
Kirchhofer said he wasn't interested in pursuing theft charges against anyone, since it was returned.
"Whoever had done it saw the value in it," he said. "And we learned he flipped it for $10, but still cared enough to meticulously break apart the frame and pull the tacks and keep it in good condition. We got it back pretty much undamaged. That's a confusing thing to us and that's why we're still looking into whether it was a single person or more of an effort. When the result is ten bucks, it's a confusing set of circumstances."
Kirchhofer said the company in charge of security at the Commodore is working to boost security, including adding more security cameras.
They have also "buttoned up" access to the storage area. "It looked like originally the person was just coming in to hang out, before we even moved in," he said.
The Dalles Police Detective Austin Ell said the security company for the Commodore is working on some trespass issues "with the people who may or may not be involved. One of them is kind of a known transient who suffers from mental health issues."