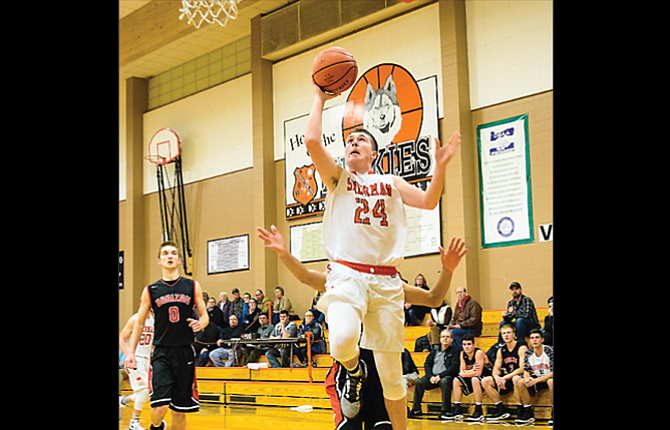 Coming off a resounding four-quarter performance Friday against Horizon Christian, the defending champion Sherman Huskies came out hitting on all cylinders Saturday, as five players hit double figures in a 78-25 boys' basketball road triumph against Ione.
"I think we came out and set a good tone for today's game with our defensive intensity," said Sherman head coach Bill Blevins.
The Huskies, who started out 3-4, have now won three games in a row by an average margin of 27 points, the last two wins coming in Big Sky Conference action.
In the first quarter of play, Sherman staked a claim on momentum, using a 24-4 run to jump ahead.
Out in front by 20 points, the second quarter was a carbon copy of the first, as the No. 5-ranked Huskies built on their lead with a 20-4 outburst to make it a 44-8 halftime advantage.
Sherman then finished the second half just as strong, adding spurts of 21-7 and 13-10 for the 53-point win.
In all, the Huskies tallied 32 field goals, three 3-pointers, all by Max Martin, and hit on 11 of 17 free throws.
Treve Martin paced the Sherman offense with 17 points, Max Martin added 14 and senior point guard Maverick Winslow hit on a season-high 12 points.
Keenan and Isaiah Coles each notched 10 points, Kyle Fields had eight points, and Makoa Whitaker tallied three points.
"I thought we rebounded well, which was helpful with our transition offense," Blevins said. "We were very unselfish with the ball and had pretty good ball movement versus Ione's zone defense, which led to some good looks at the basket."
Ione (1-9 overall, 0-2 league), who entered Saturday's tilt averaging 44.5 points a contest, mustered a season-low 25 points on 11 field goals and converted 3 of 7 free throws.
Donald McElligott and Cotton Hollis scored six points apiece to lead the Cardinals, Austin Carter added five and four others ended up with two points each.
With a chance to spend time in Hawaii for a week of games, Blevins said it was an incredible experience to play some great competition at the Punahou Invitational Tournament in Honolulu.

Through great support from the players' parents, community with fundraising efforts and with players working on the farms to earn some money, Blevins said the program is appreciative of the opportunity.
The time spent together will pay dividends this season and create memories that will last a lifetime.
"I'm certain it will be very memorable to the players and their families who went," Blevins said. "It's a nice way to reward a group of boys, who have worked so hard over the years. Of course, the weather and ocean were very enjoyable as well."
Sherman (6-4, 2-0) is tentatively scheduled to travel to Dufur for a league matchup at 7:30 p.m. tonight, in a game that features two of the top teams in the 1A classification.
Over the weekend, the Huskies head to Mitchell for a game against Mitchell-Spray at 7:30 p.m. Friday, and then hosts South Wasco County at 3:30 p.m. Saturday afternoon.