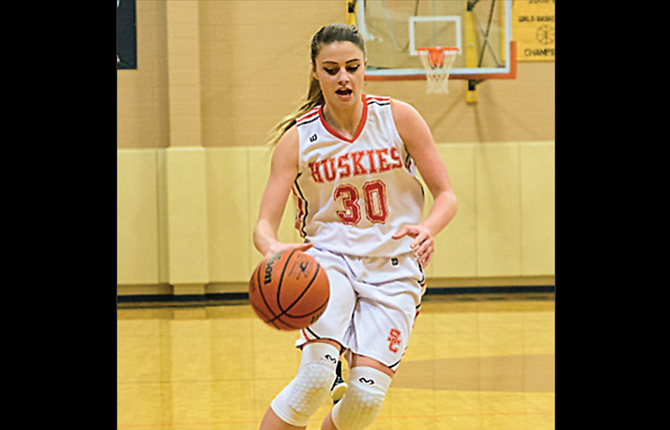 In what turned out to be a back-and-forth Big Sky Conference showdown, the Sherman Huskies eventually outlasted Ione with an 11-2 overtime surge to capture a 54-45 triumph Saturday in Ione.
With the score knotted at 43-apiece in the extra session, Sherman head coach Steve Bird put the full-court pressure defense on the Cardinals, forcing turnovers, bad passes and transition layups, with Emma Stutzman, Taylor Henderson, Jaelyn Justesen, and Desiree Winslow all hitting field goals to lead the Huskies.
After Friday's 29-point loss to Horizon Christian, Sherman got off to a better start Saturday, staking claim to a 5-0 cushion in the first period.
Ione would not quit, however, as both teams wound up in a 21-21 halftime deadlock.
In the second half, Sherman built as much as an eight-point lead, but Ione battled back with offense and opportunistic defense to even the score at 43-all at the end of regulation.
Down the stretch, Lexi Grenvik, Emily Hill and Desiree Winslow all hit pressure free throws in the fourth quarter to help the Huskies extend the game.
As the game wore on, Bird had to empty his bench with Kiersten Casper, CJ Johnson, Taylor Henderson injured, and senior guard Emily Hill fouling out in the fourth quarter.
"Freshman Alyssa Hill and Jordan Barrett came off the bench to provide rebounding and pressure defense in the overtime, especially with Emma Stutzman and Jaelyn Justesen fouling out," Bird said.
For the Huskies, Casper led the way with 11 points, and Emily Hill, Winslow, Johnson, Stutzman, Henderson and Justesen had six points each.
Lexi Grenvik chipped in five points, and Sammie Lepinski had two points.
Maggie Flynn tallied 13 points, Ivy Sanford was good for 11, and Morgan Orem had 10 points to highlight Ione's leaders.