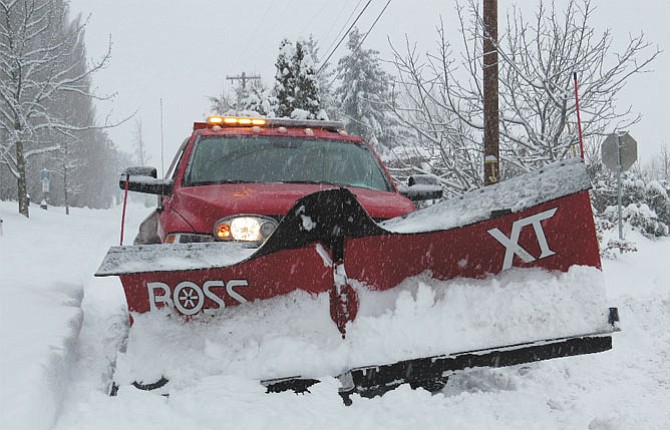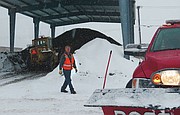 Every time Charles "Chuck" Patterson got his snow plow/sander working on one stretch of roadway Tuesday, there was a call from dispatch or The Dalles Public Works Department to help stranded motorists in another location.
The scanner was filled with chatter about accidents and cars that were stuck in the snow. Patterson and three other drivers from the city crew responded as quickly as possible to clear the road, or lay down more gravel.
"When a snow or ice event starts, we're on it until it's over," he said of the situation.
A steady snowfall that began in the early morning hours was forecast to continue all night and made travel throughout town and the region treacherous.
At times there was discussion among patrol officers about taking the unusual step of closing steep inclines on some well-travelled roadways, such as Trevitt Street from Sixth to Ninth.
When Patterson heard a that a police officer suggesting the closure of Trevitt, he headed in that direction.
"That's a pretty busy place so let's see what we can do," he said.
Grader driver Dale Huskey also made his way to Trevitt and peeled away a layer of snow on the hill, leaving the icy undercoating exposed.
Patterson followed the larger machine and spread "sand," which was actually rock chips, on the road surface. After several passes, he headed off to another problem on Mt. Hood Street, knowing that he would be returning to Trevitt in a short amount of time.
"We like to keep a small amount of snow on the ice for traction so we usually plow when there i s4 to 6 inches of snow," he explained.
In the meantime, the plows scrape the "fluff" (small drifts of snow) off to flatten the surface enough that rocks do not sink beneath it.
After 13 years on the job, Patterson's got the drill down to a science. Even so, a couple of times he slid on the frozen terrain, at which point he carefully backed up the hill spreading rock as he went.
One time, he was almost hit by a woman whose car began to slide out onto 19th Street from the entrance to Celilo Cancer Center.
"People need to slow down, they drive too fast when it's like this or they don't have the right tires — that's what causes most of the problems," said Patterson.
He said plowing and sanding priority is given to the streets, intersections and entrances of schools, the hospital and assisted living facilities.
"We've got to make sure the ambulances and school buses can get through," he said.
Next on the list plowing are main arterials, such as sixth, 10th and 12th streets. Downtown is also a focus because it is a business district and Second and Third streets connect both ends of the city.
Intersections are graveled frequently because anywhere people are applying brakes to stop can be problematic for slides and accidents, said Patterson.
"We've got a job to do, to keep people safe," he said.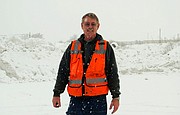 The eight-member plowing crew has been working 12-hour shifts off and on for a month now to keep up with a series of winter storms that has pounded the gorge.
Patterson prepares for long days by making sure he's in bed by 8 p.m. after his 6 a.m. to 6 p.m. shift ends.
"It's always different, when it comes down like this it packs fast, but when it gets real cold it is easier to get through," he said.
He said the big problem comes when the sun heats the pavement enough to melt the snow and then the temperature drops, as is expected to happen Wednesday night, to create any icy sublayer that is even more slippery.
That has been the case for much of December and now into January, said Patterson.
He remembers other years when the city was pummeled by even more snow at one time, but this stretch of bad weather has been longer.

The only place to pile the snow as the plow passes is along the edge of streets and that upsets many people, who then have to shovel to free their cars.
That frustration can be seen on the faces of people who glance up from shoveling as the plow passes. Other residents wave and then get back to work to clear walkways and sidewalks. The city ordinance requires that property owners keep the sidewalks in front of their homes and businesses clear, but they are prohibited from piling that snow back in the roadway.
Patterson demonstrates that the blade on the smaller truck that he is driving can only shove snow off to the side.
"We try not to fill people's driveways but it's almost impossible," he said.
The grader, which does the deeper work , has a blade that can turn in any direction, which allows the driver to keep most of the snow out of intersections.

However, the grader's bigger blade leaves much higher berms along streets.
If people have room in a driveway to park a vehicle, Patterson said it is better to have it off the street, where it could be struck by another car in a slide.
A street lined with vehicles also makes it difficult for the grader to find a place to pile snow, he said.
"We have to keep the street clean so people can drive," he said.
Patterson's smaller truck carries about 3 yards of rock chips, so he has to head down to the First Street public works compound frequently to load it up. The mountain of gravel used by the crew has shrunk considerably during the past month, but Patterson thinks the worst will soon be over.
"I think we're seeing the tail end of it," he said. "By next week, we'll be out of it. That's just my opinion, I'm not a weather person."