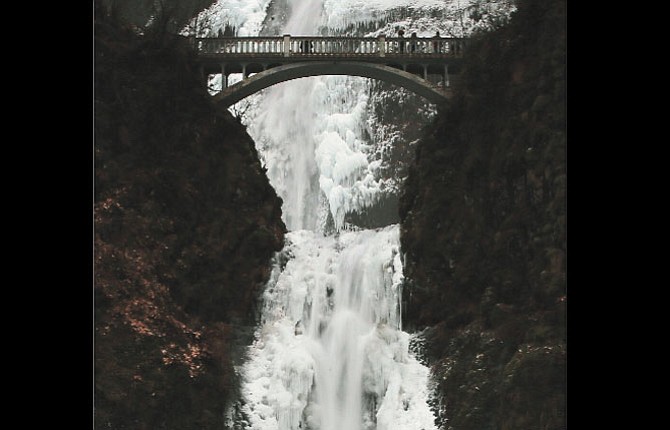 Wasco County Sheriff Lane Magill is asking residents to prepare ahead for freezing rain and flooding in the days ahead that could bring power outages.
"Community resiliency is what we are after here," said Magill. "We don't want people to be panicked, we want them to be prepared."
He said the Wasco County Emergency Operations Center held a planning meeting Monday to get ready for ice accumulations from freezing rain, followed by possible flooding when temperatures warm up to melt snow on the ground.
"It's pretty fluid right now, so we really don't know how it will play out," said Magill.
Attending the meetings were representatives from Wasco County, The City of The Dalles, Oregon State Police, The Dalles Police Department, Oregon Department of Forestry, U.S. Forest Service, Oregon Department of Transportation, Mid-Columbia Fire & Rescue, Mid-Columbia Medical Center, North Central Public Health District, Wasco County Amateur Radio Service and officials from Maupin and Mosier. The group is arranging to have sandbags available if necessary, as well as a shelter in case there are evacuations.
Magill said people wanting information about what is happening can call the hotline number 541-506-2792 for regular updates.
"We don't want people calling 911 unless there is a true emergency," he said. "They need to use the hotline number if they want general information."
He said residents are advised to make sure their vehicles are filled with fuel in case an evacuation of their home becomes necessary.
If people have a back-up generator, he said it should also be fully fueled in case of a power outage.
In addition, he asks that people should have enough food and drinking water on hand for at least a week.
"Make sure your prescriptions and meds are up to date and ready to go," said Magill.
He said residents should check in on elderly and disabled neighbors to make sure they are taken care of and not left isolated during a crisis.
"If you don't know your neighbor, this is a good time to get to know them," he said. Magill said emergency managers are watching the forecast to enact any scenario that is necessary to assist residents.
Meteorologists predict freezing rain today at the western end of the gorge. The ice is then expected to make its way into Wasco County by late afternoon or during the early morning hours of Wednesday.
Regular rain and higher temperatures are expected to follow, which could cause flooding, and then the temperatures dip again on the weekend with more snow expected.
Magill said, in addition to the hotline, information will be disseminated through the Chronicle and local radio stations as soon as it becomes available.
"We plan to keep people informed about what is happening," said Magill.
The Chronicle will post updates as they come at www.thedalleschronicle.com, and on the Chronicle Facebook page. If for some reason the power goes down, update from Magill or other emergency managers will be posted on the Chronicle's front window at 315 Federal Street.

The City of The Dalles, The Dalles Police Department, Oregon State Police and North Central Public Health District will also be posting updates on their respective websites and Facebook pages.