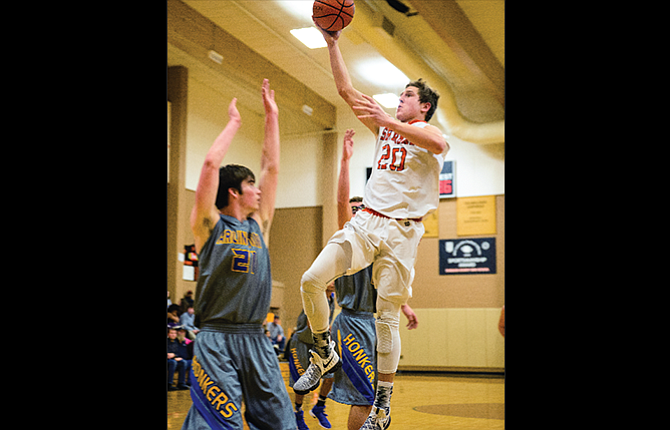 Max Martin tallied 25 points, the inside duo of Kyle Fields and Isaiah Coles added a combined 31 points to lead the No. 1-ranked Sherman Huskies to a lopsided 84-49 victory over Arlington Friday in Moro.
"Treve Martin did a great job rebounding and making the pass to the open teammate tonight," said Sherman head coach Bill Blevins. "Max was firing from the outside, hitting seven 3-pointers for the game."
The Huskies and Honkers set the pace for the game with an up-tempo offense in the opening quarter, with Arlington jumping to an early lead through the first few minutes by executing against the full court press of Sherman.

The Huskies tallied a 25-15 lead through the first quarter, and they built on that early advantage with a 24-13 second-quarter run to make it a 49-28 halftime cushion.
"As the game wore on, we had our half-court trap pay dividends, which opened the door for creating some turnovers and fast break opportunities in the second half of the first quarter and the second quarter," Blevins said.
Out in front by 21 points to start the second stanza, Sherman's defense dropped the hammer down on Arlington's offensive attack.
The Huskies finished the third quarter on a 21-8 spurt to swell their lead to 70-36, before ending action with a 14-13 fourth-quarter output.
Fields wound up scoring 16 points, Coles had 15 and Treve Martin put up 10 points.
Keenan Coles hit for eight points, the duo of Luke Martin and Jacob Justesen notched four points, and Makoa Whitaker scored two points.
In all, the Huskies totaled 34 field goals, including the seven 3-pointers by Max Martin, and converted 9 of 14 from the free throw line.
The Honkers (8-6 overall, 3-2 league) went for 21 field goals, two 3-pointers, and went 4 for 7 from the line, as Ben Evans led the charge with 15 points.
Justin McAninch and Anthony Valdez followed up Evans with eight points each, and Diego Valdez had five points.
Sherman (11-4, 6-0) was at Condon-Wheeler Saturday for a league contest against the third-place Knights.
At 5:30 p.m. Tuesday, the Huskies head out to play against the 2A classification's No. 4-ranked team, the Stanfield Tigers (11-1).