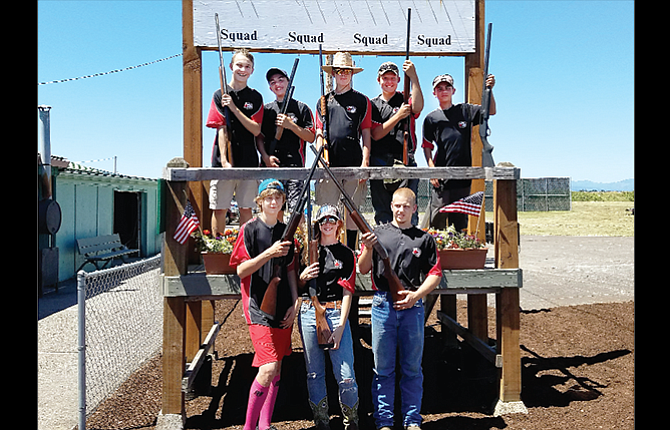 DUFUR – Of the eight Dufur Ranger shooters, Peyton Neal and Kyler Powell stood tall under the pressure and under the sweltering 98-degree weather.
Neal and Powell each claimed second place to lead Dufur High School at the Oregon High School Clay Target State Tournament last weekend at the Hillsboro Trap and Skeet Club in Hillsboro.
"It was really a great day," said Dufur head coach Robert Wallace. "All participants shot well on Saturday, they were challenged by the top high school shooters in the State of Oregon."
All told, roughly 145 participants were in attendance, a huge bump from the 2016 season, when they had 30 participants; this is a big show of program growth over the past year.

Dufur was assigned to shoot on Trap Field 12, with five starting action, followed by a squad of three.
The shooters shot at 50 target clays the first session and after all the teams were complete with the first session, Dufur came back and shot at another 50 target clays.

Each participant's score was based on a total of 100 targets, with students competing for both an individual and team score.

Neal hit 89 of 100 targets to secure his runner-up bid in the High Gun Junior Varsity Male award, while Powell made good on 81 of 100 to chalk up High Gun Novice award.
In addition to Neal and Powell, Parker Wallace, Louis Red Cloud, Jessica Elam, Andrew Richman, Karl Wilson and Caleb Olson put up respectable numbers in their first state trip.
In practices, the ranger shooters at the club shot at a larger-scale facility compared to the Dufur course, which is a farm field.
After the awards ceremony, club opened up the five-station Olympic Bunker Trap Field.

Each station had three throwers that challenge each participant with varied throws from different elevations.
Plus, the targets are thrown at roughly 73 miles per hour. A typical trap target is thrown at 44 miles per hour, traveling about four-feet off the ground horizontally at normal trap height, or a high target up into the air.

Dufur competitors Parker Wallace and Red Cloud were first in line to test their skills at the Olympic Bunker Trap with favorable results.
With several families in attendance and with so many shooters at the facility, coach Wallace walked away impressed with how smoothly things ran.
"The managers and directors of the Hillsboro Trap and Skeet Club, along with the Oregon High School Clay Target League, did an excellent job hosting this event," coach Wallace said. "From the time we pulled up to the clubhouse on Friday afternoon, all through Saturday, they really worked to make sure all the teams and participants had everything they needed. I feel they went above and beyond."
The Dufur School Board approved the Clay Target Team to participate in the 2017 season as a demonstration test.
But, with the level of participation and state success, Wallace is feeling good about bringing the clay target program back next summer.

Stan Ashbrook, a local farmer, allowed the team to setup a trap field on his property, located just South of Dufur, and Skip Zapffe, a very accomplished senior trap shooter, worked with the team on marksmanship and skill, making it a memorable community undertaking.

"We plan to continue the program into the future," coach Wallace said. "This year was our first year and a trial to see how things went. Everyone enjoyed the season and all the parents came together to support the team. It was a lot of fun. The program was a great success and we are looking forward to doing this again next year. We hope to have more kids come out and compete during the 2018 season."
For information on the clay target league, visit www.orclaytarget.com.