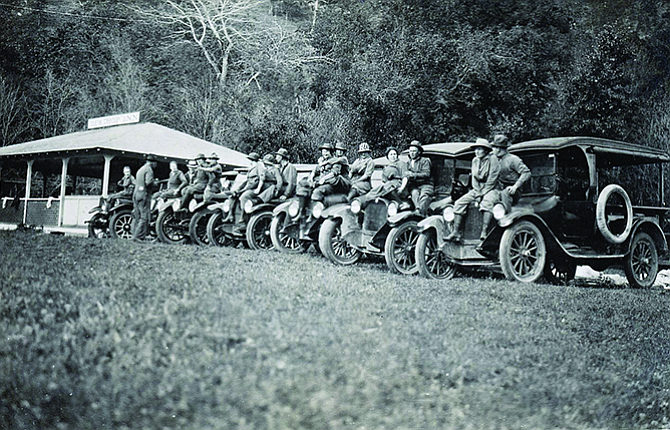 20 years ago – 1997
Local officials are worried that a new black-covered phone book directs callers in some areas to use seven-digit numbers rather than 911 for emergencies. That black book, published by Hagadone Directories, Inc., of Coeur d'Alene, Idaho, lists seven-digit numbers for fire, police and ambulance services for towns like Antelope, Grass Valley, Maupin, Rufus, Shaniko, Wamic and Tygh Valley. All of those areas have 911 service, said Charlie Norris, fire marshal for Mid-Columbia Fire & Rescue, and Jeanne Pesicka, operations manager of the Wasco County 911 dispatch center. "If people call the seven-digit phone numbers listed on the inside of the front cover of the black phone book, they'll get the phone trees and the phone tree people will have to call us because we send out the tones that dispatch their apparatus (for fire and ambulance)," Pesicka said.
Sportsmen haven't been able to take very many squawfish from the Columbia River reservoirs because of high runoff and low temperatures, but the catch is picking up as the river lowers and the temperatures rise. Northern squawfish feed on salmon smolt migrating to the sea and federal agencies offer a bounty for every fish over 11 inches caught.
40 years ago – 1977
Volunteers and police are still looking for clues in the disappearance of Karen Copper, 19, last seen in The Dalles June 30. There are no leads in the case to report, The Dalles City Police said here this morning.
A U.S. Forest Service four-engined plane picked up 80 fire fighters last night at The Dalles Airport. The Lockheed Electra had brought them here at 4:30 a.m. Tuesday to fight the Glenwood fire.
PORTLAND, Ore. (UPI) – FBI agents, stopping traffic to prevent bystanders from being hit by gunfire, arrested two escaped convicts suspected of six murders in three states when they emerged from a commercial building in downtown Portland Friday. "The whole thing went down in about five minutes," said Sean McWeeney of the Portland FBI office.
There's growing talk about a full time legislature in Oregon. This isn't something which should be taken casually, although it is a subject which probably would not gather much voter concern until a ballot arrived.
OREGON CITY, Ore. (UPI) – Laurel Channon, 24, of Stony Brook, N.Y., was reported in critical condition with head injuries after falling into a crevasse on the south slope of Mt. Hood Friday, the Clackamas County Sheriff's office reported.
60 years ago – 1957
Dale Eugene Zerba of Portland is in Hood River Memorial hospital with injuries sustained in a two-car accident on the Columbia River highway near milepost 61 Sunday night. Hospital authorities reported today that Zerba suffered a shoulder fracture. The other car, police said, belonged to the Edward Hines Lumber Co. of Hood River.
A grass fire was started yesterday evening near the home of Mr. and Mrs. Marty Otos, 1519 E. 14th street, when a burning rake handle was tossed into dry grass by a youngster. Fire Chief Charles Roth said the youngster had stuck the handle into a trash burner and when the handle caught fire he tossed it into dry grass. Firemen stood guard and let the tall dry grass burn.
WASHINGTON (UP) – The White House announced today that "if and when" the President takes a vacation this summer he will go to the U.S. naval base on Coaster's Harbor Island off Newport, R.I. Ending the guessing about the President's vacation site, White House Press Secretary James C. Hagerty said that the mile-long island, with golf, fresh and salt water fishing and boating available, is the spot picked by President and Mrs. Eisenhower.
80 years ago – 1937
Local apricot growers had begun picking their 1937 crop today, cheered by an active market for both fresh and cannery fruit and facing prospects of a price considerably higher than the $41 per ton they received two years ago. Crop failure removed Dalles 'cots from the market last year.
A small roof fire shortly after noon today ended a "vacation" season for The Dalles fire department lasting a month and a half. The fire caused $35 damage to a dwelling owned by J. J. Bowen.
HONOLULU, T. H., July 9. (UP) – Hope for the lives of Amelia Earhart and Captain Frederick Noonan ebbed again today as radio experts established that not one of the numerous messages reported to have been sent from their globe-circling plane since it disappeared over the Pacific wastes one week ago, could be shown to be authentic. Three planes from the battleship Colorado made three long flights over the Phoenix islands 1,200 miles southwest of here, covering their length north and south, without finding the least trace of the fliers or their $80,000 plane.
100 years ago – 1917
The final rules and regulations which will govern the local exemption boards in handling the draft men, were received by Sheriff Levi Chrisman and County Clerk L. B. Fox today. Farmers, as a class, and county officials are not exempt, according to the new regulations.
Referring to the coal price dispute, a dispatch from Washington says: "On the highest authority it is stated that the government will not tolerate a situation whereby swollen profits sought of the government and denied by it are made up, even in part, by an increased tax on the private consumers."
LONDON, July 9. – The submarining of the American steamer Massapequa Saturday was announced by the admiralty today. The members of the crew have landed on the Isle De Seine, off the northwest coast of France. The Massapequa was a 322-foot steel steamer of 3193 tons. It was built in 1893.