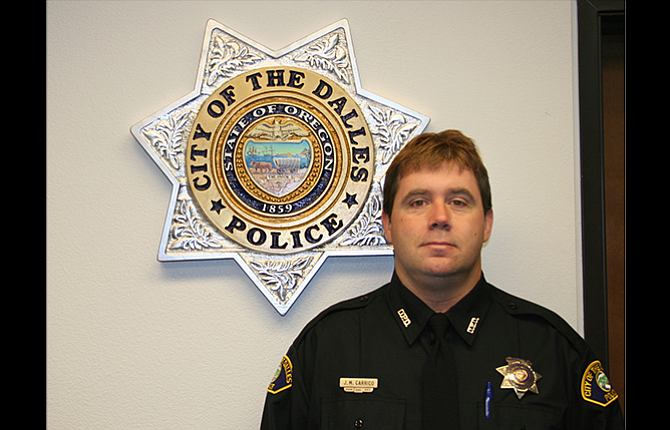 Detective Sgt. Jamie Carrico, a 22-year veteran of The Dalles Police Department, was named the department's captain this month. He will replace Capt. Steve Baska, who is retiring in August.
Carrico grew up in The Dalles and graduated from The Dalles High School in 1989. He will take over as captain on Aug. 1.
"Sgt. Carrico has a tremendous amount of experience, is well respected by the officers, and understands the importance of customer service," said The Dalles Police Chief Patrick Ashmore.
"He has been a part of this community for over 40 years and understands the local culture. He is a vital piece of the succession plan and will make a fine captain for The Dalles Police Department," Ashmore said.
Carrico said he wanted to serve as a "conduit" between the chief and the officers in the department.
"I want to be sure they're geared up and trained up and have the tools they need to be successful," Carrico said.
Just one aspect of the job, for example, involves securing and maintaining equipment ranging from vehicles to audio recorders and cameras.
Carrico, 46, joined the department in July 1995, and was a patrol sergeant for two years before becoming detective sergeant in January 2017.
He oversaw the detective division, which includes three detectives and another temporary position called a NEAT (Neighborhood Enforcement Action Team) officer, who focused on annoyance crimes and livability issues.
Two other promotions were announced this month; Officers Josh Jones and Eric Macnab have been named sergeants. Macnab will take over for Carrico as detective sergeant.
Carrico said he'd always wanted to be a police officer. "As a kid, yeah, every kid wants to be a cop, but it wasn't until later in high school that I thought it was possible."
He received a degree in criminal justice from Western Oregon State College (Now Western Oregon University) and went on to get hired by the police department.
"I didn't want 9 to 5, I wanted something different every day," he said of the draw of police work. He said that's the standard answer given by many officers.
"I won't say I've seen it all, but I've seen plenty," he said. And even after he moves to a straight day job as captain, he said, "it's still different every day. Nothing's the same."
Carrico, along with his wife, Deedee, also owns a business in downtown The Dalles. He also served as a youth soccer coach previously.