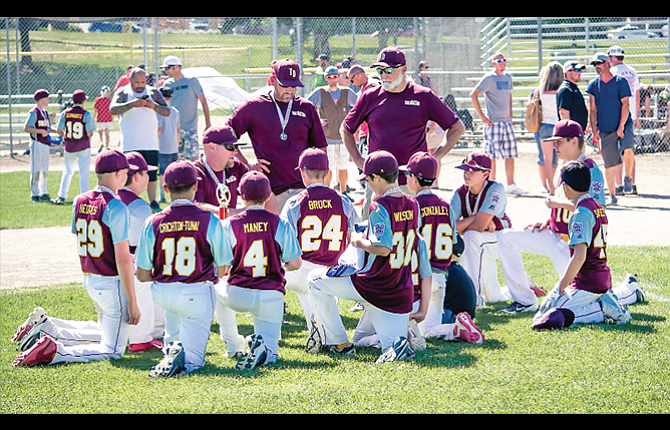 At the start of last week's District 5 Little League Tournament, head coach Ken Brock and his assistants, Ben Donivan and Phil Hukari, ushered out a group of young, determined 12U athletes, who were vying for a championship.
After a week of grueling, pressure-packed games in Redmond, his team hoisted a title trophy.
Brock smiled with pride, as he saw a maturation process unfold – these 12 boys turned into young men.
Now the page turns to a new chapter – the Oregon State Little League Tournament – where eight teams are looking to win it all and move one step closer to the Little League World Series.
"I really hope that it is a turning point. What they experienced at that tournament was definitely a life lesson," Brock said. "We always tell these boys that there is always a chance, and sure enough, we came together to win the chipper. It is definitely a lesson in sports and baseball. It was about them buckling down and putting up a fight until the bitter end. You never know what is going to happen. Hopefully, they learned a lot from that."
On its way to its District 5 title, TD staged two comeback wins, faced adversity at every corner and overcame the pressure of the moment to come out on top.
In district play, TD defeated John Day River, Jefferson County, Crook County and Redmond by a combined margin of 45-11.
The Redmond victory came in comeback fashion, in the semifinals, as Braden Schwartz broke a 2-all tie with the eventual game-winning two-out, two-run single in the bottom of the fourth inning, Nathan Hedges added a fifth-inning homer and Kade Wilson tossed a complete-game on 72 pitches with seven strikeouts in a 5-2 triumph to vault into the finals.
Bend North came away with a 9-4 win in Saturday's first game of the double elimination tournament.
In the championship, the Stars battled back from a 14-10 deficit with five runs, all with two outs, in the bottom of the sixth inning, capped by a walk-off RBI single by Cesar Sanchez that scored pinch-runner Andy Maney in a 15-14 thriller.
"It wasn't me. It was up to them to get it done, so there wasn't a ton of coaching going on," coach Brock said. "They just wanted it. I just sat back and watched them go for it. I don't know if there has ever been a championship game like that where you had a collective group of boys that wanted it that badly. It was incredible."
Offensively, The Dalles scored 69 runs in six contests, for an average of 11.5 per game, and the pitching staff allowed 29 runs, 4.8.
TD totaled 62 hits, 29 of those going for extra bases, including 18 doubles, a triple and 10 home runs. The Stars also exhibited patience at the plate with 20 walks, to go along with 31 strikeouts.
Hedges roped five of the home runs, Peyton Beeks added four, Kade Wilson had the other round tripper and Styles DeLeon notched the only triple.
It will be a much tougher task to match or surpass those numbers at state with tournament champions Sprague, La Grande, Portland and Del Norte, Calif., to name a few, lurking in the shadows.
Hedges is excited for this new slew of challenges in La Grande.
"I think we are absolutely ready for this," Hedges said. "From what we have shown from districts, I think that we can handle the tense situations and the pressure that is on each and every one of us. We should approach state like we do every game, ready to go out there, make some plays and get some hits, but go in there ready for a dog fight, ready to take back a run if the other team scores one."
Following opening ceremonies on Friday from Pioneer Park, TD hits the diamond for its tournament opener at 9:30 a.m. Saturday against Sprague.
If The Dalles loses the first game, it plays the loser of Del Norte and the District 6 loser at 9:30 a.m. in an elimination matchup.
A win vaults TD to the winner's bracket for a game against the Del Norte and District 6 winner at 2:30 p.m. on Sunday.
The championship is tentatively scheduled for 2 p.m. on Thursday, July 20.
"We are back up here preparing for battle. We are not just going to sit back," coach Brock said. "Every game is going to be even tougher. We are going to have to be ready to focus and fight and be ready to take it from them. We will have that same philosophy moving forward."
Many of these players started their baseball seasons in January or February, and with time on the field now spanning five or six months, every game from here on out becomes a battle of attrition.
DeLeon, Schwartz, Nolan Donivan and Riley Brock will be the only players to get another postseason chance next spring and summer.
For Wilson, Beeks, Hedges, Mason Caldwell, Manatu Crichton-Tunai, Diego Gonzalez and a few others, this is their last Little League dance.
DeLeon wants to make it a memorable one.
"Our goal is to get to Williamsport," DeLeon said. "We are going to play like we don't want this ride to be over until we can get to the Little League World Series. Our team can handle the pressure. I think we proved that with our comeback victory against Bend North."