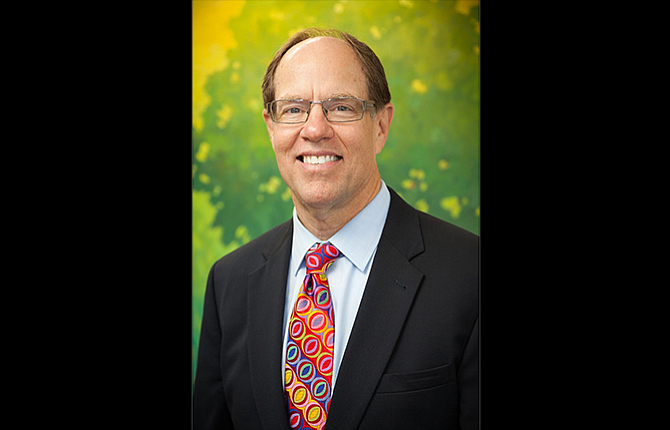 Mid-Columbia Medical Center's new president and chief executive officer, Dennis Knox, wants to see urgent care clinics established in both The Dalles and Hood River.
He believes that access to clinics that treat acute illnesses and injuries that are not serious enough for a visit to an emergency room are essential for community care. These urgent care centers can treat a wide range of conditions, including infections, allergies, skin conditions, flu, minor injuries and wounds, strep throat and sporting injuries.
Knox is confident that his 37 years of experience as a health care executive, and co-founder of Urgent Point, a national company, will help move those projects, and many others, forward.
However, he said MCMC first needs to do some strategic planning for the future, which he anticipates having finalized by the end of the year. He also has begun work to brighten the hospital's financial picture, which he said follows medical centers across the nation in having financial challenges.
In late May, Knox was chosen by the board to replace Duane Francis, who retired in October from the CEO position he had held since June 2002.
Although Knox was not looking for a job when a friend convinced him to check out MCMC's vacancy, he was intrigued by the job and mesmerized by the scenic beauty of the area. He felt MCMC was "ahead of its time" on community-based care and offered many specialty services that are often not available at rural hospitals.
Community-based programs and strategies are designed to reach people outside of traditional health care settings, such as schools and work sites. Much of that work is done within existing social structures to educate people on a wide range of health care topics, from injury and violence prevention to the importance of good nutrition and physical activity.
After researching MCMC, Knox felt he had the skills to help the organization overcome budget constraints that had led to the reduction of 11 positions, including both manager and staff-level jobs, prior to his arrival.

At that time, Dianne Storby, then interim chief, said MCMC was experiencing budgetary pressures in three main areas: A change in electronic health records software that led to $3 million more in unpaid debt than estimates; a downturn in revenue during the cold winter months when fewer patients visited clinics; and uncertainty of Medicaid and Medicare reimbursements at the state and national level.
Knox also researched the case of Dr. Frederick Field, a contract anesthesiologist at MCMC who pleaded guilty in September 2012 to 11 counts of sexual abuse and one count of rape involving former patients and co-workers. He is currently serving 23 years in prison for his crimes.
A number of Field's victims filed lawsuits against the hospital, and its insurance companies paid out millions in compensatory and punitive damages and settlements.
Instead of being discouraged by negative publicity and budget woes, Knox felt that his "turnaround" skills could be put to good use.

He was impressed with the interview process set up by Storby, who has returned to her role of chief operating officer, which involved about 100 people in different settings. He views it as a good thing to have a board of trustees comprised of business leaders with their pulse on the community, as well as medical providers.
"This is exactly where I need to be," said Knox, who describes himself as a "change agent."
His wife, Jody, oversees two large medical groups in Los Angeles and is winding up the sale of their home before joining him in The Dalles.
"She's doing all the heavy lifting," he said.
A Texas native, Knox has specialized for decades in improving and expanding health care programs. His previous experience includes Memorial Hermann Healthcare System in Houston, Texas. It is the largest not-for-profit health system in southeast Texas and consists of 14 hospitals, eight cancer centers, three heart and vascular institutes and 27 sports medicine and rehabilitation centers, in addition to other outpatient and rehabilitation centers.
He also served as chief at Antelope Valley Hospital, a 420-bed hospital in Lancaster, Calif., and Southwest Healthcare System in southern California.
Knox holds a bachelor's in management science from Duke University, where he also earned a master's in health care administration. His work has taken him to 11 states and he has built a resume that also includes serving as CEO of Phoenix Baptist Hospital in Arizona. He has worked with not-for-profit and for-profit health care providers, including those with multiple hospital sites.
Knox said he has earned a reputation through the years of being an "efficiency expert" who can lead financial and regulatory turnarounds, something that is accomplished by increasing efficiencies, avoiding duplication of services and knowing exactly where every dollar is being spent and why.
"My mantra is that, if you do that, you'll achieve success," said Knox.
While attending Duke University, he was a three-sport letterman in football, baseball and track. He uses the analogy for his management style as being a coach who provides what his team needs to "go, fight, win."
"I'm charged with fielding the best team and the only way I can do that is to give them the tools and the training they need to succeed," he said.
Knox plans to develop an "A Team" that will lead work in each department to develop policies and ensure compliance with all regulations, which affects the flow of funding from the state and federal governments.
His leadership team will work with staffers to identify processes that need to be improved upon and how to effect change.
"Our heads are on a swivel, we are looking for anything coming down the pike and we're preparing for it," he said.
There are about 1,000 full and part-time staffers at the hospital, said Knox, who spends his morning making rounds to talk with employees and patients alike.
"I don't believe in an open-door policy because I'm not in the office – my style is to check in with patients and workers and be approachable," he said. "Leading with the heart defines my management style."
MCMC is also building a facility in Hood River that will house many services, including urology, orthopedics, cardiology, dermatology and other services. Knox is also deeply involved with the development of that project.
He professes to a dry sense of humor and said a good clean joke can make a setting more comfortable and increase the opportunity for good dialogue. His worst expletive is "sugar."
"When I'm walking down the hallway, I want to attract people instead of making them go running," he said. "Calm is powerful and it's worked well for me all these years."
He and Jody have four grown children:
• Jason, the eldest son, is a graduate of the Naval Academy and is currently stationed in Bahrain with the U.S. Fifth Fleet, where he works in the field of integrated air and missile defense.
• Jill, their only daughter and oldest child, is a veterinarian in Oceanside, Calif. She and her husband have one child and one on the way.
• Brett is a land developer in Phoenix and a skilled golfer. He and his wife have two children.
• Kyle played on three championship teams at Appalachian State University in North Carolina. He is now a director of Maxim Healthcare Services in Albany, N.Y. He and his wife have one son.
"I live vicariously through my daughter because I always wanted to be a vet," Knox admitted.
He runs three miles a day and plays golf, something he finds challenging in the Gorge wind. He reads professional journals but admits that reading some material helps him fall asleep. He prefers to enjoy the suspense of David Baldacci novels.
"It just seems like a natural fit for me to be here and I'm feeling that every day," he said. "We are all about patient safety and we are a reputable hospital that delivers top-notch care. I see a very bright future."