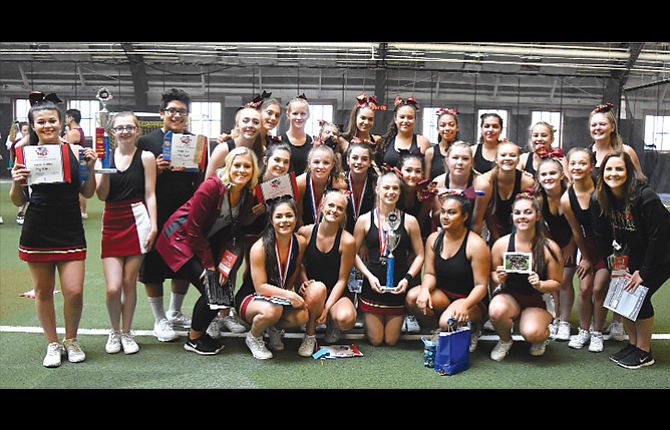 The Dalles senior Jessika Nañez stood shoulder-to-shoulder with fellow senior teammate Kendyl Kumm as All-American winners.
Earning the award was a proud moment.
Nañez was even more ecstatic at the fact that nine other members from The Dalles cheer team were nominated for the highest honors at last week's National Cheerleading Association "Get Shocked" Camp at Oregon State University in Corvallis.
"It's a pretty big deal to even get nominated, because that means a staff member at the camp thought that you stood out in one way or another," Nañez said. "I'm very happy and proud that Kendyl and I made the team. Kendyl and I have been cheering since freshman year and it felt nice to end our last cheer camp with so many awards."
While Nañez and Kumm earned recognition, Lorelay Berry (freshman), Mia Barber (freshman), Breanna Birchfield (freshman), Miguel Torres (sophomore), Emily Adams (freshman), Mackenzie Smith (junior), Sydney Fransen (sophomore), Megan Brace (freshman), Samantha Stanley (senior) and Jordyn Hattenhauer (junior) were nominated for such honors.
The audition consisted of three consecutive jumps, a tumbling pass, and then the cheerleaders had to perform the camp cheer. They were judged on difficultly and proper technique in jumps and tumbling, spirit and energy, voice, and sharpness of motion.
If an athlete exemplifies superior skills in one of these categories, they will have the opportunity to try out for the team.
Through the camp, several other cheerleaders had their names called for different awards, including the Pin-It Forward, the 'G' Award and Spirit Stick honors.
By being the coach who went above and beyond, TD head coach Kelsey Sugg picked up the Miss Congeniality Coaches Award.
The Pin-It Forward is one of the special duties of one of the staff members to recognize a camper for a quality that has made them stand out.
Those staff members can personally award a camper at any time throughout the camp and for any reason.
Pin-It Forward winners Fransen, Torres, and Alex McAllister, stepped up as leaders by setting a good example for their peers and teammates, putting in extra effort in classes, displaying great spirit on each day and exhibiting their passion for the sport with positive energy and attitude.
Once they have been selected to receive a pin, they were instructed to pin it forward to another camper that stands out.
Hattenhauer was the 'G' Award recipient for being a hard worker and putting in her best effort, and both the junior varsity and varsity teams each received a spirit stick award on Day 2, Day 3 and Day 4 of the camp.
"Camp was so good this year," Nañez said. "I think everyone did really well at camp and a lot of new faces stepped up and surprised us. I think everyone has a better idea of what cheer is really about."
The Top Gun Dance and Jump tryouts took place on Day 1, with Stanley making the finals for dance, and Hattenhauer for jumps. On the second night, coach Sugg entered her team into the co-ed stunt event, and Adams made finals and won the tumbling competition, and TD's co-ed stunt team of Stanley (base), Nañez (base), Hattenhauer (flyer), Torres (back), and Kumm (base) claimed first place.
The four camp days consisted of long days of hard work beginning at about 7 a.m. and ending at 8 p.m. each night and the cheerleaders worked on and learned a choreographed routine that consists of dance, tumbling, jumps, stunts and motions learned.

On the final day, the judges have a final day evaluation.
Both the junior varsity and varsity received first-place trophies.
Sugg and assistant coach Alli Miles fielded a group of 10 returners and 31 newcomers at camp and, Sugg split the teams up.

"Alli Miles did an amazing job coaching the junior varsity and leading them through a successful week," Sugg said. "We were nervous about splitting up and taking on two groups this year, but it all worked out for the best. I have a really hard-working and dedicated group of athletes and I can't wait to see what this year has in store for us."
For Sugg, the long-term vision with camp attendance is to get the team together for a week of fun and bonding, while learning about the finer details of cheerleading.
Nañez saw first-hand, the maturation process and growth the many underclassmen and newcomers showed, so there are reasons for optimism.
"At camp, everyone gets to know each other a lot better and that helps the team become better," Nañez said. "Camp is the hardest we've worked so far this year and it sets the tone for how the rest of the season will go. That's why we're really happy that camp was so successful. It gives everyone a lot more confidence to keep progressing."