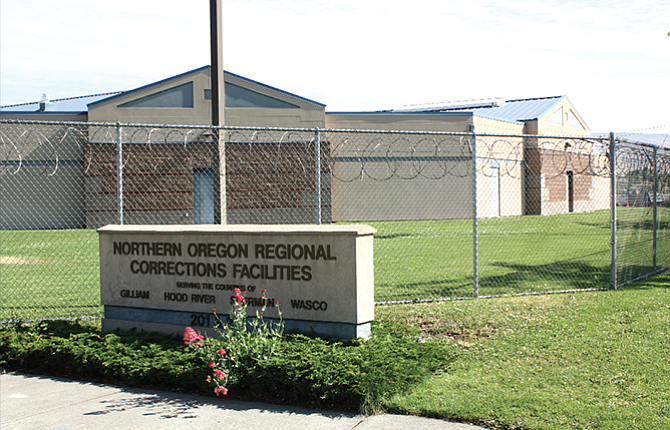 Some jail board members don't want another four-county vote on a permanent tax rate to help fund the jail, and other members questioned whether housing immigration detainees was worth it given the controversy it has drawn.
The Northern Oregon Regional Correctional Facilities (NORCOR) board met Thursday to discuss their next move after a vote in May on a permanent tax rate for the jail was narrowly defeated.
Staff was directed to assess the stability of current revenue streams for the jail, and report back in August. The information is intended to provide guidance to truly establish if there is urgency and need for a permanent tax rate.
The regional jail asked voters to approve a 26-cent per $1,000 assessed property tax rate, which would raise $1.3 million per year from the four regional jail counties: Wasco, Hood River, Sherman and Gilliam.
It passed by about 10 percentage points in all counties but Wasco, where it went down by about 10 percentage points. Wasco County is large enough that its "No" vote led to a defeat by just 41 votes.
Another vote would likely take place no sooner than May 2018.
The 26-cent rate was the same rate as the just-retired bond that paid off the construction of the jail.
It costs $6.2 million a year to run the jail, and the four counties pay $3.8 million collectively. The other $2.4 million comes from other sources, including warehouse rentals and contracts with other entities for jail beds.
One contract is with the U.S. Marshals Service, which sends detainees from Immigration and Customs Enforcement (ICE).
The jail has contracted with ICE for beds almost since the jail opened in 1999. It was uncontroversial until the election of President Donald Trump, who campaigned on taking a hard stance against illegal immigration.
Since May, a group of protesters has picketed outside the jail seven days a week, opposing the renting of jail beds for ICE detainees.
Wasco County Commissioner Scott Hege, an alternate jail board member, said, "The question in my mind, is that contract worth having?"
He believed the daily protests and press coverage of them "was at least a factor in why people" did or didn't support the jail permanent tax rate.
He said he'd rather have a guaranteed voter-approved tax base than a federal contract that didn't have any financial guarantees. He added, "If you look at the budget and look at some of the line items, it didn't seem like there was a big need for these funds."
This fiscal year, if revenues and expenditures hold as budgeted, the jail will end with $1 million in its beginning reserve fund balance. It is the first time in some time it has budgeted a reserve like that.
The jail has also budgeted $1 million in revenue from ICE, at an anticipated use of around 22 jail beds per day. However, the bed use has been as low as five detainees for periods of time.
Jail board member Molly Rogers, director of juvenile services for Wasco County, said the jail in years past has lost federal contracts, and faced the real possibility of closure.
Rogers said the jail could find itself in a $1 million deficit "just like that," if an outside contractor pulls out. "That's what I see as the driving need" for the permanent tax rate.
In discussing why she thought the tax levy failed, Rogers said, "We kept kicking the can and got in trouble last time and didn't have enough time, and didn't identify community champions."
The permanent tax rate was intended to ease pressure on counties – particularly Wasco and Hood River — that were struggling to make the annual payment to keep the jail operational.
It was not meant to bring additional revenue to NORCOR, but to help counties maintain their financial support of the jail.
Sherman County Commissioner Tom McCoy, a jail board member, said that the jail's finances "improved dramatically" between the time the bond was decided upon and the time of the May vote.
Sherman County Judge Steve Shaffer, a jail board member, said he opposed putting the tax levy on the ballot.
He would rather see Wasco and Hood River counties pursue public safety levies.
"Today, the way this operation is going, yeah, we probably don't need the permanent tax rate," Shaffer said.
Solea Kabakov, a leader of the group protesting the use of the regional jail to house ICE detainees, said the community would really get behind NORCOR if it replaced the ICE contract with a permanent tax rate, which would be a much more consistent revenue stream.
"I would love to see the thinking switched," she said. "Instead of maybe 'We don't need a levy' to 'We don't need ICE.'"
Shaffer said the regional jail has pursued federal contracts, and signed one with the U.S. Marshals Service. And the people that were sent were from ICE. "That's what we got, this is what they're sending us."
Shaffer felt the federal contract needed to continue. He said, "Don't get me wrong, I do not agree with what goes on at that level right now, but for us to be taking the heat for that is wrong."
He said the jail had a federal contract long before the immigration controversy arose.
Another new three-year contract just signed with Benton County guarantees the use of 22 jail beds per day.
JoAn Henricks, who opposes the use of the jail to house ICE detainees, said she used to live in Benton County.
She said it was an extremely liberal area, and she wondered if there might be pressure put on Benton County to stop taking its prisoners to The Dalles if local citizens learned the regional jail also housed ICE detainees.
She said the question was whether ICE was a funding stream or a potential hammer stopping other funding sources.
Over the last several months, each meeting of the jail board has been well attended by opponents of the ICE contract.
Jean Sheppard, a volunteer attorney with Immigration Counseling Service and the ACLU, said detainees would prefer to be at the Tacoma Detention Center, which has more amenities, in-person visitations, fresh fruit, and better access to clergy.
Pastor John Boonstra said, "The lack of personal family visits is huge." In-person visits were ended at the regional jail several years ago as a cost-saving move.
He said the detainees can have criminal convictions that were adjudicated long ago.
"They are not in the same category – legally, morally, ethically. It's a huge difference and it's a huge injustice."
Sheppard said, "Keeping them here is really not fair to them … it's not an appropriate setting."
She said, "I know it's a great deal for you, but it's a terrible, terrible, terrible deal for them."
Jail board attorney Will Carey said no detainees at the jail have not been charged or convicted of a crime.
Henricks countered that some people have been detained because their paperwork isn't in order.
Sheppard added some detainees had only DUIIs, and another chimed in that they were "from 20 years ago."
Amber Orion said detainees were charged different commissary and phone calling rates and were unable to take jobs.
Jail Administrator Bryan Brandenburg said, "That's a difference of opinion. We are treating them appropriately. No different than the other people that are here."