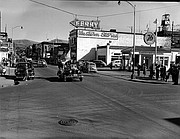 20 years ago – 1997
Reports of mutant frogs in Oregon are enough to make a French chef drool. In Dixonville, near Roseburg, Anjuli O'Neill found a frog with six legs. Over in La Pine, 10-year-old Brandy Park's frog had 11. Her mother called Chris Carey, a non-game biologist with the Department of Fish and Wildlife in Bend, who checked the pond and found several more deformed creatures. He packed them off to the National Wildlife Health Center in Madison, Wis. Locally, no mutant frogs have been reported to the Oregon Department of Fish and Wildlife in The Dalles.
The PUD Tuesday authorized routing the Riverfront Trail along the river at its new port facility, but only if several conditions are met. The riverfront strip was reserved for the trail subject to resolution, to the PUD's satisfaction, of ownership, liability, consideration and security issues.
The city has applied for an $800,000 national scenic area grant for the downtown grain elevator project.
The first of four phases of a sewer separation project is scheduled to begin on Wednesday, July 30.
Bureau of Labor and Industries officials want to remind employers and parents that teenagers no longer need work permits to go to work. Work permits joined dinosaurs in extinction nearly two years ago when the legislature eliminated the requirement.
40 years ago – 1977
Eighteen Mid-Columbia Boy Scouts, including 10 from Wasco County, will attend the National Boy Scout Jamboree in Pennsylvania beginning July 28.
WASHINGTON (UPI) – The House wants ice cream added to motherhood and apple pie as important parts of American tradition. And the House says ice cream must not contain casein, a dairy byproduct that's so unAmerican, most of it is imported. Rep. Charles Rose, D-N.C., an ice cream lover, wanted to overturn proposed Food and Drug Administration regulations allowing casein to be substituted for non-fat dry milk in ice cream.
WASHINGTON (UPI) – President Carter is resurrecting the idea of a sea-level waterway running parallel to the Panama Canal across the narrowest land mass in the Western Hemisphere.
TOKYO (UPI) – A Japanese scientist said today a huge creature whose decomposed body was netted by a Japanese trawler off New Zealand is a reptile known as a plesiosaurus, a creature thought to be extinct for more than 100 million years.
60 years ago – 1957
Except for final street cleanup work, a major west side storm sewer project was pronounced complete yesterday. The W. 11th street project includes approximately 4,000 feet of trunk line and laterals which will collect storm water and the flow of three springs, emptying into Mill creek. Flow at the outfall on the creek bank yesterday was estimated at 50 gallons a minute.
A boy, 15, of The Dalles, charged by District Attorney Harry Hogan and state police with reckless driving and driving on a learner's permit without having a licensed driver with him, was put on probation for an indefinite time yesterday afternoon by County Judge James Hunt. Judge Hunt in the Juvenile Court hearing also lifted Sanders' learner's permit and told the boy he could not have a driver's license until at least six months after he becomes 16 years old. The charges came as a result of an accident July 13 in which another 15-year-old boy, Melvin Barnes, was killed.
Fire Chief Charles Roth this morning warned residents to either "grub out" or burn dry grass around their houses and other buildings. Burning permits are required and these may be obtained at any time without cost at the fire station. The fire chief said this is one of the worst years he can remember for a heavy growth of "cheat" weed and other grasses that dry out.
WASHINGTON (UP) – The House defied hints of a presidential veto today and overwhelmingly passed a bill to raise postal workers' pay $546 a year. The measure now goes to the Senate.
80 years ago – 1937
MT. ANGEL, Ore., July 23. (UP) – Two women were killed and ten others injured in a collision involving two cars north of here late last night on the Mt. Angel—Woodburn highway. There were no eye-witnesses to the accident.
Oregon Journalism Loses Noted Figure: PORTLAND, July 23. (UP) – B. F. Irvine, for 30 years editorial writer and editor of the Oregon Journal, resigned today. Irvine, who overcame the handicap of blindness to reach a high place in Oregon journalism, asked to be relieved of the position "in order to have time to take a more personal part in meeting the increasing demand for the paper to participate in movements, meetings and campaigns in nearby and more distant communities for local advancement." Irvine, 75 years old yesterday, was born in Scio, Ore., in 1862.
WASHINGTON, July 23. (UP) – The house today called up for speedy action the Mansfield bill to administer the $75,000,000 Bonneville hydro-electric project on the Columbia river.
WASHINGTON, July 23. (UP) – The congressional tax avoidance committee voted today to permit any committee member to examine tax returns of James Roosevelt, the president's son, or Secretary of Treasury Henry Morgenthau, Jr. The decision was made at an executive session at which Representative Allen T. Treadway proposed that the tax reports be made available.
100 years ago – 1917
Ernest Peterson, while working with some horses on a ranch at Fairbanks yesterday afternoon, was kicked in the abdomen by a colt and was seriously injured. The young man was brought to The Dalles hospital this morning for treatment. Mr. Peterson's home is in Junction City, Oregon.
Sergeant Gay of Portland is in The Dalles, recruiting for Battery B, First regiment, Oregon field artillery. Until they are called for physical examination, drafted men are privileged to enlist in any branch of the service.
BAKER, July 23. — Two trainmen and one hobo were seriously injured and others were slightly hurt when an eastbound freight train on the Oregon Short Line collided with a passenger train at Pleasant valley, Ore., today. The hobo may die. The freight became uncontrollable through failure of the airbrakes to operate properly.
WASHINGTON, July 23. — Congressional conferees began a final drive today to draft the food control bill. Arguments are expected to continue at least a week, Saturday being the earliest day set by optimistic congressmen for the disposition of the measure. The Smoot liquor-commandeering resolution, the food administration board, and the senate's amendment appointing a joint congressional committee to check over food administrators and other war boards' work are expected to cause much discussion.
WITH THE BRITISH ARMIES IN THE FIELD, July 13. — Forty German airplanes brought down in five days is one indication of the frenzy of nervousness with which the Prussians are trying to find out what Field Marshal Haig is preparing for them. The complacency with which German Chancellor Michaelis announced his satisfaction with all things military is not apparent today on the west front. The curiosity of Boche planes is just one indication of a deep-rooted apprehension that Haig is preparing another stroke.