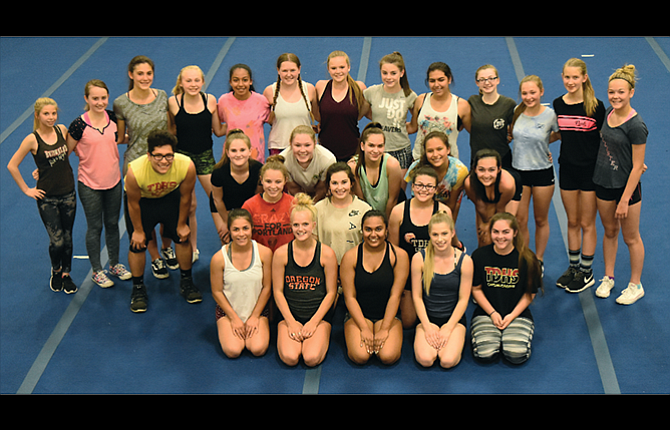 For the past two seasons, The Dalles cheer team has used back-to-back runner-up state finishes as building blocks for greater future achievements.
The drive to work harder and take that next step is there, more than ever, creating a source of motivation, hunger and desire to succeed as the calendar flips to the 2017-2018 campaign.
Senior Samantha Stanley is already seeing progress early in camp, even on a roster of 10 returners and several newcomers.
"This season, fans can expect a lot of passion and hard work, on and off the mat," Stanley said. "We all want to succeed, not only individually, but as a team, and we use our personal motivation to push the others on this team to be the best that they can be. The constant support and encouragement from the coaches and our teammates, inside and out of cheer, really helps create a bond between the girls that is carried onto the competition mat."
Stanley is one of six returning seniors, and is joined by Jessika Nañez, Jenifer Salinas-Deras, Shivani Patel, Kendyl Kumm, and Carey Stone.
NAs experienced senior veterans on a young roster, that group will be responsible for aiding in the teaching process, working extra with some of the underclassmen, being positive role models and examples, and displaying leadership through solid citizenship.
It is a blueprint drawn by many seniors in the past, most recently by Keagan Rice, Abbey Helseth and Lauryn Despain, who were pivotal figures last year.
"The seniors in the past have taught us a lot," Patel said. "They have taught us to keep fighting no matter how tired and frustrated we get. Last year's seniors pushed the team to do their best, and I strive to teach the newcomers to do the same."
The work will be hard yet rewarding for every participant, as the team is set to come together for twice-a-week practices during the summer and twice-a-day sessions before the start of school.

Early on, things could become difficult for many of the new recruits, as they will be put through the fire, while working on flips, stunts and tumbles all while memorizing game-time chants and several dances for pep assemblies through the school year.
Salinas-Deras remembers those early struggles, but remains steadfast in her belief that preparation and due diligence helped in her overall development.
"The sport itself drains a lot of your energy, especially when you're going through the routine repeatedly," Salinas-Deras said. "It is very important that no matter what, even if we are tired or if we just feel that we can't do it anymore, that we need to keep pushing. A lot of anger is built up when something isn't working, so we use that anger to push through it and finish strong."
With such a new group, some cheer members may be asked to take on different roles, so adaptability and having knowledge of everyone's responsibilities can lead to a smooth transition.
Coach Sugg said that every year has its share of challenges and areas to iron out, so a lot of attention will go toward focusing on building stunt difficulty and tumbling skills.
"Our team is going to be smaller this year, so that'll be a little different," Nañez said. "I'm not sure what the routine will be like this year, but I'm hoping we can pull off more difficult stunts than we did last year. I think that's where we really need to excel for us to win this year.
"We also need to stay strong in our tumbling. We have new faces that have great potential in tumbling, so that will help."
While the team continuously puts in the hours to get ready for games, routines and tournaments, Sugg and new assistant coach Alli Miles search for new routines, themes and other elements to capture the attention of spectators and judges.
Stanley said it is a collaborative effort from the cheer members and coaches to examine and learn from mistakes to ensure they won't be repeated and that the group finds ways to be more efficient.
"It's exciting to start out a new season with a coach who is constantly full of cool and crazy ideas," Stanley said. "Kelsey's passion definitely rubs off on us and is a huge part of our motivation. She dedicates so much of her time to making sure we can be the best we can be and is supportive of us in all our activities. Being around a coach who is so passionate, driven and positive, we can't help but get excited about the new season and seeing her cheering us on from the sidelines."
In 2016-2017, the cheer squad headed to state with three meet victories in a row, including back-to-back wins on consecutive days at the Cavalier Cheer Invitational and the Pacer Invitational Cheer Competition.
At state, The Dalles scored a total of 67.80 points in its building skills portion, added 66 points in tumbling and jumps, and finished with a 50-point effort in overall routine for a combined 183.80, a record high for the program and a 9.5-point improvement from their first state performance of 174.30.
With a large contingent of the roster full of inexperienced newcomers, Salinas-Deras is aiming for great accomplishments this season, as the program strives for state title No. 13.
"For me, it is very important to keep that legacy going, because it is something that has been going on for many years in our school," she said.
"It is also very important because Leslie and Kristi Maley worked hard to build that reputation and now Kelsey has done an outstanding job of making sure it stays like that by giving the team an eager need of getting that state title and making sure we work hard."
Following their three regular-season meets, the Hawks vie for state.
After state, the team is hoping to attend nationals in Anaheim, California on the last weekend of February, so it is a great opportunity for added exposure.
The drive is there and the message is clear – this Riverhawk team is on a mission to get over the mountaintop.
"Being a vet makes me so excited to see what this year brings," Kumm said.
"I think I speak for all us veteran girls when I say that getting second place last year pushes us so much harder this year, so our goal is that we can bring home a state title."