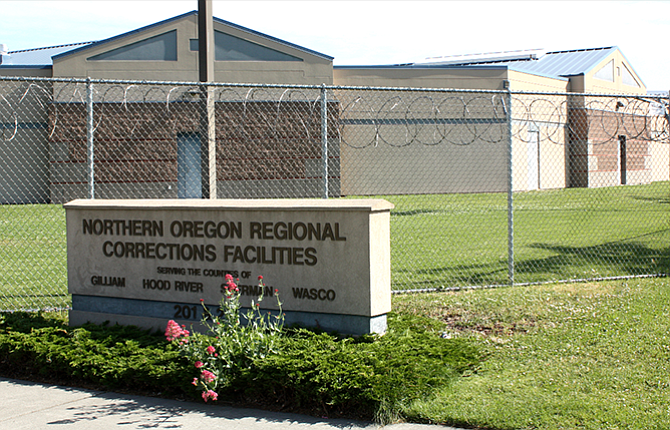 The regional jail tax rate measure has been defeated by 41 votes. In final results from the May 16 special election, the tally was 4,211 No votes, 50.2 percent; versus 4,170 Yes votes, 49.8 percent.
A total of 8,381 voters were cast.
The closeness of the vote on the Northern Oregon Regional Correctional Facilities ballot measure left the outcome in question for a couple weeks, but on May 31, Wasco County Clerk Lisa Gambee certified the final election results.
Gambee pointed out that a recount in a close race is triggered when there is less than one-fifth of 1 percent (0.20%) difference. That was not the case with the NORCOR ballot measure, which finished with a final margin of 0.48 percent separating the No and Yes votes.
The ballot measure would have set a permanent tax rate limit of 26 cents per $1,000 of assessed valuation for the NORCOR facility in The Dalles. The facility is a regional adult corrections and juvenile detention center located in The Dalles. It serves four counties —Wasco, Hood River, Sherman and Gilliam — and voters from all four counties voted on the tax measure in the recent election.
Despite the defeat of the ballot measure, Wasco County Commissioner Rod Runyon said the NORCOR facility remains in good shape for the short term.
"The election was about long-term stability and the safety of our citizens," Runyon said. "My feeling is that with more time to get the message out and possibly a little re-tooling, the NORCOR board may look at this issue again."
The measure was supported in three of the four counties voting on the issue. Sherman County voters supported the measure with 253 Yes votes against 175 No. In Hood River County, voters backed the measure with 1,850 Yes votes against 1,611 No, and in Gilliam County, it was 255 Yes against 210 No votes.
The tide turned in Wasco County, however, where voters went against the proposed tax plan in a big way, with 2,215 voters saying No (55.0 percent) versus 1,812 voting Yes (45.0 percent). It went down by a large enough margin in Wasco County to narrowly override the preferences of the majority of voters in the other three counties.
Bryan Brandenburg, jail administrator, said county and NORCOR officials have not yet decided how to proceed in the wake of the tax measure's slim defeat.
"We will be discussing the outcome and the future of any further bond levy requests at our next board meeting on June 15," Brandenburg said.