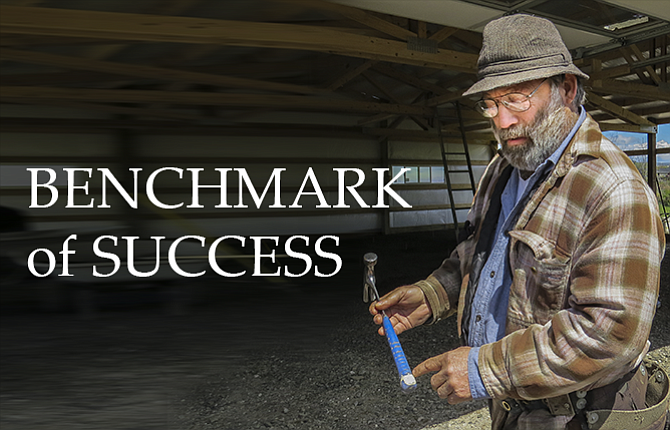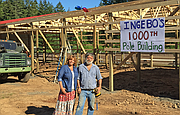 Ken Ingebo built his own tool shed when he was 10, something that didn't seem unusual to his father and grandfather, carpenters who had taught him how to wield a hammer as soon as he was old enough to hold it.
Ingebo also built a tree fort 50 feet high in a cottonwood, but had trouble convincing any of his friends or eight siblings to join him in the lofty perch.
He grew up in a home that his father built from salvaged lumber on Mill Creek Road just south of The Dalles that endures today.
On Saturday, June 17, Ingebo will put the 10th notch — one for every 100 metal pole buildings — on his hammer handle at a celebration of his 1,000th structure. The open house takes place from 2 to 6 p.m. at the home near Klickitat/Lyle, 33 Skookum Flat Road, that he shares with his wife Linda.
She said the country-style potluck was organized in a spirit of fun to reconnect Ken with old friends and business partners. Due to lost records in a fire several years ago, Linda has been unable to get invitations out to some people and is hopeful that getting the word out through media outlets will let them know of the party.
Linda said a sandwich bar and beverages will be available and people are invited to bring a favorite dish, dessert or salad and join the fun.
To get an accurate guest count, she asks that people planning to attend email her at 1000buildingparty@gmail.com. They are also invited to send photos and stories to share.
"It'll be good to see people," said Ken, who wasn't initially sure about the social occasion because he isn't comfortable being the center of attention.
However, as the date draws near, he has become excited about catching up with friends from around the Mid-Columbia region and beyond. He also wants to learn how the structures of past clients are holding up.
"My first building was a carport in Terrebone," he said. "I was down there five years ago and it was still standing."
Ingebo said his father, Alvin, drilled the necessity of having a good work ethic into his children, lessons that were often tough to take but have stayed with the younger family members.
His mother, Frances, wanted her children to get a good education and they all attended St. Mary's Academy and then The Dalles High School, where Ken graduated in 1972.
Both Frances and Alvin are deceased, but Ken said the values they taught live on. He also remembers getting plenty of wisdom from his grandfather, George Ingebo.

"Dad taught me that, 'A man is only as good as his word, if you say you are going to do something, you damn well better do it,'" he said.
Following that advice has paid off many times, said Ken, because Ingebo Construction gets most of its business through word of mouth.
"That's the best kind of advertising there is," he said.
Ken began working for his father, who also specialized in pole buildings, right after high school, and went solo in 1976. He initially lived in a camp trailer and travelled as far as Idaho, Southern Oregon and the Olympic Peninsula in Washington for work. Gradually, he picked up enough jobs in the Mid-Columbia that he could go home each night.
Ken told customers that he was going to retire when he reached the 1,000th build, but things are busier than ever.
Linda said carpentry is her husband's passion, so much so that when they had their first date, he took her on a drive to show her some examples of his buildings. The couple will have been married two years on Aug. 9.
"I've built so many buildings now that I can really help people avoid a lot of troubles and pitfalls by custom designing a building to meet their needs," Ken said.
Ingebo doesn't work with prefabricated kits — his buildings are assembled with boards cut at his own lumberyard. If a piece of wood has a weak point, he strengthens it with a metal plate.
His 1,000th build was an RV storage structure in Goldendale and he recently completed his 1,002nd in BZ Corners .
"I started numbering the door jambs or trusses of my buildings at about 500," he said. "I wish that I had gotten medallions to put into the floor but I didn't."
He is always researching ways to get the job done more efficiently and innovatively. For example, all the ladders and other equipment that his 3 to 6-man crew uses at work sites are color coded, with red being the largest sizes available and blue the smallest.
"It's easer just to say, 'Get the red chain or the blue chain' instead of trying to describe the size you want and then they have to go searching for it," Ingebo said.
He is in the process of designing a powered wheelbarrow and a special tool for smoothing concrete.
"I'm very lazy in a way because I'm always looking for an easier way to do something," Ingebo said. "There are all kinds of shortcuts you can take and better ways to do things."
What he never shortcuts is safety, which is the number one rule to follow on the job site. Second is giving the customer a quality product and third is speed.
"I tell everyone you don't sacrifice the first two for the third," he said.
That priority list has worked well, he said, since no one with Ingebo Construction has ever suffered a serious injury.
"Everything in his shop has a place," said Linda.
"You can spend more time looking for your tools than doing the job," he explained. "It works much better if you know where everything is."
Linda describes him as a simple man in his tastes with a very organized and efficient personality.
"He's a thinker. He's not into watching TV, he's always trying to learn something new," she said.
She loves drilling holes at job sites with the International auger truck that Ken flew to Pennsylvania to purchase in 1979 and drove cross country.
"It's probably paid for itself a hundred times," he said. "It's an antique now but I learned how to work on it and it's still alive."
He said Linda is so enthusiastic about tackling projects that he is unlikely to retire anytime soon. She designs truss walls on the computer and performs a variety of other tasks.
"You can't quit now, I'm having too much fun," said Linda.
Work days during the summer heat begin at 3:30 a.m. for the Ingebos, but Ken could soon be getting a little more sleep since he plans to scale things back a little in semi-retirement.
On his to-do list is writing, something he enjoys, and continuing his studies in constitutional law.
"I'm going to try to slow down – I really don't want to quit because I'll probably fall apart," he said.