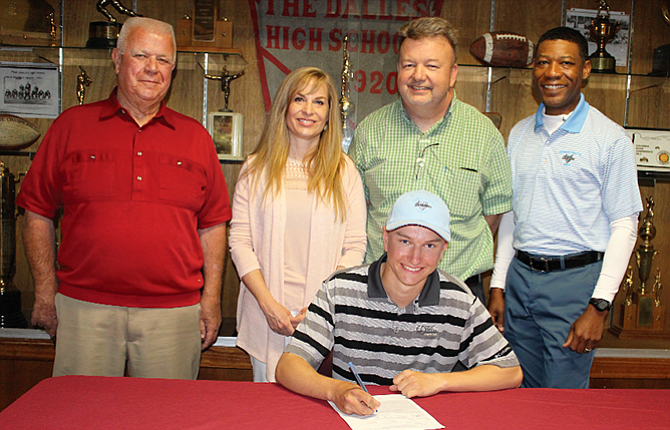 When the competition is fierce and he is being challenged, Chase Snodgrass thrives on the golf course.
The Dalles High School graduate will take those qualities to Warner Pacific College, where he accepted a scholarship to play golf for a successful Knights program coached by Quincy Heard.
"I feel like the more the pressure mounts, the more I can focus and rise to the occasion," Snodgrass said. "Sometimes people choke when the pressure is on and they let it get to them in a negative way, but I have tried to use pressure in a positive way more often than not. It is going to be challenging, but I think it is going to push me to shoot even lower than I am shooting right now."
This past spring, Snodgrass tallied eight top-5 finishes, including two wins and three seconds with an average 18-hole score of 77.5.
To put that average into perspective, the top two Warner Pacific golfers, all-Cascade Collegiate Conference winners, Jacob Berg and Jeremie Eloy, both seniors, notched an average of 75.3 per 18 holes.
Although he is going to be without four seniors, who led the Knights to third place at the CCC Championships on April 26, Heard scoured the Pacific Northwest looking for solid golfers and citizens, as well as competent students to match up with his two juniors, a sophomore and freshman returning.
"Chase is pretty much an individual that when he is playing, I can tell that he is into the moment of playing golf," said Heard, a PGA golf professional. "I love his creativity, his short game is awesome and I believe he is very coachable. In the time I got to spend with him during the recruiting process, he is very attentive and very responsive to instruction. We look forward to working with Chase and molding him into the young man he should be."
At the Special District 2 championships on May 5-6 at Eagle Crest, Snodgrass carded a two-day total of 159 for fifth place individually and the team totaled a 682 for a third-place tie in the standings.
Two weeks later in Banks, Snodgrass shot a 155 for third place at the 5A state tournament at Quail Valley, and he helped the Riverhawk boys' team to second-place honors with a 660, trailing only three-time state champion Summit by 25 strokes (635).
Snodgrass wound up outside of the top-10 on two occasions, the team notched four wins, two seconds, four thirds and two fifths in 12 events against golfers from Summit, Corvallis, Marist, Thurston and Pendleton.
"I am excited because, right now, I feel like the guys we played against were very good," Snodgrass said. "I am amazed by some of the scores they shot. It is going to be even more amazing to see how well college players can get. It is going to be exciting and challenging. Hopefully I can match the increase in competition level."
Snodgrass plans to major in exercise science to become a physical therapist, and while he was in high school, he implemented those philosophies to help with his strength, flexibility and conditioning.
He can withstand the grueling nature of the sport and he has added 70 yards on his average drives, which makes his short game and putting scores that much better.
Being challenged by his teammates has served as a benefit, and working side-by-side with coach Kent Smith pushed Snodgrass to become more fundamentally sound in all areas of his game.

"Coach Smith is such a great coach and I am glad he stuck it out with me through the years," Snodgrass said. "He helped me develop a pre-shot routine, sticking to a gameplan and not taking the driver out on every tee and trying to pound it as hard as I can. He has helped me become more accurate with my shots, more consistent and he has been a great help in giving us a gameplan and never deviating from it."
Snodgrass is still getting used to the thought of moving and being away from family and friends, but it is a necessary step to realize a goal he has had since the age of nine.
Over the next few months, Snodgrass' parents, Jary and Mary, have been giving Chase tips and pointers on how to handle finances, studies, and every detail needed to make the transition run smoothly.
"We have a lot of anxiety about Chase leaving home, just as most parents do," Jary Snodgrass said. "I think the largest emotion, by far, for my wife and I, is the tremendous amount of pride and gratitude that we have for the coaches, to the school, the members of the country club and everyone who had a role in getting Chase to where he is right now. It wasn't without help or the so-called village to raise this child, so we appreciate that."
Having feelings of nervous anticipation, Chase is brimming with excitement about the 82-mile move out West to Portland.
There will be some tears shed with his parents, his little brother Jonathan, and his grandparents, Terry and Grace Stoddard, people who have paved the way athletically and academically over the years.
"I am really thankful for my family," Chase said. "My mom and dad have been so supportive and great for me. My grandfather has helped me with my math and science troubles, my grandma has been encouraging through this entire process, and my brother has been tough, but I love him so much. My whole family and extended family has been helping me so much and I am so grateful for their help."