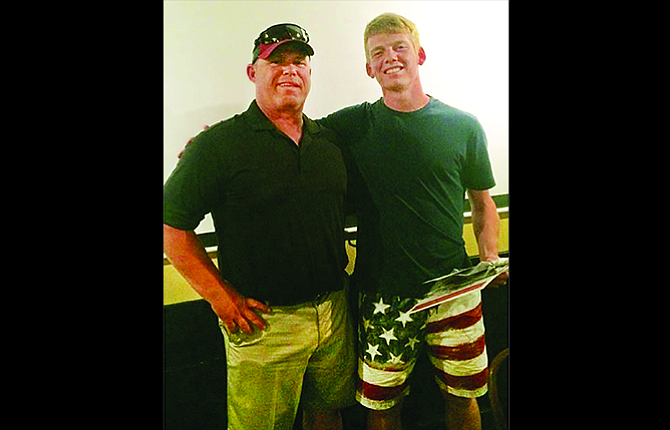 The Dalles head coach Steve Sugg announced the 2017 baseball awards for his players on both junior varsity squads and the state-qualifying varsity team, as 13 different players received citations for their time with the program.
"This was a good way to really show the kids that we noticed and appreciated their dedication to the team this past year," Sugg said. "It is great to give them a little something to celebrate their accomplishments."
There were six all-Columbia River Conference winners, led by first-team winners, Johnny Miller, Jose Gonzalez and Dawson Hoffman. Daniel Peters picked up second-team recognition, and the duo of Jacob Wetmore and Henry Lee were honorable mention selections.
For the varsity team, both Peters and Miller picked up a pair of awards apiece.
Peters claimed the RBI Award and Miller earned Outstanding Baseball Player honors.
Peters and Miller each also were recognized for their defensive efforts with Golden Glove trophies.
Hoffman had the highest batting average of .432, the Most Inspirational Player was Preston Klindt, Wetmore had his name called as Most Improved and Dylon Jinkins grabbed the Coaches Award.
"I am happy with everything. This was my first year on varsity, even though it is my last, but I am fine with it," Klindt said. "All of us seniors had a good final year. We had success and we made it further than a lot of people expected. It goes to show what a good coaching staff can do for a lot of players, who were trying to make the most of their opportunity.
On the junior varsity 1 team, Most Inspirational went to Jake Roetcisoender, Blake Davis hoisted the Coaches Award, and Gabe Helseth earned Most Improved.
Sam Thalhofer was the Most Valuable Player to lead the junior varsity 2 team, and Axel Pothier notched the Most Inspirational Award for his leadership and skills.
Most Improved went to Caden Cummings, and Isaac Abrams had the Coaches Award.
"We had quite a few seniors this year that didn't get to play varsity last year. This is their first year playing, but they really made the most of their opportunities and did a great job," Sugg said. "Hopefully, those younger kids in our program that are coming up, those freshmen and sophomores, who didn't get to play varsity this year, will stick with it and keep working, this way they can come back and follow the example these seniors showed."
Most of these athletes are playing American legion ball, with both teams in action this weekend.
The 'A' Hustlers play a home game at 7 p.m. tonight, and then they head to Hood River for a two-day tournament starting at noon on Saturday.
At 6 p.m. Saturday at Quinton Street Ballpark, the 'AAA' Hustlers hit the field for a doubleheader against Newport.