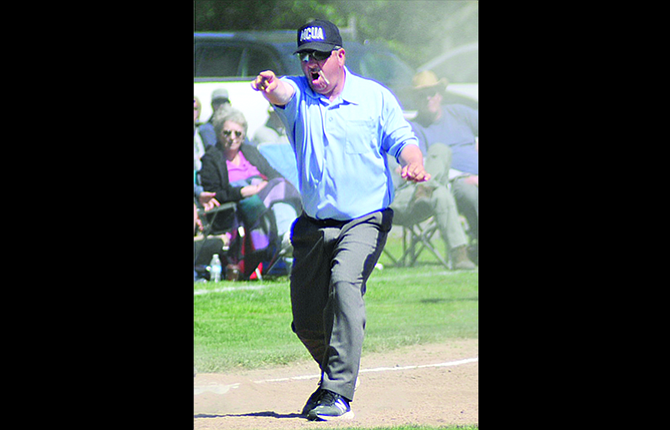 In several walks of life, whether it is a police officer, teacher, doctor or game official, receiving any type of accolades or recognition goes above and beyond any expectation.
Most, if not all, are in their respective fields to make a difference and be a contributing member to society.
That is why long-time umpire and official, Robert Jamack, was surprised when he received the Oregon Athletic Officials Association's Official of the year award for the 2016-2017 season, the first ever for the Mid-Columbia Umpires Association, since the OAOA started giving the out the award in 2005-2006.
"When I first found out, I was in shock and thrown back," Jamack said. "It was a little hard to believe. Receiving this award is beyond humbling and very exciting, and I have made that statement to everyone who reached out to congratulate me."
In addition to baseball, Jamack worked 21 years as a high school basketball official before retiring following the 2014-15 season, and he is still active on the high school football landscape for the past 22 years, working two state championship games in the past.
But, baseball is the sport Jamack has been involved in since he was 10 years old, 36 years in all, starting at the little league level, up to Babe Ruth, then high school and collegiately.
"Robert is a very deserving recipient of this award," said Dufur athletic director and administrator, Jack Henderson. "He has worked diligently to develop his ability as an official and has become a fixture in our areas' schools, as well as statewide in his work during playoff games. Robert Jamack is a great story of how hard work leads to success. I appreciate his dedication to the schools of the Mid-Columbia region."
Jamack continued to umpire little league when in the Navy in California, until off active duty and returning to The Dalles in 1994, when he joined the Mid-Columbia Umpire Association to work high school ball, working under the tutelage of Chuck Ashley, who had gone to pro school in 1994 and 1995, and Steve Wilkins.
Jamack attended Umpire School in 1996 and joined the Northwest Collegiate Umpire Association in 1997, moving to Portland in 1998, followed by the Portland Umpire Association.
"There are a couple of individuals that come to mind such as John Johnson, Todd Ellis and Bud Snoich, who took me under their wings and helped train me on different aspects of umpiring, as I progressed through the PBUA," Jamack said. "I worked with a lot of different gentlemen and was able to take something away positive and negative from each one."
Jamack was a member of the Portland Association until 2008 and worked a 5A state championship matchup, and he then moved back home in 2009 and re-joined the MCUA, calling the 2011 4A and 2016 5A state championship games.
In all, Jamack has called games for 23 years in the high school ranks and 20 years as a college umpire, spanning NCAA Division III, NAIA, and NWAC junior college.
"Robert has been around the game is whole life and he has a passion for the game and he has worked extremely hard to make himself one of the best umpires around," said The Dalles baseball and football coach Steve Sugg. "He is extremely knowledgeable and his mechanics are some of the best that I have seen around in my entire career."
Through his time on the diamond, Jamack enjoys being part of the community and working with local youths, keeping track of them and how they do as they make their way through the professional ranks.
In his time, Jamack has umpired eventual pro players Darwin Barney, of Southridge, Cole Gillespie, of West Linn, and Ben Petrick, of Glencoe, to name a few.
Having younger core of former athletes officiating games is very important, especially with the number of candidates dipping over the past few years.
"I wish more of the student athletes would get active into officiating after their playing career is finished, but you don't see that much anymore and it is a huge cause of the shortage of officials in all sports across the nation," Jamack said. "I wasn't a great player by any means. I didn't have the physical tools, but I feel I always had the mental side of the game, and that helps with umpiring. Helps you to stay a pitch ahead, so to speak."
Bruce Parker, Larry Krutsinger, Steve Wilkins, Ron Townsend, Bill Sallee, Ashley and Ron Sutherland are Mid-Columbia officials who had worked OSAA state championship games.

Since 2005-06, the OAOA has been recognizing officials for all sports, with Jamack being the first MCUA umpire, joining football referees, Paul Bish, Bob McFadden and Lee Kaseberg, along with volleyball award recipients, Jeff Justesen and Amanda Payne.
Just because that illustrious group picked up top official awards does not mean the work and preparation stops, especially if individuals desire to be a good official and succeed at the highest level.
"Clinics or camps are a must, and you need to study the rule book and the mechanics book," Jamack said. "I want to and have to work hard to get all the calls right. One thing I have heard over and over in 23 years of umpiring is that coaches and players want you to be consistent, so you have to work hard each game and work the best that you can.
I just love the game of baseball beyond belief and that is what makes me excited about every season when January starts to roll around."
With Jamack breaking the seal on the MCUA earning top honors, Sugg has a feeling that this will open the doors for Ashley, Aaron Hildebrandt, Tim Clemenson and Ritchie Carter to have their names called in the near future.
"I think we have great officials here and it all starts with Robert being on top of his game," Sugg said.
"Those guys work well together and they help each other out, so that makes them a great umpiring crew here locally. "As far as mechanics, knowledge of the game and consistency, I think our umpires are just fantastic."